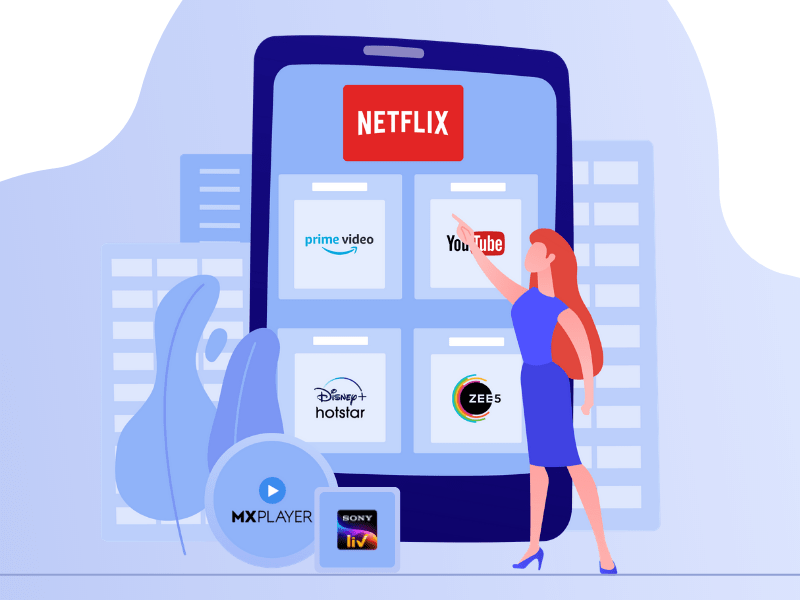 Ankit Patel

January 22, 2021

8 min read
Instant…
This is the world of instant. Everyone wants things instantly.
Instant noodles
Instant soups
Instant food packs
Instant transport
With people seeking instant gratification in everything they use, there's so much room for OTT apps to grow, and demand for OTT app development reach a new high. OTT apps enable viewers to view videos or content instantly through any device.
In the fast-paced and ever-evolving world of media and entertainment, Over-The-Top (OTT) applications have emerged as a game-changer, captivating audiences worldwide with their on-demand content and personalized viewing experiences. If you're a startup venturing into this exciting realm, understanding the cost dynamics of OTT app development is essential for turning your vision into a reality.
We can see a constant growth in engaging video apps like Netflix which keep viewers glued to the screens. With OTT app development services it is possible to develop apps which can enable users to view videos on smart TV sets, laptops, desktops, and mobile phones. When people leave their TV screens for work, they still want to have a glance at the video they were viewing while working on their laptop. While traveling, the story of a series that left them on a cliffhanger keeps them checking out the video further on their mobile screen. This way when videos are preferred to be viewed online, there is a tremendous growth in OTT apps like Netflix.
Whether you're a media entrepreneur, content creator, or visionary startup founder, this guide aims to empower you with the knowledge necessary to embark on your OTT platform development journey with clarity and confidence.
For amateurs, let's look at the definition of an OTP platform to understand it better.
What are OTT services?
OTT services, short for "Over-The-Top" services, refer to the delivery of media content, such as movies, TV shows, music, and other forms of entertainment, over the Internet directly to consumers.
OTT services are typically delivered through dedicated applications or platforms, which can be accessed on various devices such as smartphones, tablets, smart TVs, streaming devices, and computers. These services often offer a subscription-based model, where users pay a recurring fee to access the content library. Alternatively, some OTT services may offer a free-to-access model supported by advertisements or a combination of both.
Popular OTT Applications:
Netflix
Amazon Prime Video
HotStar
Zee5
Hulu
Sony LIV
ESPN+
MX Player
JioCinema
Peacock tv
OTT apps are not limited to videos. They are also available for VOIP, audio, and messaging.
Types of OTT Services
There are many different types of OTT services presently active in the market, such as: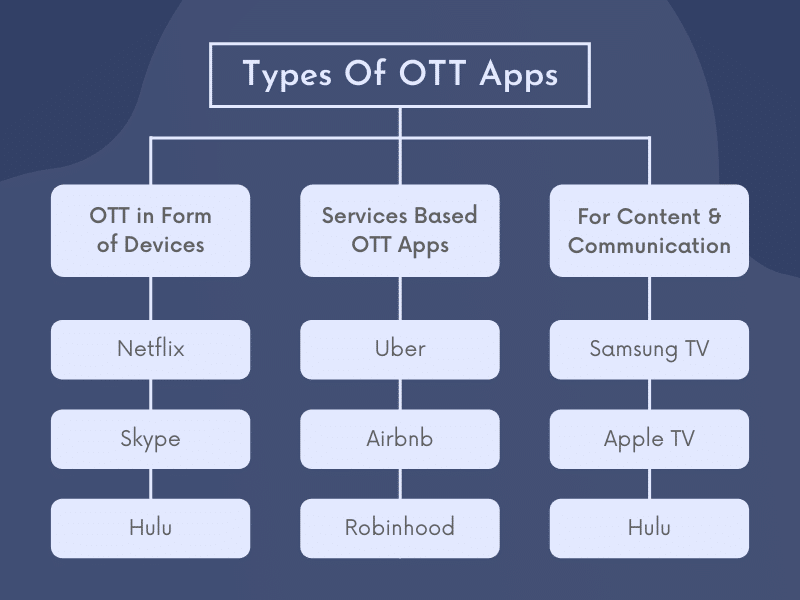 Video streaming: This kind of platform offers a wide variety of movies and TV shows, both old and new. Popular examples include Netflix, Amazon Prime Video, Hulu, Disney+, and HBO Max.
Music streaming: Popular music streaming apps include platforms like Spotify, Apple Music, and Amazon Music. These platforms offer a large library of music, both old and new, that users can stream on demand.
Podcast streaming: These platforms offer a wide variety of podcasts, both audio and video, that users can stream on demand. This type of OTT service includes platforms like Spotify, Apple Podcasts, and Google Podcasts.
Live streaming: These platforms allow users to watch live events, such as concerts, sporting events, news broadcasts, and gaming tournaments. Some popular live-streaming platforms include YouTube Live, Twitch, and Facebook Live.
Educational: These platforms offer a wide variety of educational courses, both online and offline, that users can take on demand. Popular examples include Coursera, Udemy, Khan Academy, and LinkedIn Learning.
News Streaming: News streaming services deliver live news broadcasts and on-demand news content from various sources. Examples include BBC iPlayer, CNNgo, Fox News, and CBS News.
Also check: Cost to Develop Music Streaming App
OTT Platform Development: Key Statistics
The OTT platform development market is currently experiencing rapid growth, driven by a number of factors, including:
The increasing popularity of streaming video content.
The growing availability of high-speed internet.
The increasing affordability of smartphones and other connected devices.
According to Statista, "the global OTT video market is projected to reach $294.90 billion in 2023 and is expected to grow at a CAGR of 7.73% from 2023 to 2027. The largest market for OTT video is the United States, which is expected to generate $126.5 billion in revenue in 2023."
In India, the OTT video market is also growing rapidly. The revenue in the Indian OTT video market is projected to reach $3,824 million in 2023. The growth of the Indian OTT market is being driven by the increasing popularity of streaming video content, the growing availability of high-speed internet, and the increasing affordability of smartphones and other connected devices.

Why Invest in OTT App Development?
Investing in OTT app development can be a strategic move for businesses, especially in the current digital landscape. Here are a few reasons why now is a favorable time to invest in OTT platform:
1. Global Reach and Targeted Marketing
With OTT apps, businesses have the opportunity to reach a global audience without the limitations of traditional broadcast or cable networks. They can also leverage user data and analytics to segment their audience and deliver targeted marketing campaigns, resulting in higher conversion rates and better return on investment (ROI).
2. Shifting Consumer Behavior
OTT platforms are more convenient, as users can watch content on their own time and on any device. They are also more personalized, as users can create custom playlists and recommendations. Additionally, OTT platforms are more affordable, as users can often watch content for free or for a low monthly subscription fee.
3. The Competition is Still Relatively Low
While there are a number of large OTT platforms, such as Netflix, Amazon Prime Video, and Disney+, the market is still relatively open to new entrants. This means that there is a good opportunity for businesses to gain market share by developing a strong OTT platform.
4. Technological Advancements
Advancements in technology, such as improved streaming quality, adaptive bitrate streaming, and cloud infrastructure, have made it easier and more cost-effective to develop and deliver high-quality OTT apps. Additionally, emerging technologies like artificial intelligence (AI) and machine learning (ML) can enhance personalization, content recommendations, and user engagement on OTT platforms.
5. COVID-19 Impact
The COVID-19 pandemic has further accelerated the demand for OTT content as people spent more time at home and sought entertainment options online. Although the pandemic will eventually subside, the shift toward digital consumption and OTT platforms is expected to remain prominent.
Essential Features to Include in OTT App Development
When developing an OTT app, it's important to include features that enhance the user experience, provide convenience, and differentiate your app from competitors. Here are some must-have features to consider: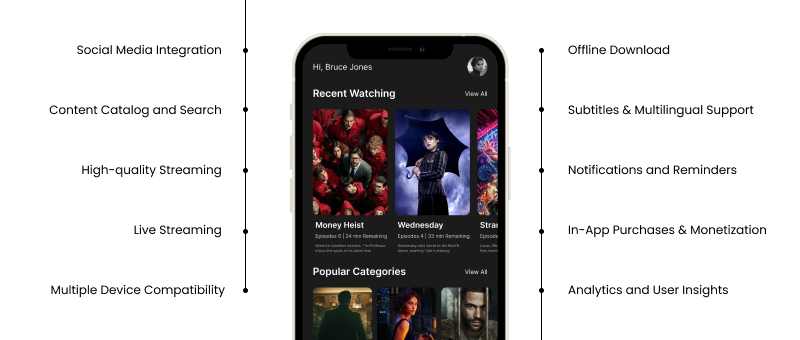 Social Media Integration: To enable easy registration, a social media feature is important to integrate with an OTT app. With popular social media networks like Twitter and Facebook, integrated into the app, users can share the videos they viewed with their friends on social media. This will enhance the popularity of the app. Developers offering OTT platform app development services make it a point to include this functionality in the apps they develop.
Content Catalog and Search: Organize your content library into categories, genres, or collections. Implement a robust search feature that allows users to easily find their desired content based on titles, genres, actors, or keywords.
High-quality streaming: Users expect high-quality streaming when they watch videos on OTT apps. This means that you need to make sure that your app is able to stream videos without buffering or lag.
Personalization: Users want to be able to personalize their OTT app experience. This means that you need to allow users to create custom playlists, set preferences, and more.
Live streaming: Live streaming is becoming increasingly popular, so you should consider including this feature in your app. This will allow users to watch live events, such as concerts, sporting events, and gaming tournaments.
Multiple Device Compatibility: Make your app available on multiple devices such as smartphones, tablets, smart TVs, and streaming devices. Ensure a seamless cross-platform experience, allowing users to start watching on one device and continue on another.
Offline Download: Enable users to download content for offline viewing. This is especially important for users who may not have consistent internet access or want to watch content during travel or in areas with poor connectivity.
Subtitles and Multilingual Support: Provide support for subtitles in multiple languages to cater to a diverse user base. Allow users to select their preferred language for subtitles or audio tracks.
Notifications and Reminders: Send push notifications to users about new episodes, upcoming releases, personalized recommendations, or important updates related to their subscribed content.
In-App Purchases and Monetization: Implement subscription models, in-app purchases, or advertisements to monetize your OTT app. This can be a great way to generate revenue from your app.
Analytics and User Insights: Integrate analytics tools to track user behavior, engagement metrics, and content performance. Use these insights to improve the app's functionality, understand user preferences, and optimize content offerings.
How to Build an OTT Application?
Building an OTT app like Netflix requires careful planning, technical expertise, and attention to user experience. Here are some of the key steps involved in creating an OTT platform:

• Step 1: Decide a Specific Niche
Before proceeding to utilize OTT platform app development, you need to arrive at the niche for which you will be providing a video streaming app. You must decide the target audience of the app. Do you want kids to watch your app or adults, or you want all types of audience to use your app. offering a specific niche will help you better strategize your marketing campaigns.
• Step 2: Build Your Content Repository
If you wish to know how to develop OTT app, the next step is to gather all the content you wish to present to your subscribers. Content being the foundation of your OTT app must be built on a regular basis, even after the app has been launched. It must go on increasing to keep the users glued.
You need to take other decisions regarding the content in your app.
How often you will update the content?
Will you deliver content in parts or whole?
Will your content be free?
Will subscription rate change to access specific genre?
Will your price be fixed based on the number of videos watched?
What will be subscription fee?
Will you allow users to access only selected movies per month?
• Step 3: Choose a Business Model
The next step to develop OTT app is to decide a business model.
You are, of course, creating the app to generate some revenue and not for social service. Thus, you need to decide how you intend to earn from the app. Although companies offering OTT platform app development services will suggest this, for OTT apps there are basically two types of business models.
Advertising-based subscription
Transactional model
Your app idea or niche will pinpoint the type of model you should do to conduct business.
SVOD: With subscription based video app, users need to pay a specific amount each month/year to access the video content.
AVOD: Under this advertisement based video on demand model, users don't get charged a nickel. However, the app owner earns by charging the advertisement companies who wish to advertise products. The app is designed in such a way that users are compelled to see the advertisement. App owners generate revenue by charging advertisers.
• Step 4: Develop a Website
Before proceeding to hire developers for OTT mobile app development, the prior step which must be taken to create an OTT app is to let end users know that you are launching such an app. Most of the users still use a web browser to watch videos. Hence, you need to not only establish your business identity but also need to let users use your services through a website.
It is highly important as it will help you gain fame and trust, and manage payments with ease.
• Step 5: App Development
Once you have followed the above steps, you need to hire a company providing OTT app development services. You must research well and hire a company that is experienced as well as professional. With a team of talented developers and designers, they can help you transform your dream idea into a reality. There are a number of companies and individuals offering video streaming app development. You can choose the one that not only meets your budget but also provides quality services.
All in all, it can be said that creating a successful OTT app needs you to hire an experienced application development services providing company. Prior to hiring, you must decide your niche, build your content library, decide the business model and then create a website to market your app.
How Much Does OTT App Development Cost?
It's challenging to provide an exact cost without detailed project requirements. Because the cost of OTT platform development can vary significantly depending on various factors such as the complexity of the app, desired features, platform compatibility, development approach, and the app development company location. However, if we have to provide a rough estimation, then the OTT app would cost you between $30,000 – $100,000 or more.
To get an exact cost, connect with us to get an accurate budget based on your specific requirements and the scope of the project.
Summing up
OTT streaming has become a dominant force in the entertainment industry, poised to dethrone traditional video viewing experiences. The moment has arrived for you to seize the opportunity and embark on an exciting journey of OTT app development, a move that will not only amplify your business's intrinsic value but also unlock untapped revenue streams. Moreover, by harnessing the power of OTT-based advertising, you can effectively reach and engage your target audience, creating meaningful connections and driving business growth in an increasingly competitive digital landscape.
You may also like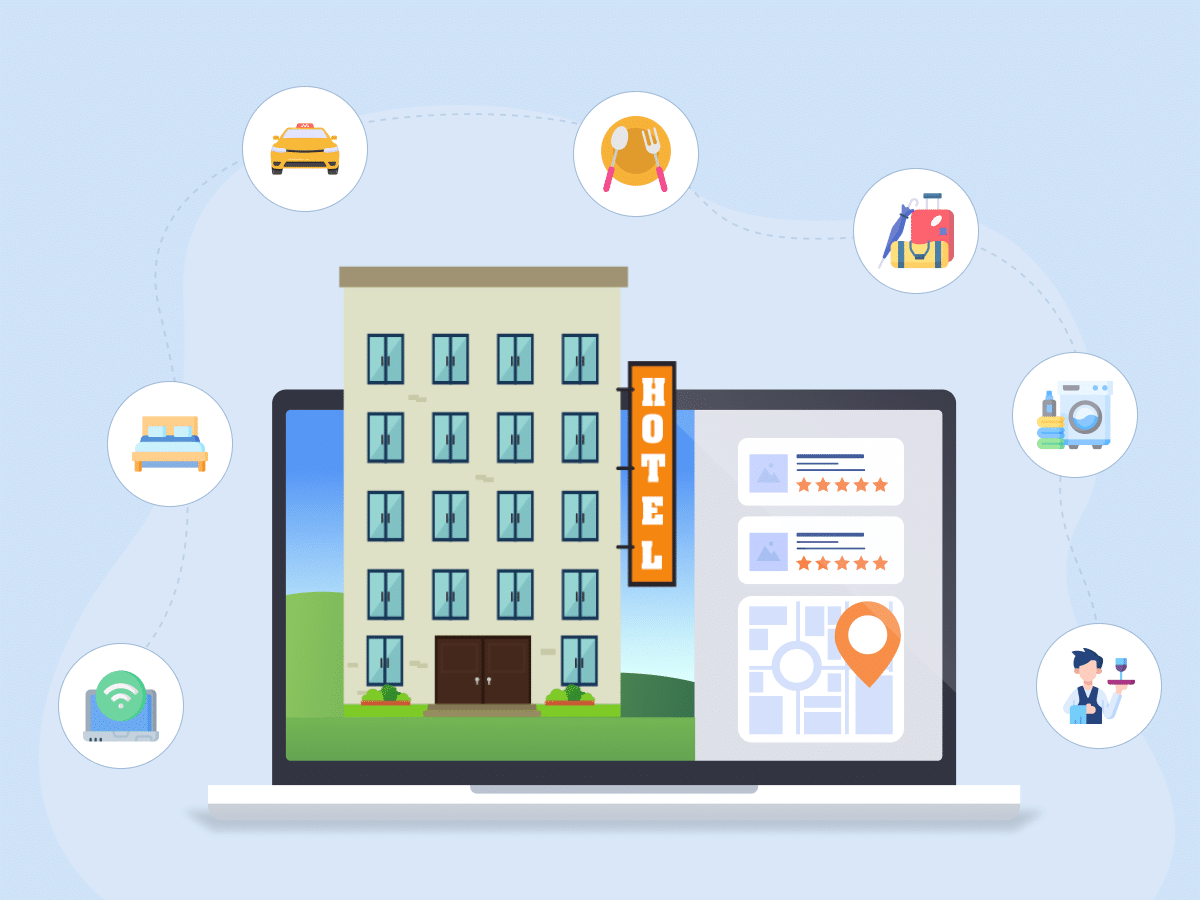 The Ultimate Guide to Hotel Management Software Development
Ankit Patel
Imagine a scenario where the reception area of your hotel is inundated with guests seeking assistance, staff members requesting entries, and other demands. The reception team may find it overwhelming… Read More