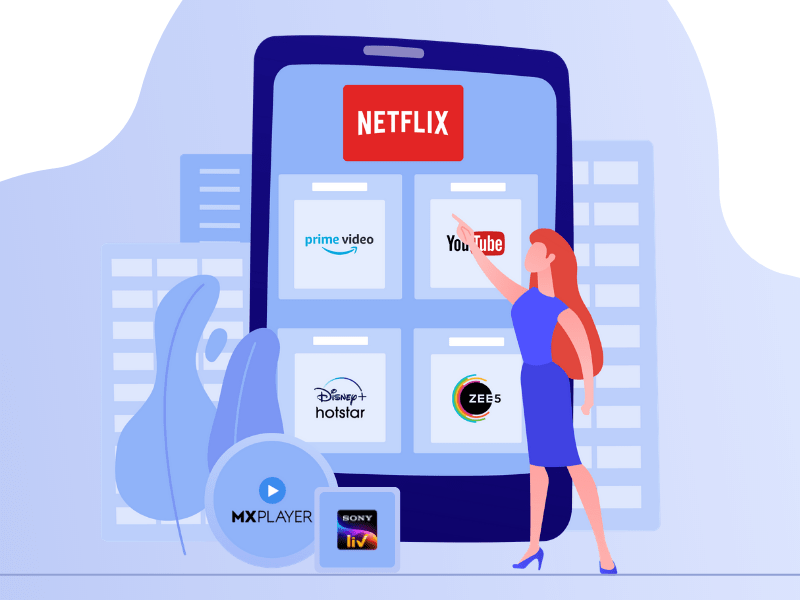 Ankit Patel

January 22, 2021

5 min read
Instant…
This is the world of instant. Everyone wants things instantly.
Instant noodles
Instant soups
Instant food packs
Instant transport
With people seeking instant gratification in everything they use, there's so much room for OTT apps to grow and demand for OTT app development services to reach a new high. OTT apps enable viewers to view the videos or content instantly through any device.
We can see a constant growth in engaging video apps like Netflix which keep viewers glued to the screens. With OTT app development services it is possible to develop apps which can enable users to view videos on smart TV sets, laptops, desktops, and mobile phones. When people leave their TV screens for work, they still want to have a glance at the video they were viewing while working on their laptop. While traveling, the story of a series that left them on a cliffhanger keeps them checking out the video further on their mobile screen. This way when videos are preferred to be viewed online, there is a tremendous growth in OTT apps like Netflix.
For amateurs, let's look at the definition of an OTP app to understand it better.
● What is an OTT App?
OTT app or Over-the-top app lets users to stream videos using an internet connection. It eliminates need for cable or satellite subscription. All you need to do is logon to the app and view the available videos. Video streaming app development services providing companies create such OTT apps to let users get a uniform viewing service across multiple devices.
Examples of OTT apps:
Netflix
Amazon Prime Video
HotStar
Zee5
Sony LIV
MX Player
OTT apps are not limited to videos. They are also available for VOIP, audio, and messaging.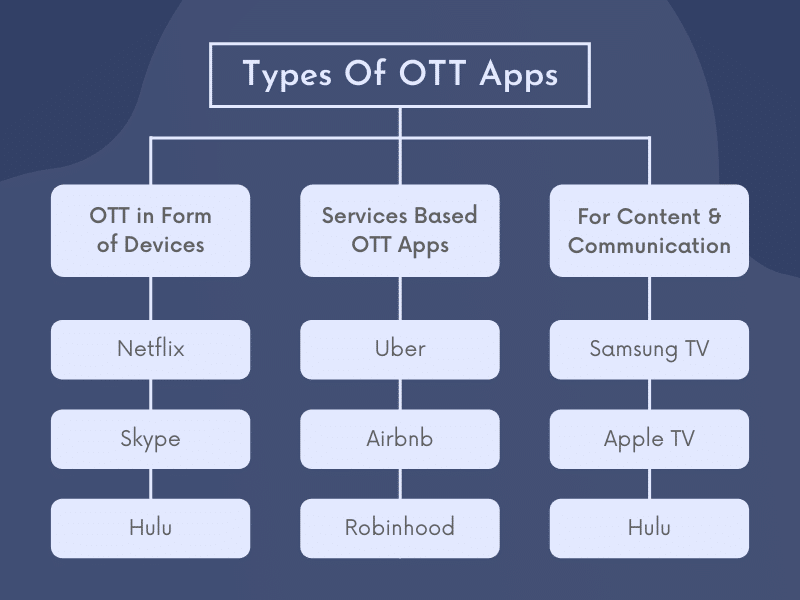 Before we proceed to know about how to develop OTT app, let's become acquainted with some of its features.
Multilingual Content: An app which targets the international audience provides streaming of videos in different languages. To get maximum number of viewers, an OTT app facilitates subtitles as well as audio tracks in local as well as English language.

Hence, one of the most remarkable features is that content provided in such OTT apps is available in various languages whether it is through subtitles or audio track. Companies providing video streaming app development services should always keep this feature in consideration.

Explore: Search option is something which any developer providing OTT app development services uses by default in the app. With the ability to explore different genres, users will find it very easy to find videos they are interested in. This brings down browsing time and enhances the viewing experience.

Unique Profile for Users: Most of the OTT apps enable user profile creation as they provide access to three-four users at a time. Profile creation helps users in keeping details of videos they have viewed, wish to view, or are interested in, in an organized way. All the user needs to do is log in to his or her profile and find all the details.

With this exceptional feature, users can save their browsing time by just adding the videos they find interesting to their "To Watch" list. This is one functionality that must not be ignored while delivering OTT platform app development services.

Social Media Integration: To enable easy registration/login, social media feature is important to integrate with an OTT app. With popular social media networks like Twitter and Facebook, integrated in the app, users can share the videos they viewed with their friends on social media. This will enhance the popularity of the app. Developers offering OTT platform app development services make it a point to include this functionality in the apps they develop.

Screen Mirroring: With users wanting everything instantaneously, this become one of the important features always kept in mind by developers offering video streaming app development services. Users can instantly mirror the mobile device on the TV screen to get a magnified viewing experience. There's no need to wait to log in to the app downloaded on the TV set and then find the video to be viewed. Users can just mirror the screen and instantly view the video.

Saving time, also ensures that you can have the liberty to keep the app only on one device instead of downloading it on every device you have. Thus, it is also memory saving. This feature must definitely be considered while delivering OTT app development services.
Now, that we have understood what an OTT app should have, let's proceed to learn how to develop OTT app.
● Steps to Build an OTT Video Application:

Step 1:
Decide a Specific Niche:
Before proceeding to utilize OTT platform app development services, you need to arrive at the niche for which you will be providing a video streaming app. You must decide the target audience of the app. Do you want kids to watch your app or adults, or you want all types of audience to use your app. offering a specific niche will help you better strategize your marketing campaigns.
Step 2:
Build Your Content Repository:
If you wish to know how to develop OTT app, the next step is to gather all the content you wish to present to your subscribers. Content being the foundation of your OTT app must be built on a regular basis, even after the app has been launched. It must go on increasing to keep the users glued.
You need to take other decisions regarding the content in your app.
How often you will update the content?
Will you deliver content in parts or whole?
Will your content be free?
Will subscription rate change to access specific genre?
Will your price be fixed based on the number of videos watched?
What will be subscription fee?
Will you allow users to access only selected movies per month?
Step 3:
Choose a Business Model:
The next step to develop OTT app is to decide a business model.
You are, of course, creating the app to generate some revenue and not for social service. Thus, you need to decide how you intend to earn from the app. Although companies offering OTT platform app development services will suggest this, for OTT apps there are basically two types of business models.
Advertising-based subscription
Transactional model
Your app idea or niche will pinpoint the type of model you should do to conduct business.
SVOD: With subscription based video app, users need to pay a specific amount each month/year to access the video content.
AVOD: Under this advertisement based video on demand model, users don't get charged a nickel. However, the app owner earns by charging the advertisement companies who wish to advertise products. The app is designed in such a way that users are compelled to see the advertisement. App owners generate revenue by charging advertisers.
Step 4:
Develop a Website:
Before proceeding to hire developers for OTT platform app development services, the prior step which must be taken to create an OTT app is to let end users know that you are launching such an app. Most of the users still use a web browser to watch videos. Hence, you need to not only establish your business identity but also need to let users use your services through a website.
It is highly important as it will help you gain fame and trust, and manage payments with ease.
Step 5:
App Development:
Once you have followed the above steps, you need to hire a company providing OTT app development services. You must research well and hire a company that is experienced as well as professional. With a team of talented developers and designers, they can help you transform your dream idea into a reality. There are a number of companies and individuals offering video streaming app development services. You can choose the one that not only meets your budget but also provides quality services.
All in all, it can be said that creating a successful OTT app needs you to hire a talented and experienced OTT platform app development services providing company. Prior to hiring, you must decide your niche, build your content library, decide the business model and then create a website to market your app.
You may also like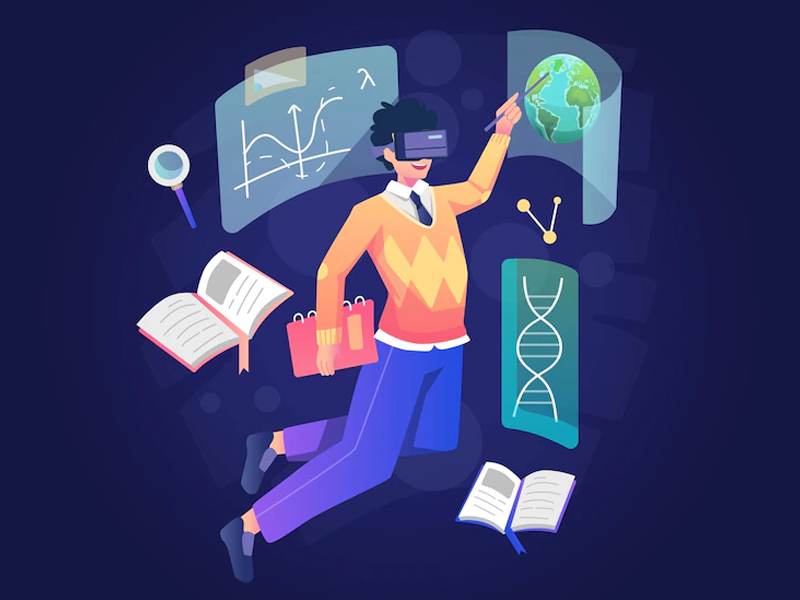 Augmented Reality in Education Industry: Benefits and Examples
Ankit Patel
We live in a world where technology and its different innovations have brought about a major shift in how people access information, and knowledge and develop new skills. However, albeit… Read More