Uber Clone App – Opening Multiple Avenue For You
At XongoLab, we hold expertise in building customized Uber clone app with engaging user interfaces so as to offer the best browsing experience to your clients. Using latest technologies like React Native, Flutter, Reatc.JS, Node.JS, MongoDB and AWS for creating an Uber clone app, we have broadened our experience and helped your taxi business as well any on-demand business application performs well on both iOS and Android platforms and succeed in its niche. Not only this, we are also providing the licensed and top quality uber clone source code to the startup or small business at very competitive rates, because we understand the value of of the money.
XongoLab value your time and business needs, and that's why we will give you unbeatable and feature-rich Uber clone app solutions including customer app, driver app, admin panel, partner panel, dispatcher panel and full functional website within 10 days which is tailored to your taxi business requirements. While designing and developing Uber like taxi application, we ensure that it encompasses most effective features like live social media integration, live tracking, easy booking, payment gateway, digital wallet, heat-map, loyalty program, refer & earn option, etc. that would match perfectly with your taxi business sector trends. Below are some of the our best service which we will provide you with our Uber clone product;

Full Licensed Source Code
Once our development will be finished, we will give you full Uber clone app source code of your app.

White Labelling
As our Uber like app development solutions are entirely white-labelled, you can label your app in whatever brand you wish.

Multiple Language
To make your app accessible and easy to understand, we integrate multiple languages of your choice free of cost.

Multiple Currency
We do not charge extra for integrating multiple currencies with your app as it is included in our development package.

24/7 DAYS SUPPORT
Boundless support to fix bugs related issue will be provided to you for one year free of cost.

Confidential & NDA
Adhering strictly to the company's privacy policy and NDA rules of the business, we commence our every app development task.
Uber Clone Script Package
We drive complete transformation for on-demand taxi businesses with our advanced mobility solutions. Apart from this, in our uber clone product you will get;
Customer Android & iOS Application
Driver Android & iOS Application
Admin Panel (Backend)
Dispatcher Panel
Partner Panel
Full Functional Website
Full Source Codes
All APIs of Products
1 Year Free Support
Launch Apps on the App Store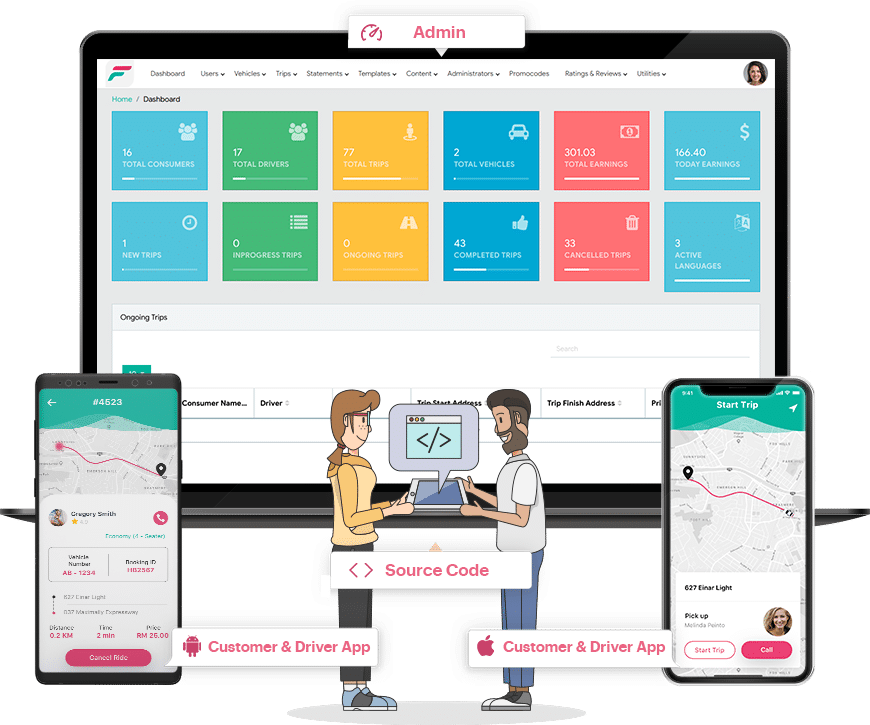 Features of Uber Clone App
Feature play a vital role in product! To keep this in mind, our developers building the feature-rich uber clone app for customer, passenger and admin. Our Uber clone script connects customers with your services with just a few taps thereby providing them utmost convenience. Customer can easily book the taxi with multiple option and driver will provide the taxi service as per customer requirements. Admin can also control and manage his taxi business through his web-panel with one click. Below are the listed best features of our uber app clone;
Customer App Features
• Easy Login
The customer can login easily using his mobile number, email, and social media profile like Facebook & Google.
• Track Nearest Drivers
With inbuilt GPS system, the customer can easily locate nearby drivers on Google maps and book his ride easily.
• Choose Vehicles
The customer has the option to choose a vehicle as per his convenience. Multiple vehicle supported with our app solution.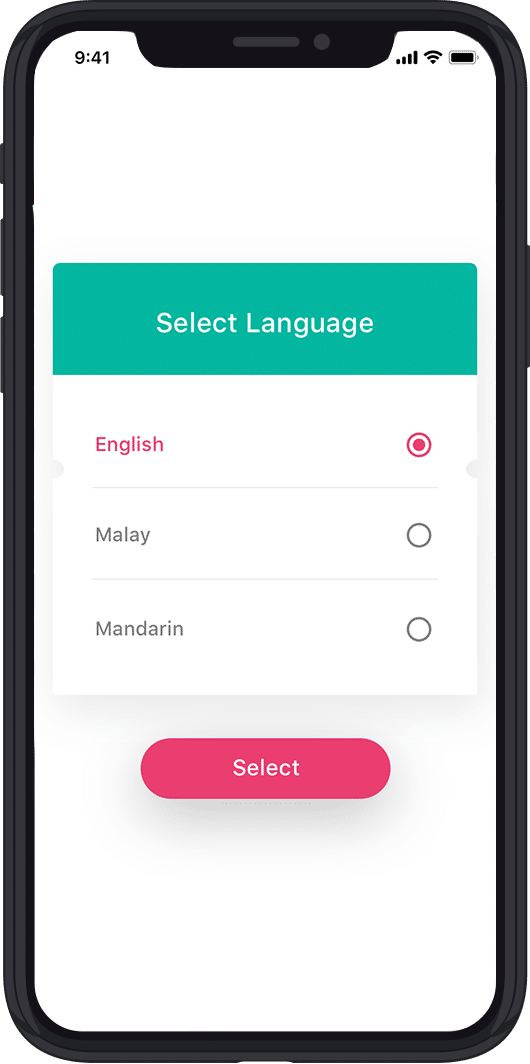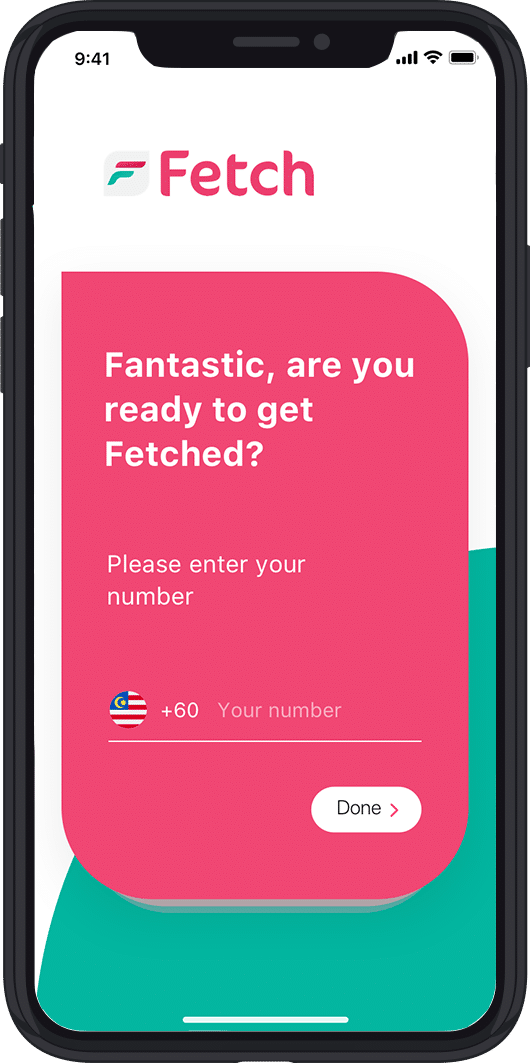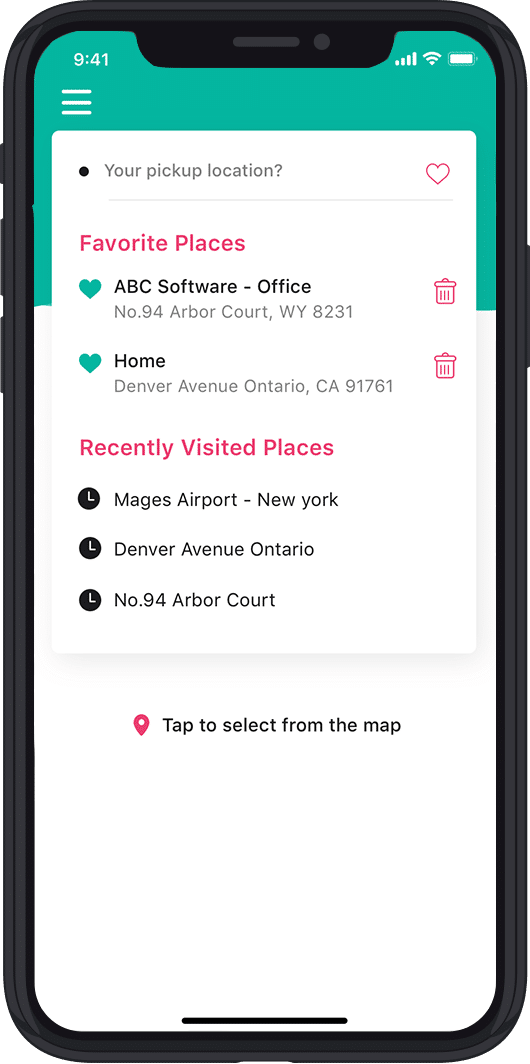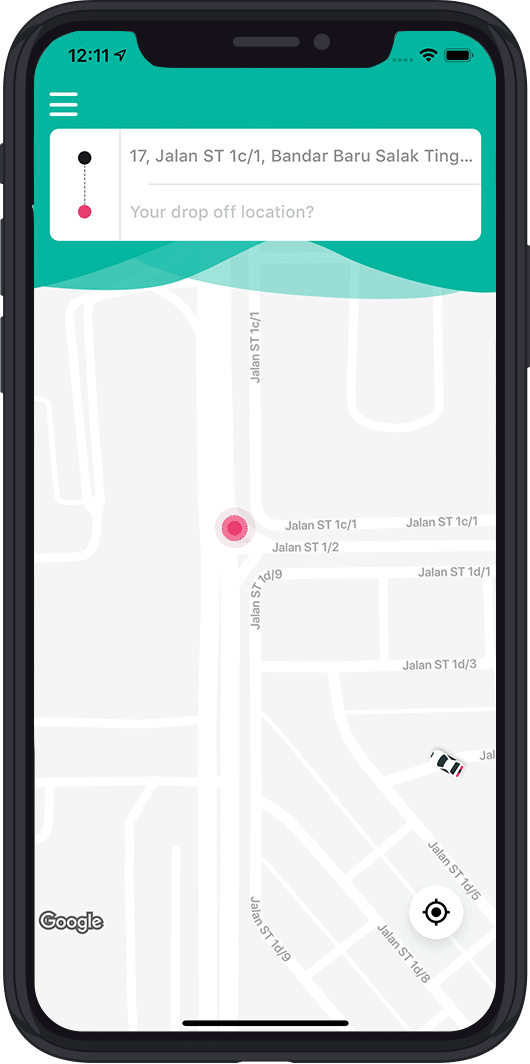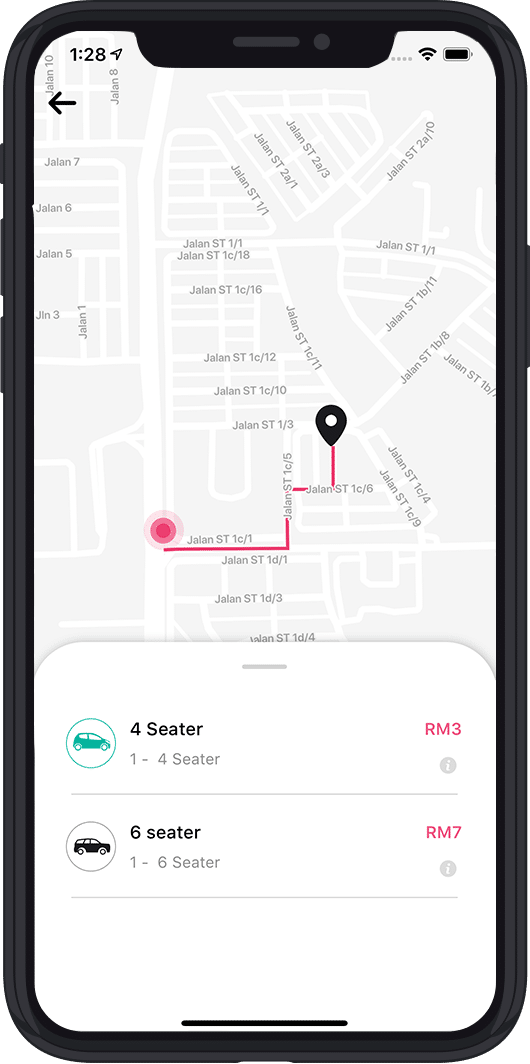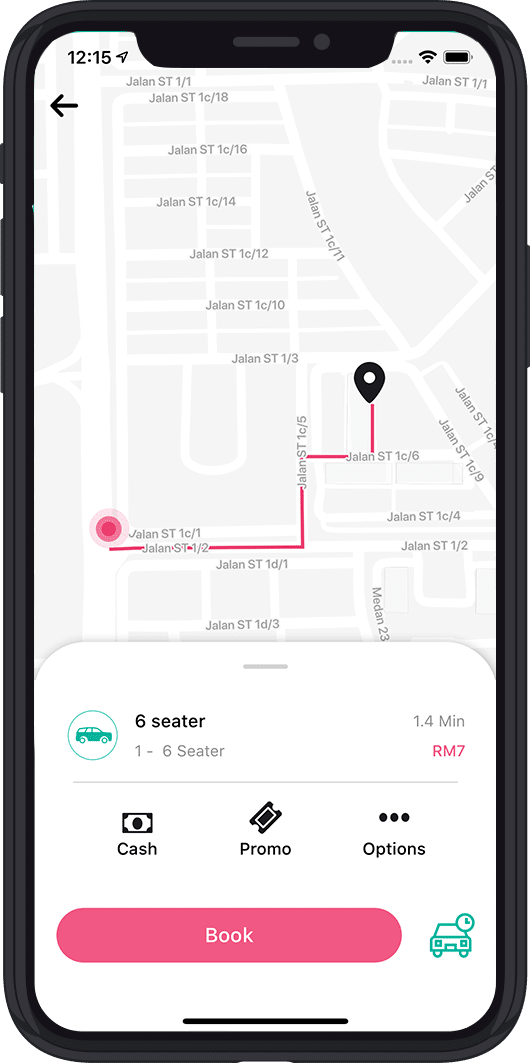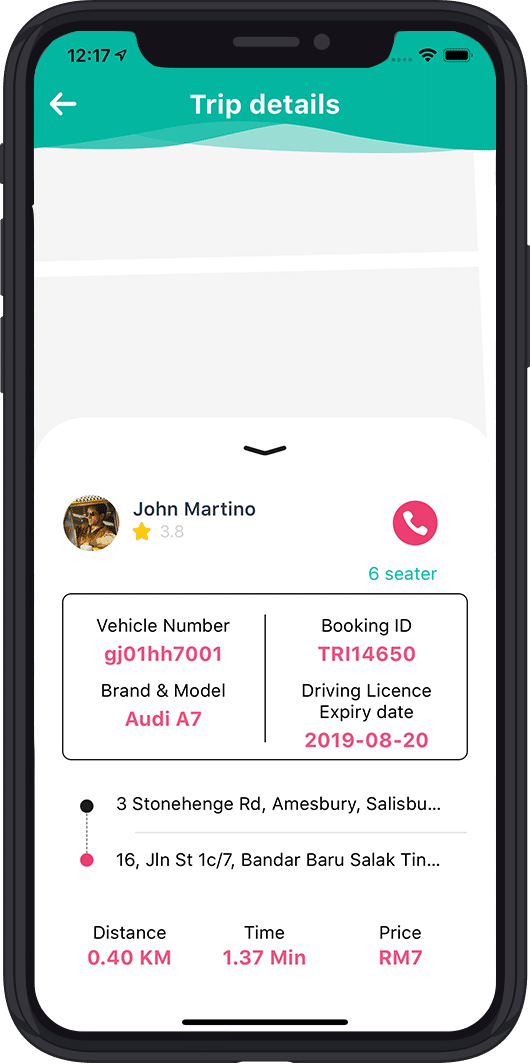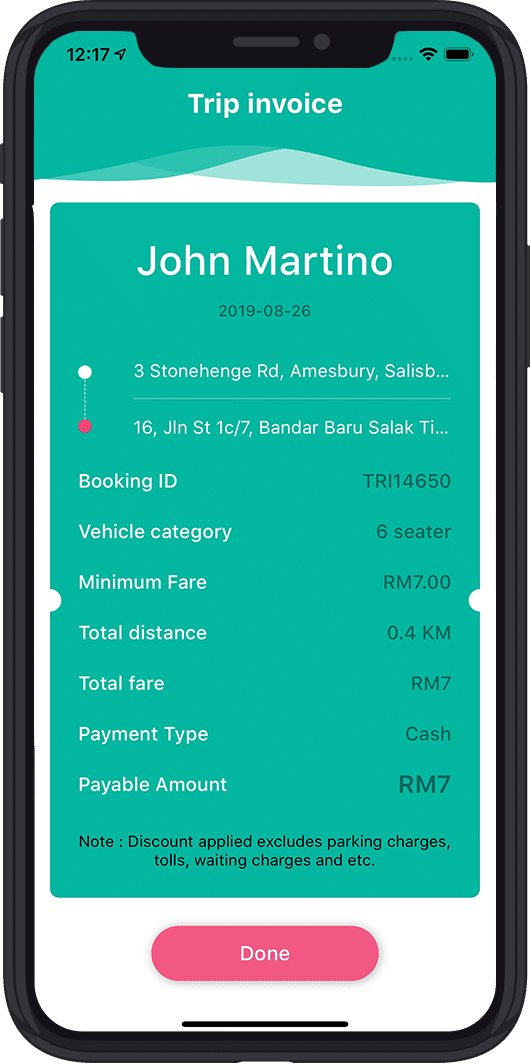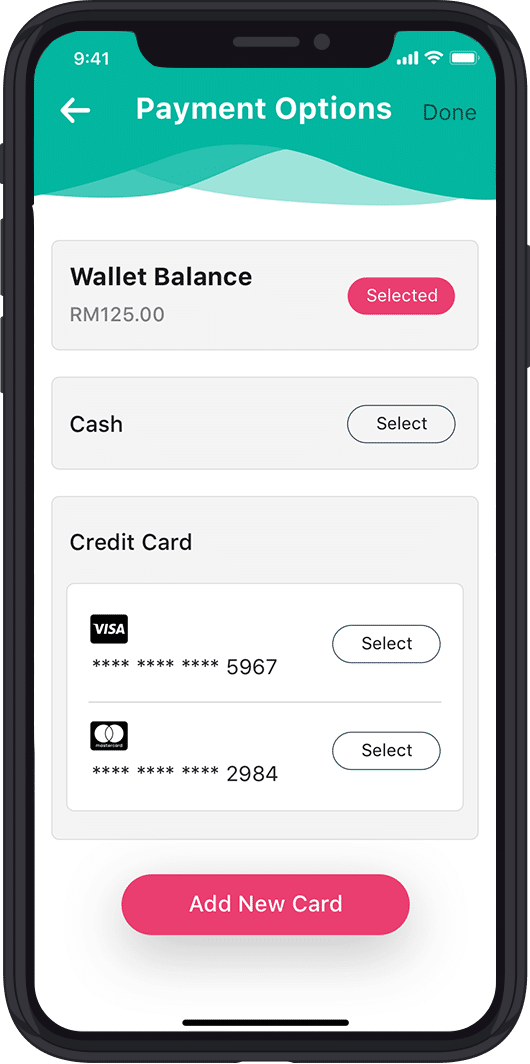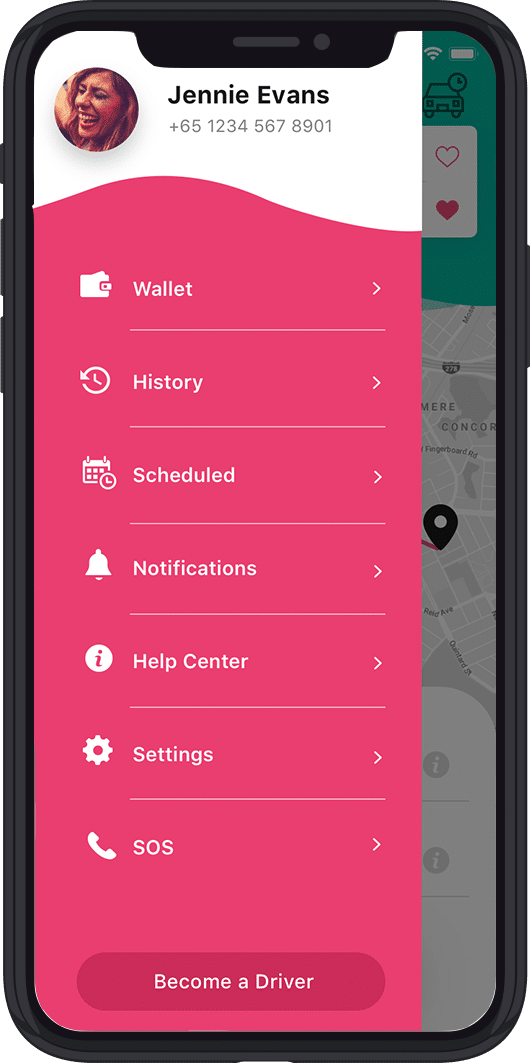 • Invite & Earn
By this feature, customer can invite anyone through social media or email for booking the ride and he will earn get promo code or offer!
• Ride History
The customer can have a look at his on-going, scheduled as well completed ride history with each and every detail.
• Push Notifications
This app feature will provide the user with continuous push notifications regarding fare, tracking, payment and order status.
• Price Estimator
The price estimator feature permits the customer to calculate the estimated cost of any particular vehicle on the basis of which he can book a ride.
• Real-Time Tracking
After booking the cab or ride, this feature of Uber clone script enables the user to track driver live and get to know how far it has reached.
• Payment Gateways
The app accepts the payment in cash or from card or through any of the multiple payment gateways, with whichever payment mode the customer is comfortable with.
Driver App Features
• Easy Registration
The drivers can register easily after uploading necessary documents required at the time of registration.
• Alert On New Requests
The driver gets notified immediately whenever a new ride request of the customer hits his profile.
• Accept Or Reject Requests
The driver can easily accept or decline the ride request of the customers per his discretion.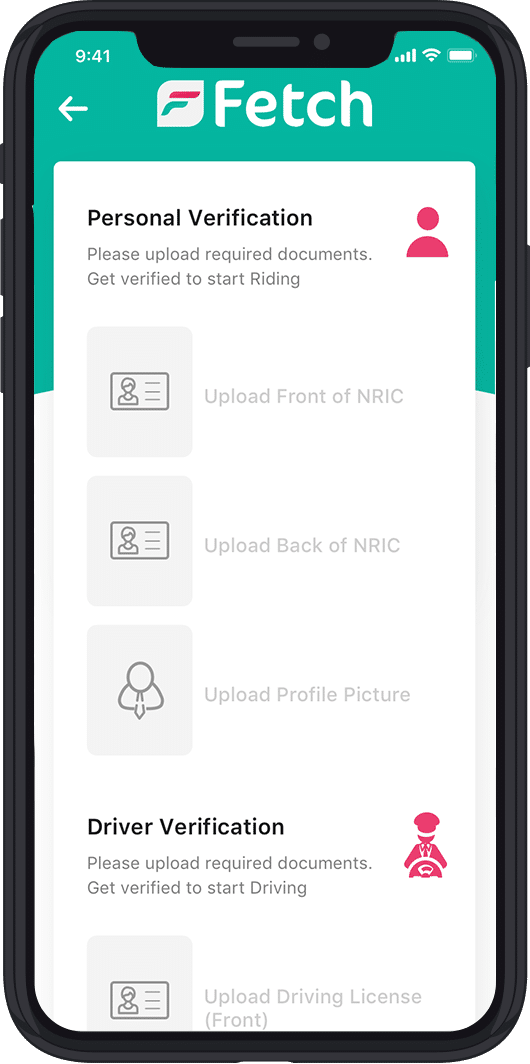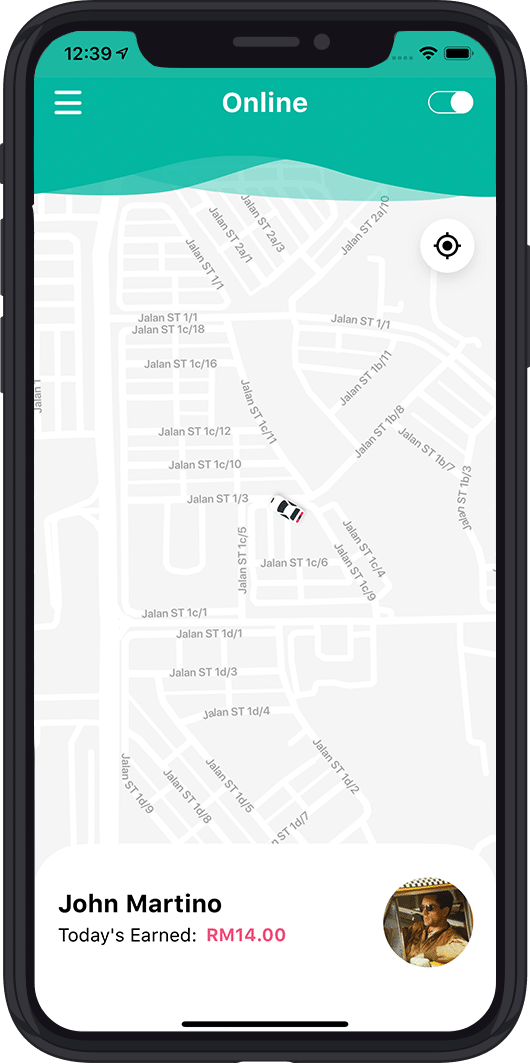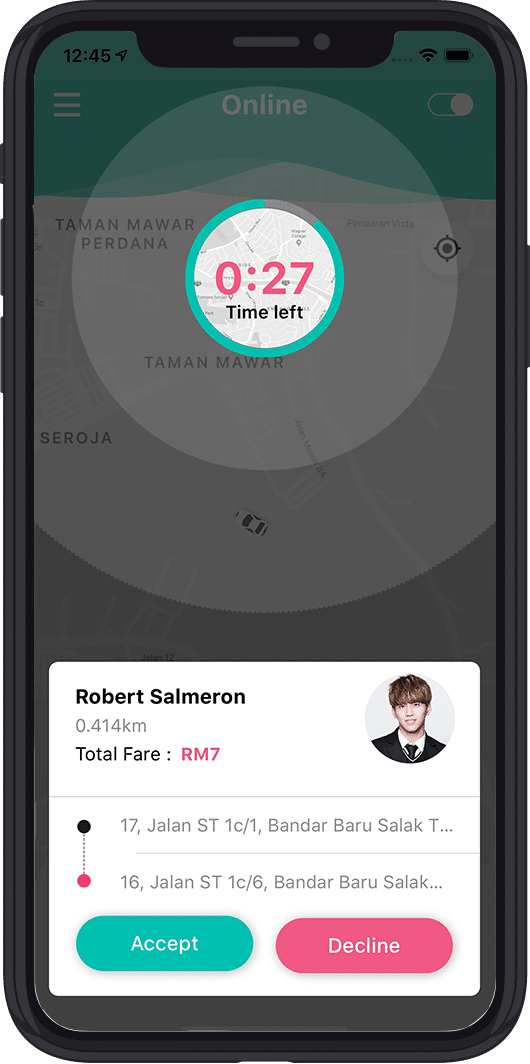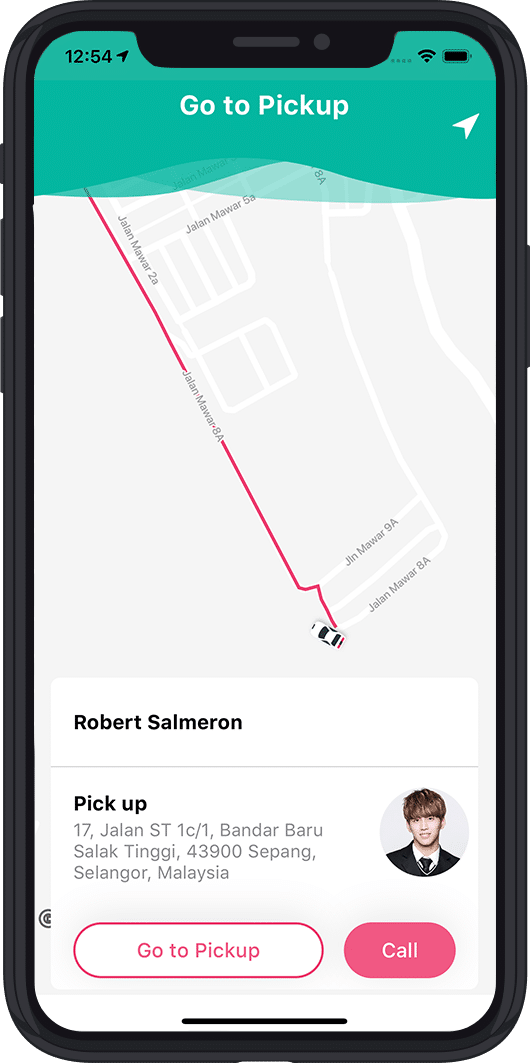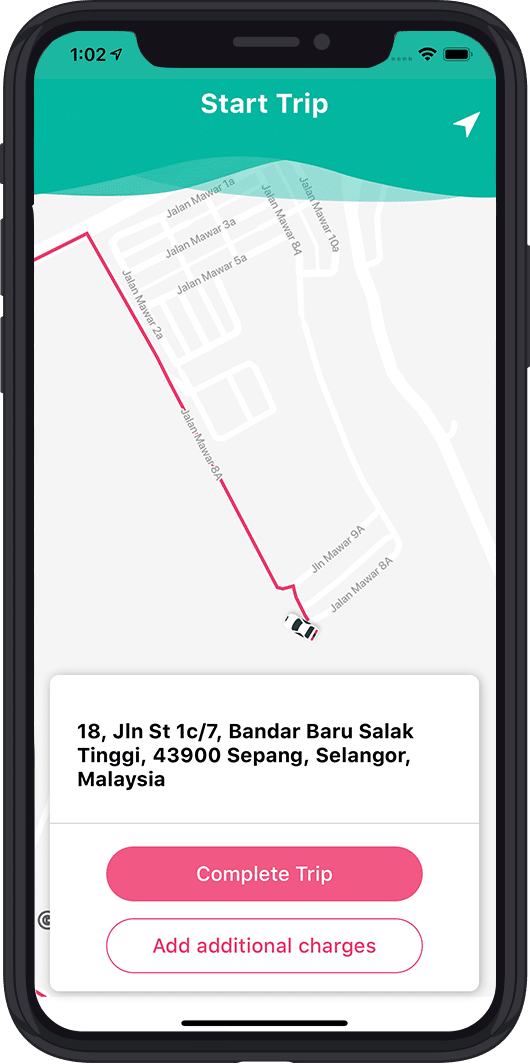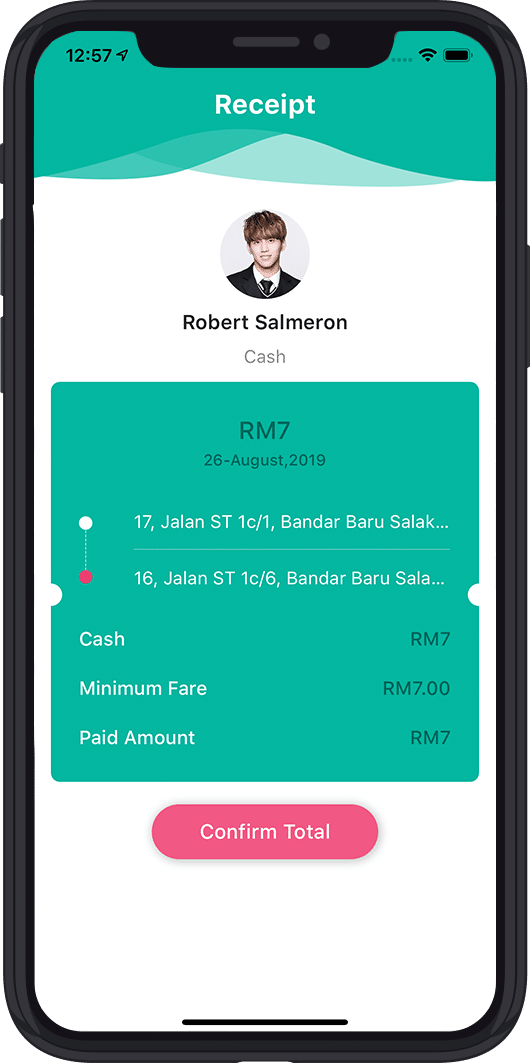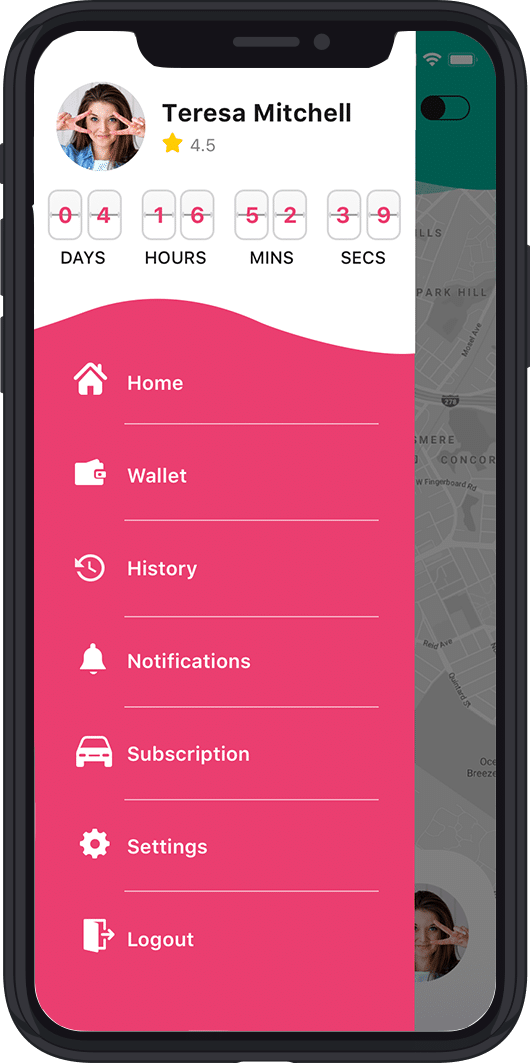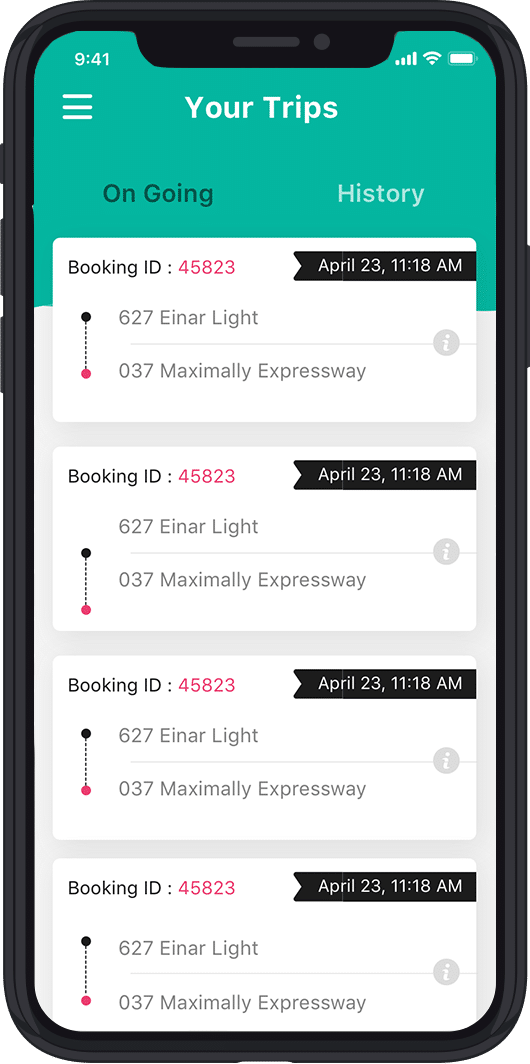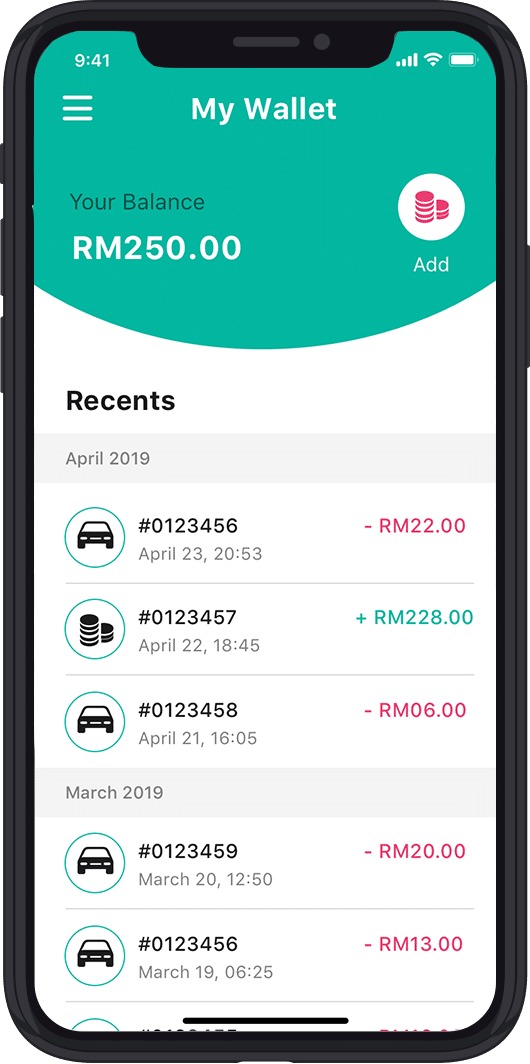 • View Rate & Reviews
The driver can view the reviews that he received so that he can get to know his weakness and strengths and make improvements.
• In-app Call & Chat
The driver has an option to call or chat with customer in case of any doubts or questions regarding his location.
• Ride History
The driver can have a look at the rides he has completed on that day or that week in a chronological order.
• Track Customer Location
It becomes easy for the driver to know the exact location of the customer on the Google Map.
• Automatic Fare Calculation
This feature enables the driver to calculate the fare for the services he has rendered for the day.
• Availability Status
This feature of the app permits the driver to set his status as active or inactive anytime without any hassle.
Admin Panel
• Admin Dashboard
Through this dashboard, the admin can seamlessly manage business functionalities, get current business statistics and can analyze them while on the go.
• Manage Customer
As per the business requirement, the admin can add or remove any of the existing customers as well add or edit any customer's details an export the report of them.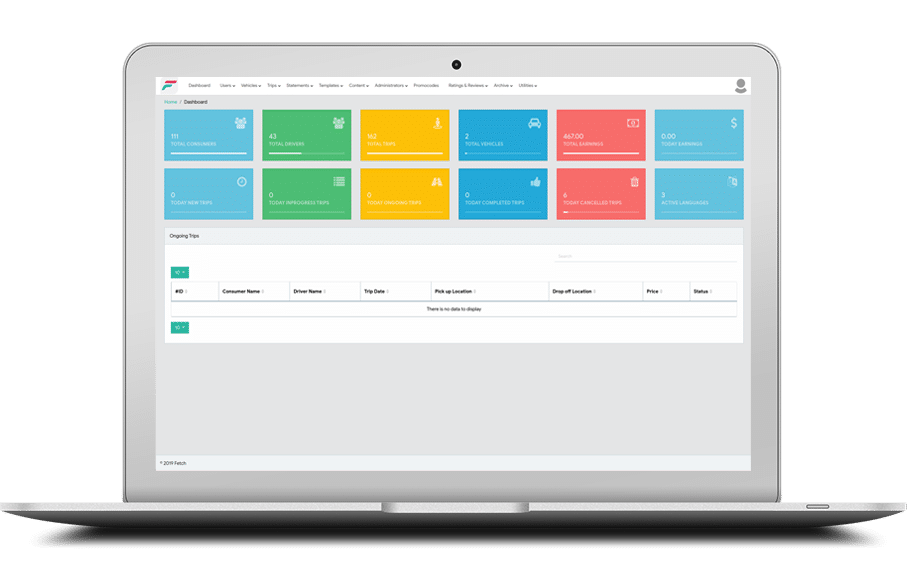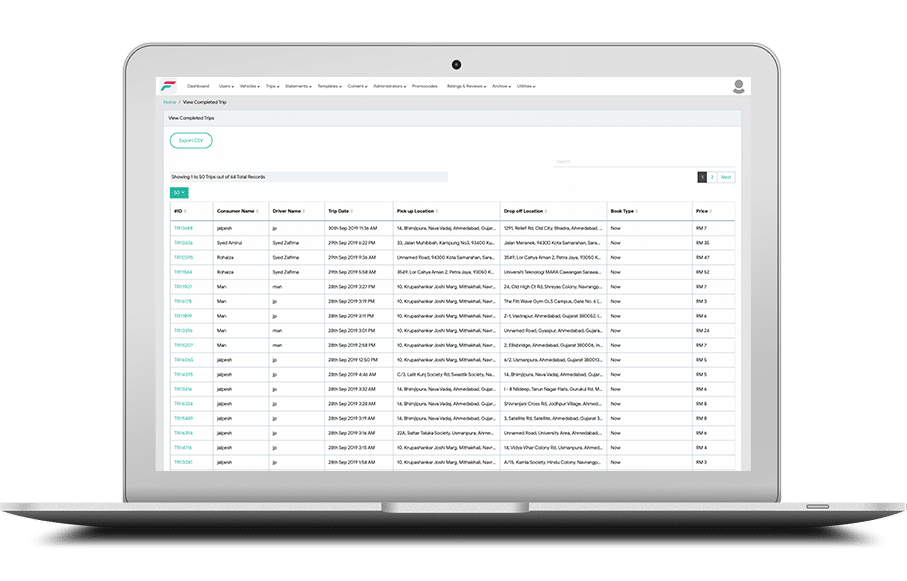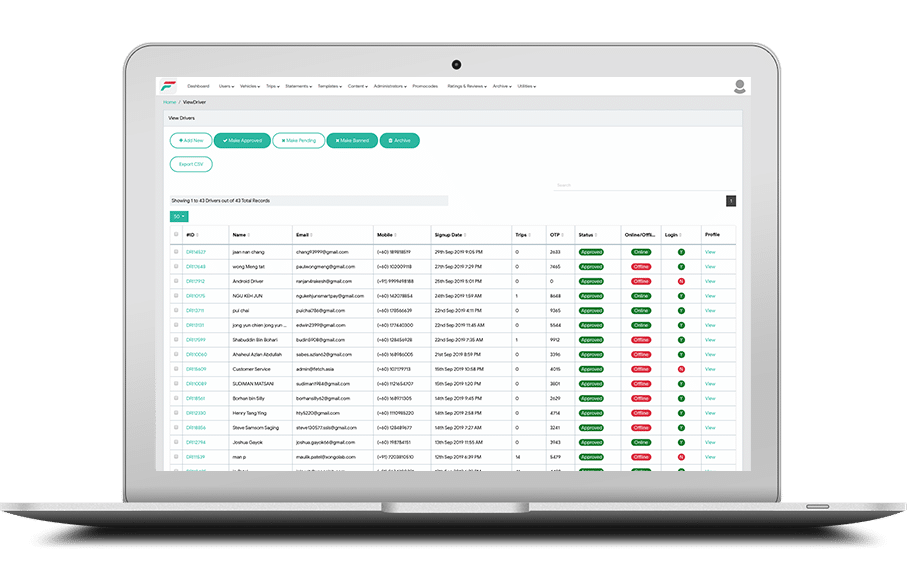 • Analysis & Report
For enhancing and improving business, the admin can analysis all the details about the driver, customer, payment. Commission and export any report.
• Notifications
This feature becomes easy for the admin to notify both drivers and customers on any current updates, alerts or new offers via push notification & email.
• Manage Drivers
This option allows for admin to add or remove any of the existing drivers, vehicles, commission or payment and much more.
• Manage Rides
Through this feature, the admin can go through the completed rides and the rides pending, so that he can manage the rides systematically.
• Real-Time Tracking
The feature permits the admin to track the live location of every vehicle, whether the driver is active or inactive.
Uber Like Clone App Work
Our Uber Clone App Work
By implementing interactive Uber clone app source code, XongoLab has designed stunning solutions through which many entrepreneurs have kick-started their business digitally in a short time span.
Fetch
Uber Like Taxi Booking App
Swift

Java

Node js

MongoDB
View Project
Kyaab
Uber Like Clone App
Swift

Java

Node js

MongoDB
View Project
Our Firm Grip On Technologies
Superlative technologies used by us provide entrepreneurs unique, intuitive and modern business solutions that are required for digital transformation. React Native, Flutter, Node.JS, React.JS, Angular.JS, Swift, Objective-C, Java, MongoDB, and many more, whatever the language or framework it is, our developers can play very well with them and build a seamless Uber clone app source code.

Language
React Js, React Native

Language
Flutter

Language
Node JS

Language
Angular Js

Language
Swift, Java

Database
MongoDB

Google
Map

Payment Gateway
Stripe
transparent Uber Clone App Development Methodology
A roadmap is created on the basis of the analysis made and ideas gained from the project plan. The steps on how the development process will be commenced are also laid down, leaving no room for blunders. We follow a flexible process which lets you include changes at any phase of the Uber clone app development process.
1
Study Requirements
Understand the requirements of the clients and recommend them possible solutions.
2
UI Designing
Draft designs and wire-frame each screen and start developing as per the draft made.
3
Development
The approved designs are modified into an application with solid frameworks.
4
Testing
Prior to launching, the app passes through rigorous testing to ensure it is bug free and also passes through platform compatibility check.
5
Launch
Once assured that everything has been uploaded and integrated perfectly, the final product is launched on App stores.
Exceptional & Beneficial Uber Clone Add-ons
You can add more to your Uber clone script to make it more engaging and unique. Below are mentioned the paid add-ons that you can purchase and integrate with your app to achieve increased levels of profits from your app.

Social Login
The customer can directly login into our app using any social media profiles like Facebook, Instagram, Twitter, and Google.

Corporate Rides
Using this feature, customers can make a booking for the ride for business purposes which is paid by business.

Car Pool/Ride Share
While following the same route and performing a single trip, the driver can enable many customers reach their destination.

Toll And Parking Charge
Either app will be automatically fetched the toll and paid parking for deciding routes or driver should enter manually.

TIPS to Driver
Based on the driver's behavior and his cab condition, If customer wish to give him a tip, then customer can pay TIPS to the driver by the application.

Company Dispatch Panel
An individual taxi company can manage his taxi business by this module. A company can add, edit, remove vehicles and drivers also check his earnings.

Admin Rights & Roles
By using this feature, Admin can give whatever rights and access to your other employees on the basis of your specifications to manage the panel.

SOS/Panic Contact
In case of any emergency, customer or driver can send the text message along with the tracking link to any 5 contacts which he/she added already.
Frequently Asked Questions
Making it easy for our customers, we here under answer some of the questions relating to our services rendered. Please have a look!
Uber Clone App
Do you provide support even after the completion of the free support tenure?
Yes, we are having quite a few paid support packages from which you can opt one as per your requirement and let us know so that we can provide you with the required support.
Does XongoLab signs a Non-Disclosure Agreement?
Yes, a Non-Disclosure Agreement is signed by us with our every client, ensuring that the idea of the app and other related details are going to be completely safe in our hands. Even, signing a NDA doesn't lead to any kind of misunderstandings in the future.
From where can I get to know about your past projects?
We have uploaded our past projects under the heading 'Work Showcase'. You can directly browse that page and have a glance at our previous award winning projects. You can also download a few to know how we design an app and what all features are integrated with the app.
Will the Uber clone application be lucrative for small entrepreneurs?
There are many small entrepreneurs from all over the world as our clients who are commencing their business successfully via our app development services. So, whether it is a mini industry of a start-up, our Uber clone application is equally lucrative for those industries as it is for big enterprises.
With which technologies XongoLab work?
For Website: WordPress, PHP, CakePHP, Magneto, Zend, Laravel, AngularJS, Codeigniter, etc. For Android: Android native, iPhone native, PhoneGap, IONIC. For iOS: Objective-C, Swift, C++. For Databases: MySQL, MongoDB, GraphQL, Golang, Firebase. For Hybrid: React Native, Flutter
Client Reviews
95% of satisfied clients have appreciated our work and recommended us to other clients.
Read All Reviews
Mohammed Kriez
XongoLab is one of the professional mobile app development companies that we have dealt with!

Julius Kyazze
The team got to understand both my app requirements and always made an effort to deliver as requested.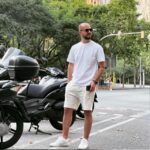 Evi Dedja
I am very impressed by the way the team at XongoLab work. They help build your ideas and turn them into reality.

Richard Ling
Commitment to deliver regardless of the amount of time needed to completed the tasks.

Paola Baquero
They have a very complete team, where they attended each of my requirements and offered different solutions.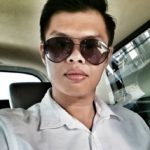 Andrew Yuen
They never fail me on all of our request and always complete the task according to time line.

Jason Cowles
I've worked with XongoLab on several initiatives. They consistently deliver a quality product on time, on budget.

Akshay Sewani
If you are looking to build mobile or web applications, just get in touch with these guys and leave the rest to them.

Gourab Mukherjee
Extremely Reliable and a Hardworking team and good value for money! The culture of the team is extremely reliable.

Kristin County
Happy to have had XongoLab help our startup in this early stage. They have really been a partner for us!

Faisal Al-Salem
Understand any requests even if we don't give a clear brief Very flexible team

Dominic Phan
XongoLab's team was very professional and quick to respond to queries and delivered before the agreed date.
Blogs
We light the lamp of knowledge by spreading it. Sharing the knowledge we gain helps us enter deep insights and make meaningful transformations in the world around us. Look how we contribute towards a technologically better world.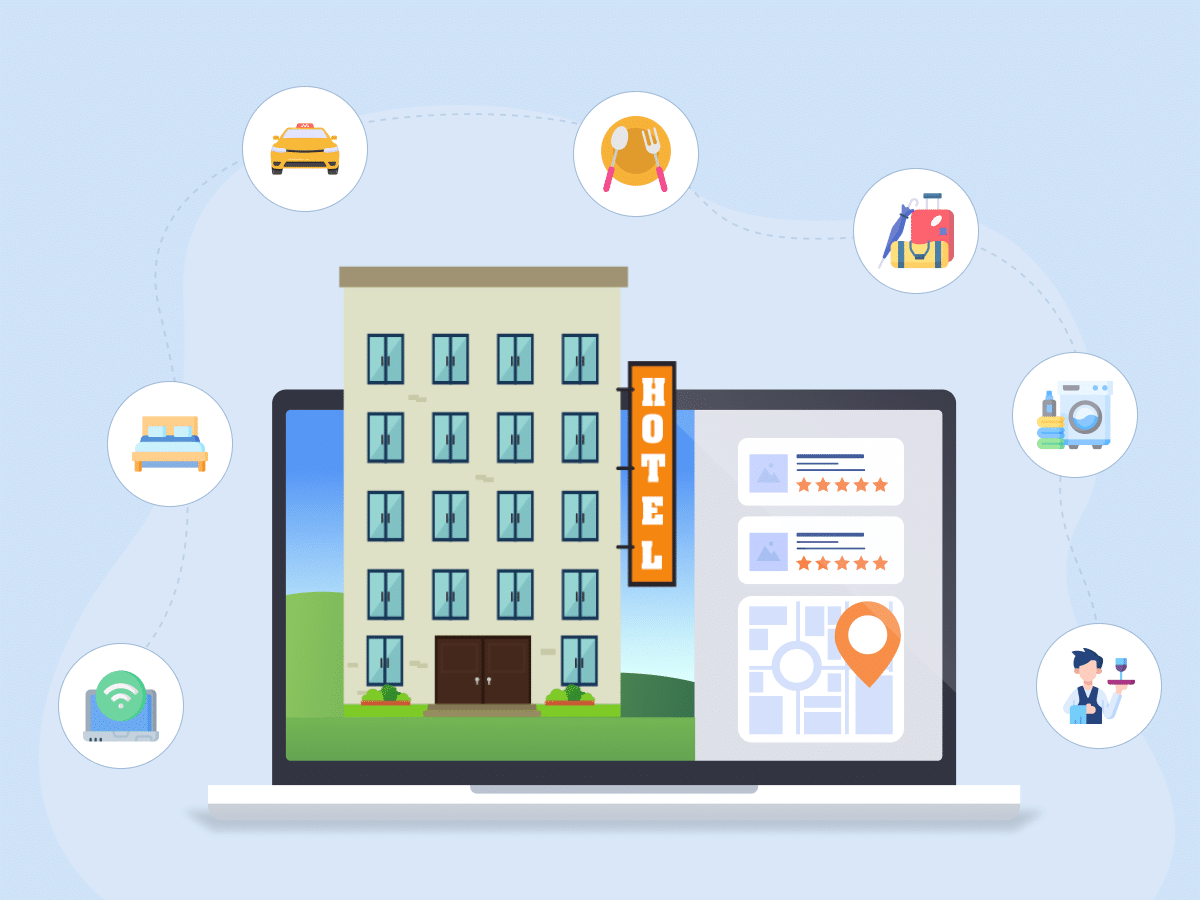 The Ultimate Guide to Hotel Management Software Development
Imagine a scenario where the reception area of your hotel is inundated with guests seeking assistance, staff members...
Continue Reading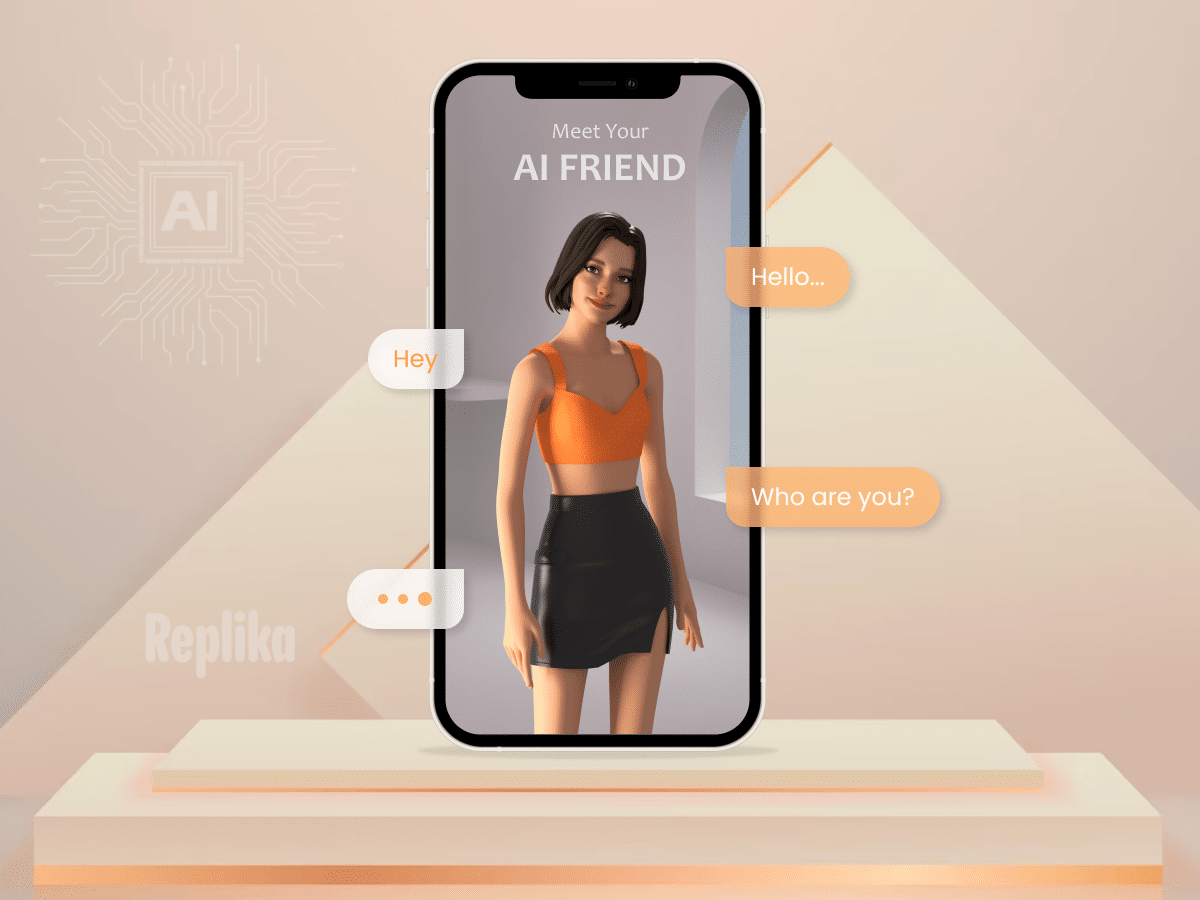 A Detailed Guide to Building an AI-based Chatbot App Like Replika
Artificial intelligence links progress and those seeking personal growth. Chatbots have emerged as a popular tool for engaging...
Continue Reading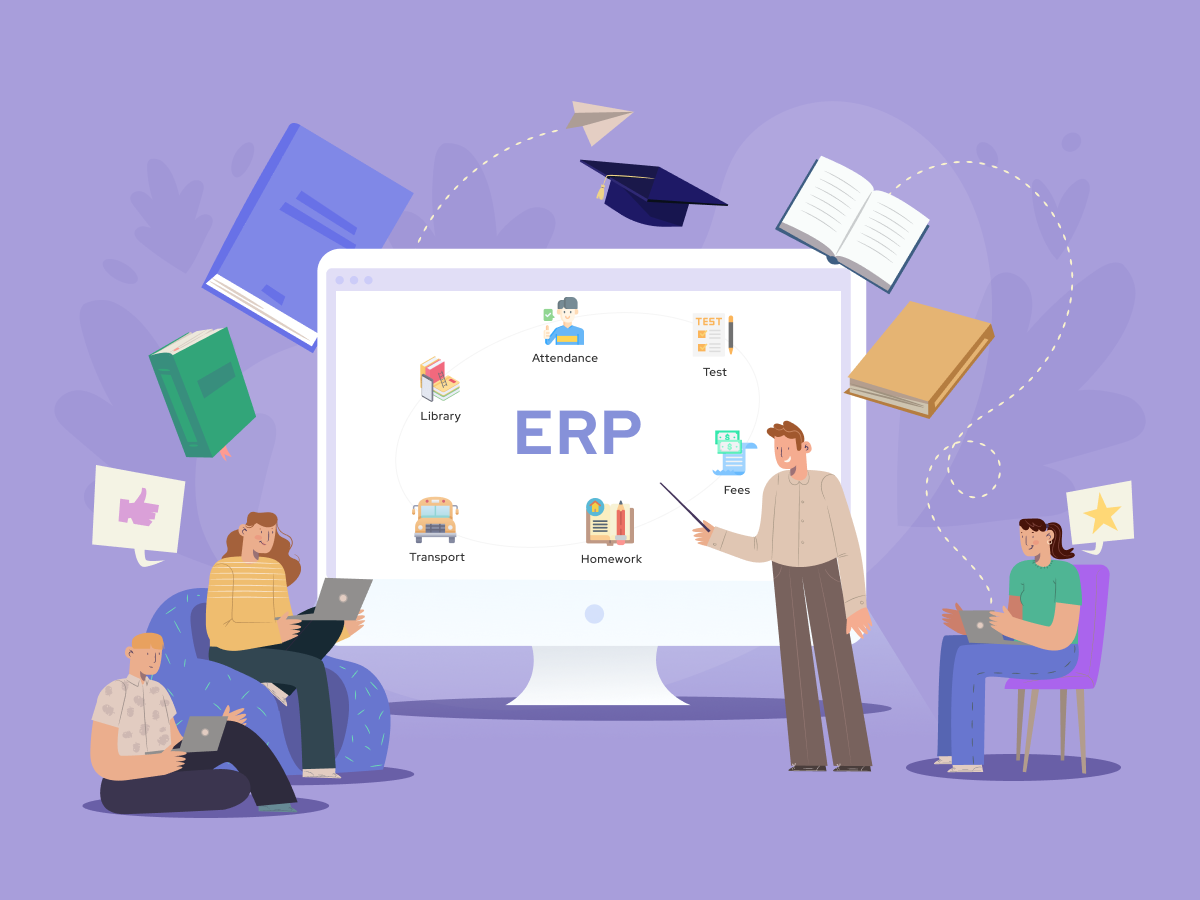 How Much Does School Management Software ERP Cost?
Technology is vital in transforming various sectors and applications, and school administration is no exception. Ongoing digitalization brings...
Continue Reading