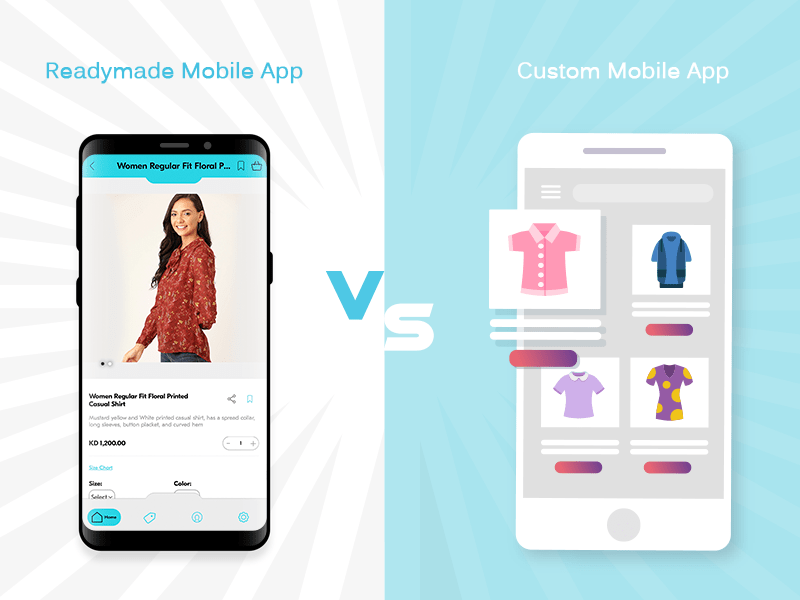 Ankit Patel

May 06, 2022

5 min read
Transformations and revolutions are the main ingredients a business uses to channel its success. This includes the utilization of solutions like mobile apps in particular that helps them to reach out to maximum customers and keep them engaged as well. These solutions also have a great impact on businesses. It helps them enhance their ROI, automate their operations and make long-term benefits.
For new businesses particularly, adopting these solutions are a gateway to more success and profits. However, it becomes important for them to not end up consuming too much time or finances when embarking on mobile app development services. This means, that the decision related to the choice between creating a mobile or getting a solution that is readymade becomes vital. This ultimately helps them to ensure that the future goals of their venture become easy to achieve.
As you read the article, I am sure you will be able to select the correct solution for your new venture and successfully drive your customer base and make more revenues too!
So, let's start.
Custom Mobile App Development vs Ready-to-Launch App – Comparison
◉ Time to Market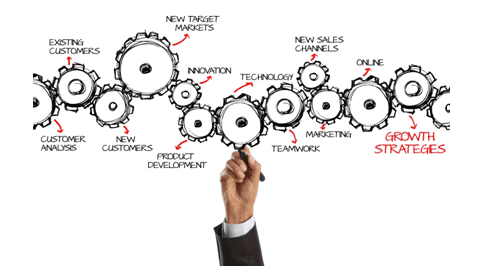 Image source: carmatec.com
As you observe the image above, I am sure you can understand that when I use the word 'time' it covers a huge number of areas. This includes the period for building new sales channels, incorporating new growth strategies, building innovations, etc.
Therefore, this is an important determinant that would aid you to make the right choice. This is particularly before you select a particular mobile app type- between custom and ready-to-launch.
In simple words, if you select a ready-to-launch app, all you need is to add some customization. Within a couple of weeks, your app will be ready to roll thereafter. On the other hand, if you have a custom app, the duration may be longer. It might extend to months.
◉ Cost
For a new business venture, the costs and investments are a primary area of concern. In other words, they want to save on this area to the greatest extent. Therefore, it becomes vital for them to embark on a solution development strategy that doesn't consume finances at a greater percentage. Hence, most of them select a ready-to-launch solution.
Choosing a ready-made solution ensures that the time to market is lesser, and you do not have to pay too much, thereby ensuring success in the long run. But, if you end up selecting custom apps, you might spend more on investments, maintenance and upgrades.
◉ Data Security
Let's face it, for businesses today, data security and privacy is the primary area of concern. This might negatively affect your reputation. It would lead to your business losing its overall credibility. You may have noticed how Facebook came under strict scrutiny, especially after the data breach in 2013, where close to around six million users had their personal information exposed, including their contact details. Therefore, if you want 100% control over the data, choose custom mobile app development. It would support you to have full control over the IP address related to your business. This is something you may find missing in a ready-to-launch app.
◉ Tests
Testing takes place at an ongoing duration in a ready-to-launch solution. On the other hand, when it comes to a custom app, testing hardly takes place. This is one vital point that makes the two different. Particularly, due to testing at an ongoing rate in a ready-to-launch app, the chances of earning more customers become higher. This is something you cannot expect in a custom app.
Other points of comparison between both of these app development methods are as follows-
The launch period is faster in a ready-to-launch solution which is not possible in a custom app.
Based on the customization you make or add or the features you include within the app, you pay accordingly. This is one major factor that makes ready-to-launch apps so popular. On the other hand, you might pay more when channeling custom mobile app development.
Third-party integration is easy to add within a ready-to-launch app. This comes with a catch-cost. The same is however a matter of concern in a custom app. You would end up spending more on this task.
Having an idea now on the points of difference between these two app development kinds, let me educate you on the pros and cons of these two in the lines below.
Pros and Cons of Custom Mobile App Development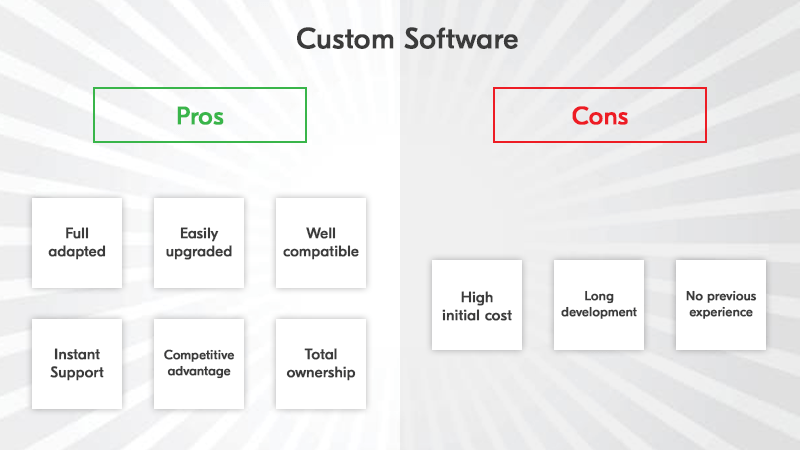 Pros
Designing and development are easy to perform as per different business requirements.
Adapting to changing market needs is easy to achieve.
Integration challenges are lesser in number along with extremely few incidents of compatibility-related glitches.
Cons
You might end up spending more during the development stage.
Time-to-market is more in these apps. Thus, you might have to wait for a long period for your app to go rolling.
With knowledge of the pros and cons of custom mobile app development, let me educate you on the pros and cons of ready-to-launch apps.
Pros and Cons of Ready-to-Launch Apps
Have a look at this image below to understand the pros and cons of these apps.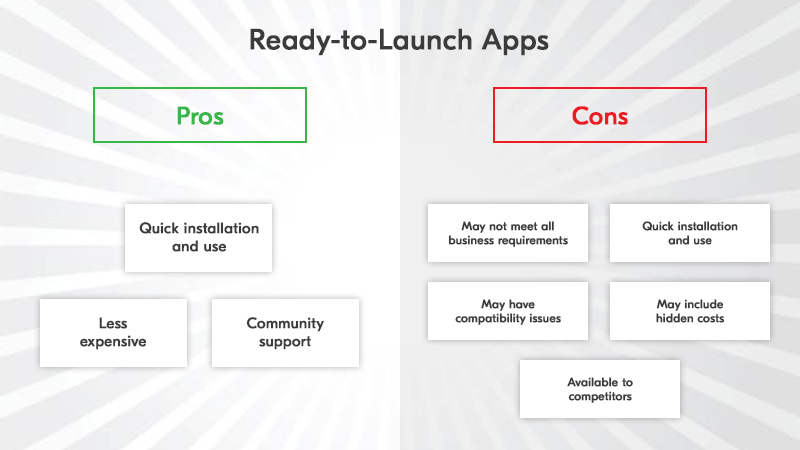 The image gives you a glimpse into the pros and cons of a ready-to-launch solution. Let us try to understand these in the points below.
Pros
Being already developed; these apps are ready to launch and use.
Time to market is lesser.
As these solutions are already used by other businesses, therefore based on client reviews, you can make the final choice.
Cons
Business processes might go unmatched in some apps that are ready to launch. This would make it necessary to modify the workflows so that it becomes easy to match.
Compatibility and integration issues might be challenging in case you try performing this task with existing apps.
As a result of these solutions catering to standard requirements, there might be situations where the business needs might go unaddressed.
So now that you are aware of the basic points of difference between these two app development kinds, it is important to reflect on identifying the app development kind that would help you to propel ahead. Simultaneously, it would allow you to accelerate your profits and maximize your customer base.
Before that, have a look at this image below to understand the points of difference between custom and readymade apps.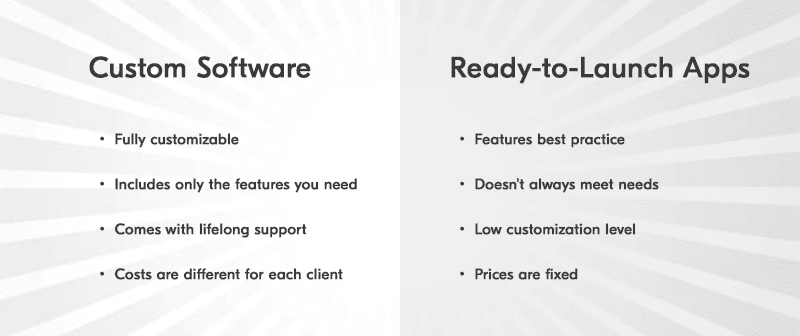 Knowing the different types of app development kinds, namely, custom app development and ready-to-launch app development, and their pros and cons, I am sure you would now want to understand the best app development kind among these two.
To make this choice, you need to ask yourself some important questions.
Do You Know What You Need?
Let's face it, if you do not know what you need, it is impossible to explain the same to your peers. Take, for instance, you are not feeling well, and you do not know where the source is, you will find it difficult to explain it to the doctor, right? This goes for businesses too. You need to be aware of your needs before anything else. This will save on time and finances consistently. Hence, if you are aware that a custom or ready-to-launch app will be able to solve your business needs, then you can go ahead and select an app kind conveniently. Thereafter document the workflow. You need to highlight the different issues that customers or you as a business are facing. Then understand if a custom or ready-to-launch solution will help you in this.
Know more: Top 5 Reasons To Build An App For Your Business
Do or Will Your App Require New Updates?
This is another major question that you need to ask yourself. It is important to analyze if a ready-to-make solution is fit for your needs. Thereafter, try to understand, in case you would require to make any modifications. Once you identify these areas, you can go ahead and decide if you need a ready-to-launch or custom app.
Once you have answers to these questions, you can then go ahead and make the final choice for the app that works best for your business.
Ending Words: Who Wins the Race – Custom or Readymade App?
Businesses are on the lookout for having access to a solution that is easy to launch, does not consume too much of their finances, and is easy to modify based on future business requirements. This allows them to save on time and costs both.
It thus becomes necessary to make an appropriate choice between custom and a readymade app. This choice will support the venture ultimately to ensure they can save on their money apart from also being assured of gaining enough ROI.
You may also like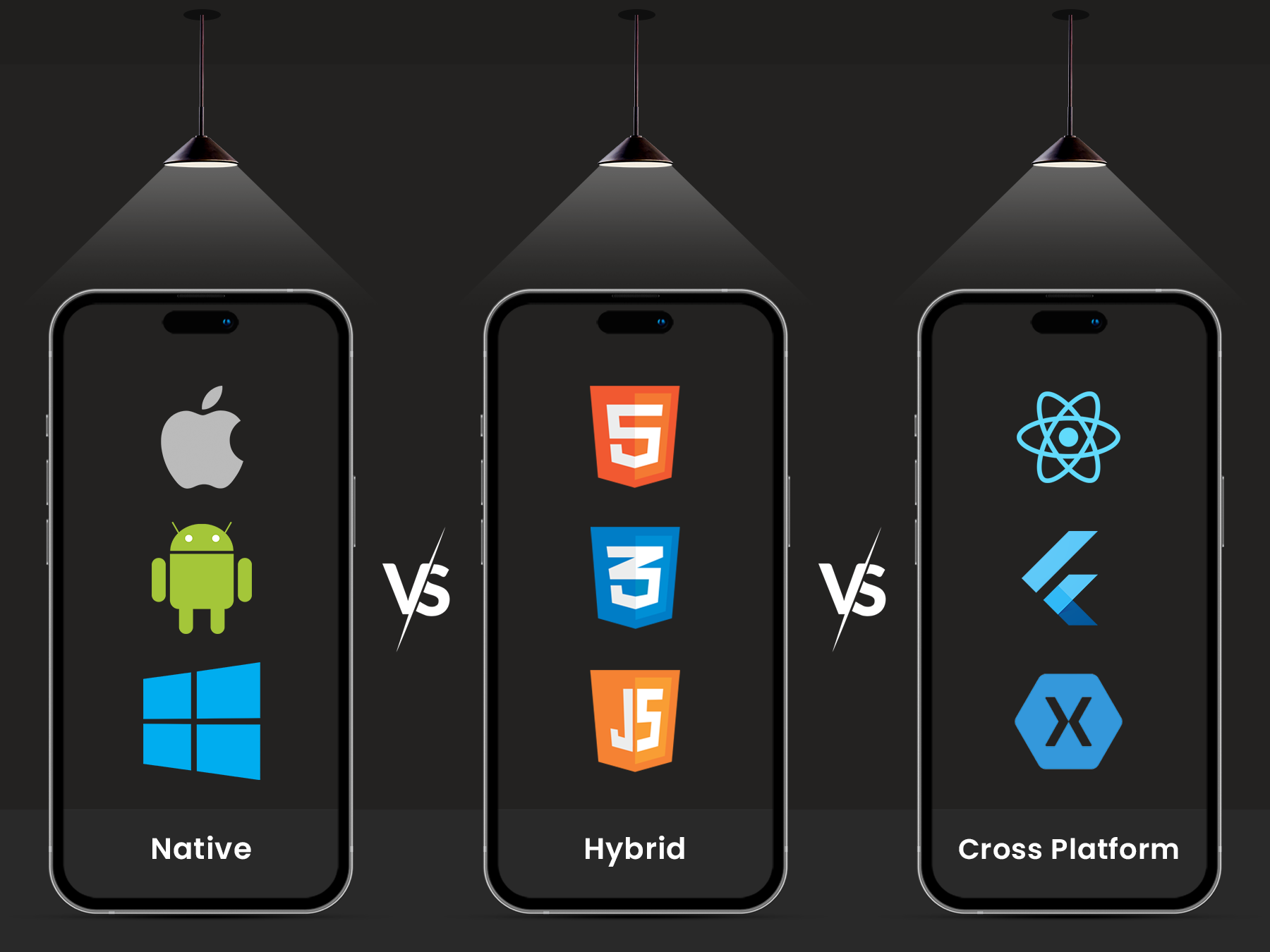 Native vs Hybrid vs Cross Platform: Choose Best for App Development
Ankit Patel
Technology has brought about a major shift in the way businesses operate. It becomes quite imperative for them to make their presence felt. This in turn makes it critical for… Read More