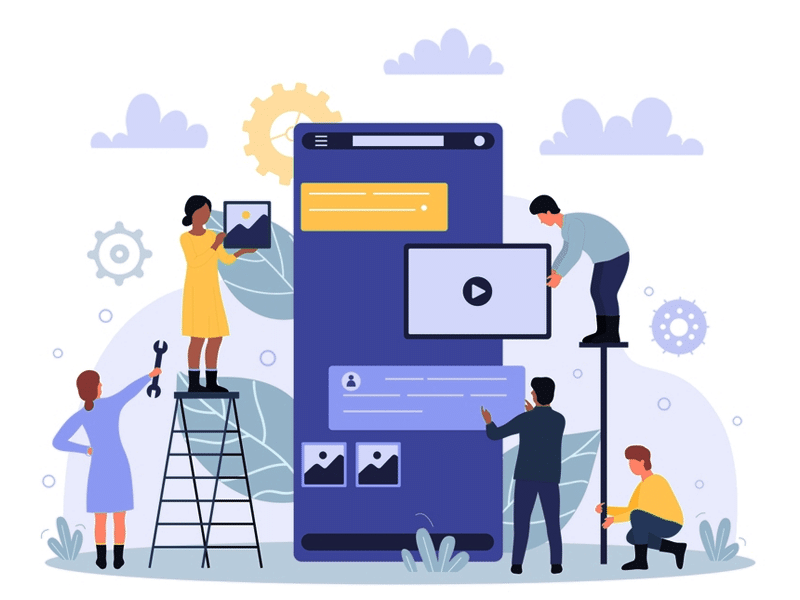 Ankit Patel

December 30, 2022

6 min read
There are over 6 billion smartphone users globally. This makes it come as no surprise that the mobile industry is indeed a thriving one.
With 49% of these users opening apps on their devices 11+ times on a daily basis, hence, mobile applications offer an enormous business scope in today's modern technological world.
Going by the figures, mobile apps are going to generate over $935 billion by 2023.
Hence, if you have made up your mind to launch an app to flourish your business online, it's vital to lookout for hire the best mobile app development company.
But here comes a vital question: how to select a reliable app development agency for your project?
The question "How to find the best mobile app development company?" is very popular on the internet.
Albeit this is a puzzling question, to make things clear, we have brought out this guide to help you make a better decision and ensure you get an app that is robust and high-quality.
When we have a plethora of options in front of us, making a choice is difficult, undoubtedly without any questions asked. This is particularly when it comes to choosing a tech enterprise or mobile app development company.
With the requirement for software solutions observing a steady rise in the last decade, the demand for app development agencies went up too. In fact, Statista has predicted that mobile apps will generate revenues of $935 billion by 2023.
The graph below is a testimony of the popular nature of these solutions thereby suggesting why businesses are empowering their ops with it.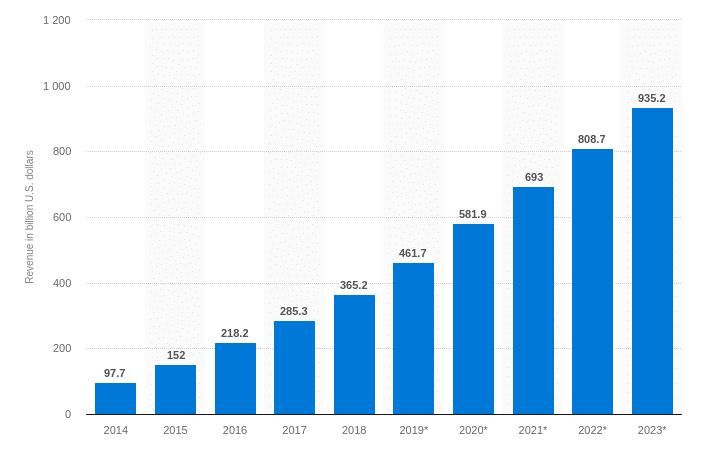 Image source: statista.com
Therefore, when it comes to embarking on the journey of building a robust app, it is important that a reliable partner be selected. Here it is important that research and background check alongside the study of the portfolio be done carefully and stringently. This is due to the support they provide in terms of transporting the business to the path of success in a considerably short time. With startup owners slowly and steadily realizing this, more and more of them are therefore turning their shift toward app development agencies.
Read Also: Top 5 Reasons to Build an App For Your Business
Reasons Businesses Partner with App Development Company
There is a myriad of reasons that lead to businesses getting in touch with an app development company.
Gives access to pre-project and post-project launch support so different requirements from app design to testing are met in one place.
Saves on costs as businesses receive the support to pay only for the deliverables they get endowed with.
Ensures streamlined workflow, thereby ensuring that the business is backed with timely updates related to their project and is aware of its completion status.
So, now you are aware of the reasons why to connect with a company skilled in mobile app development services, let's know the ways to make the ideal selection.
How to Select the Best Mobile App Development Company?
To ensure that the mobile app development agency you partner with is adept with the right skills to build a robust mobile app, follow these steps.
• Research Credentials
The first major area that you need to place under strict scrutiny before going ahead with an Android or iOS app development company is performing a thorough background check on them. This means you need to ascertain that you conduct thorough online research on them.
This entails going through the reviews they have received, followed by getting a formative idea of their years of experience, checking the apps they have developed in the past, to finally examining what clients have to share about them.
• Know Pricing Strategies
You need to understand that it is indeed a difficult affair when it comes to ascertaining the exact cost to build an app. There are a large array of factors that go into play. This starts from the platforms where the launch will take place, to support-related tasks.
Therefore, before you even go ahead with the organization, make sure you have this clarity- a reliable company will deliver structured pricing to you. In other words, they will empower you with areas where the cost will go up, and so on, thereby keeping your trust intact in them in the long run which is a key to a strong relationship in the long run.
• Examine Development Process
Before you say yes to any app development agencies, make sure you have examined the techniques they adopt for carrying out mobile app development services. This means you should know their approach to the ways they will work towards creating a solution that ultimately drives value for you.
Now if we have to give you how the process is carried out, it starts from the definition of the business strategy to the app getting checked by the QA team before it goes into the hands of the client. Have a look at the image below to get clarity on this aspect better.

Image source: sonin.agency
• Focus on Quality & Cost
The next important aspect that you should place focus on when you are about to partner with an app development company is to examine the nature of the solution they have developed. Here it is particularly crucial to make sure that it is cost-effective and is maintaining quality standards. In other words, make sure you have the clarity that the organization will deliver you an app that ensures business outcomes as you expect.
In the long run, this will help you to determine how successful your business will be. Hence, give a good amount of focus on the same.
• Coding Standards
Regardless you are connecting with an iOS or Android app development company, make sure is competent in the field. Therefore, examine the frameworks they use for development purposes for hybrid, native or cross-platform apps.
This follows next by asking the company to sign a copyright agreement that will highlight you as the sole owner of the project which includes the source code, the design, and so on so that your security remains at prime always.
• Platforms
It is another important area to focus on when you are embarking on the journey of application development services. You need to know the platform where you wish to perform the app launch. Once you have a good amount of clarity along this, you need to make sure that the company you are connecting with is adept in building apps for different OS.
It is to be noted here, that a company that is competent in cross-platform app development is someone you should go ahead with particularly as they will ensure your app visibility to take place faster.
• Data Privacy
Security concerns like insecure storage, data leaks, etc may go on to adversely affect the app's longevity. Therefore, it is recommended you select someone who can offer access to a secure code. This follows next by ensuring they provide you access to a secure app-building procedure, and so on.
Finally, check their comfort with signing an NDA or non-disclosure agreement with you. Explaining its meaning, the same is a legal document that entails the company that they would not be sharing the app's details with other businesses and would maintain the confidentiality of the client at all costs. With these two areas in check, you can be sure that the company you are partnering with is reliable and will keep you in the loop at all times during app development.
• App Testing Methodologies
This is another area that you should be checking when you are getting in touch with an app development company as it will help you know how well you will be able to boost users' attention in the long run through the app development.
Therefore, make sure you have asked the company the techniques they will adopt to beta test your app followed by the strategies that they will adopt to troubleshoot bugs in a situation wherein they get detected.
Read Also: Top 10 Mobile App Development Tools to Build a Robust App
• Assess Proposal
Before you onboard your project with the best app development agency, ask them to share the proposal related to the same with you. This will assist you to gain insight into the process they will adopt to move your project to the path of success.
To make it easy for you to understand what the proposal entails, it comprises and contains information related to the team that is going to carry forward the proposal development. This follows next by the features, functionalities, budget, and timeline.
Make sure all these aspects are provided clarity in the proposal that you receive so you know if the future of your app is in the right hands or not.
• Timeline
The last crucial area that you need to keep in check before saying yes to the mobile app development company is assessing their capability to keep sync between quality and time. Doing so will enable you to gain high ROI, followed by receiving best-in-line business outcomes.
Therefore, check if they can build apps of high quality at an accelerated pace or at the fastest turnaround time. With this in check, you can be sure to deliver a competitive advantage through the app you develop and earn greater returns right from the word 'GO'.

Bottom Line
Developing a mobile app is an arduous task. You need to partner with the right app development company for future business success. Therefore, when you ponder over the current market condition, the best way to hire an agency is to obtain clarity of your needs, followed by assessing the market requirements and business challenges. Here it needs to be specially mentioned that an ideal company will remain engaged in the development process and keep you updated at the same time about progress. Thus, in your search for a reliable company, do not forget to check our mobile app development services.
You may also like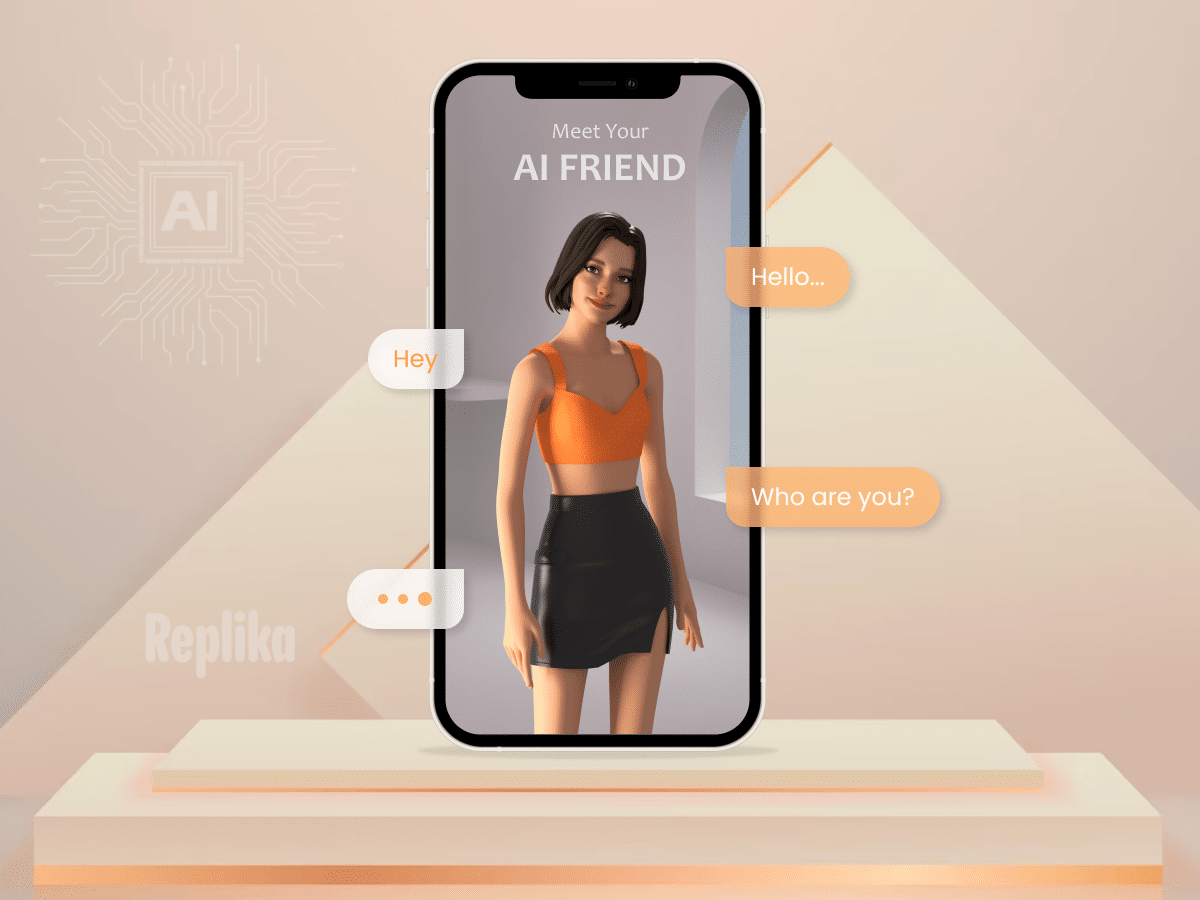 A Detailed Guide to Building an AI-based Chatbot App Like Replika
Jignesh Nakrani
Artificial intelligence links progress and those seeking personal growth. Chatbots have emerged as a popular tool for engaging users and providing personalized experiences among the myriad of AI applications. One… Read More