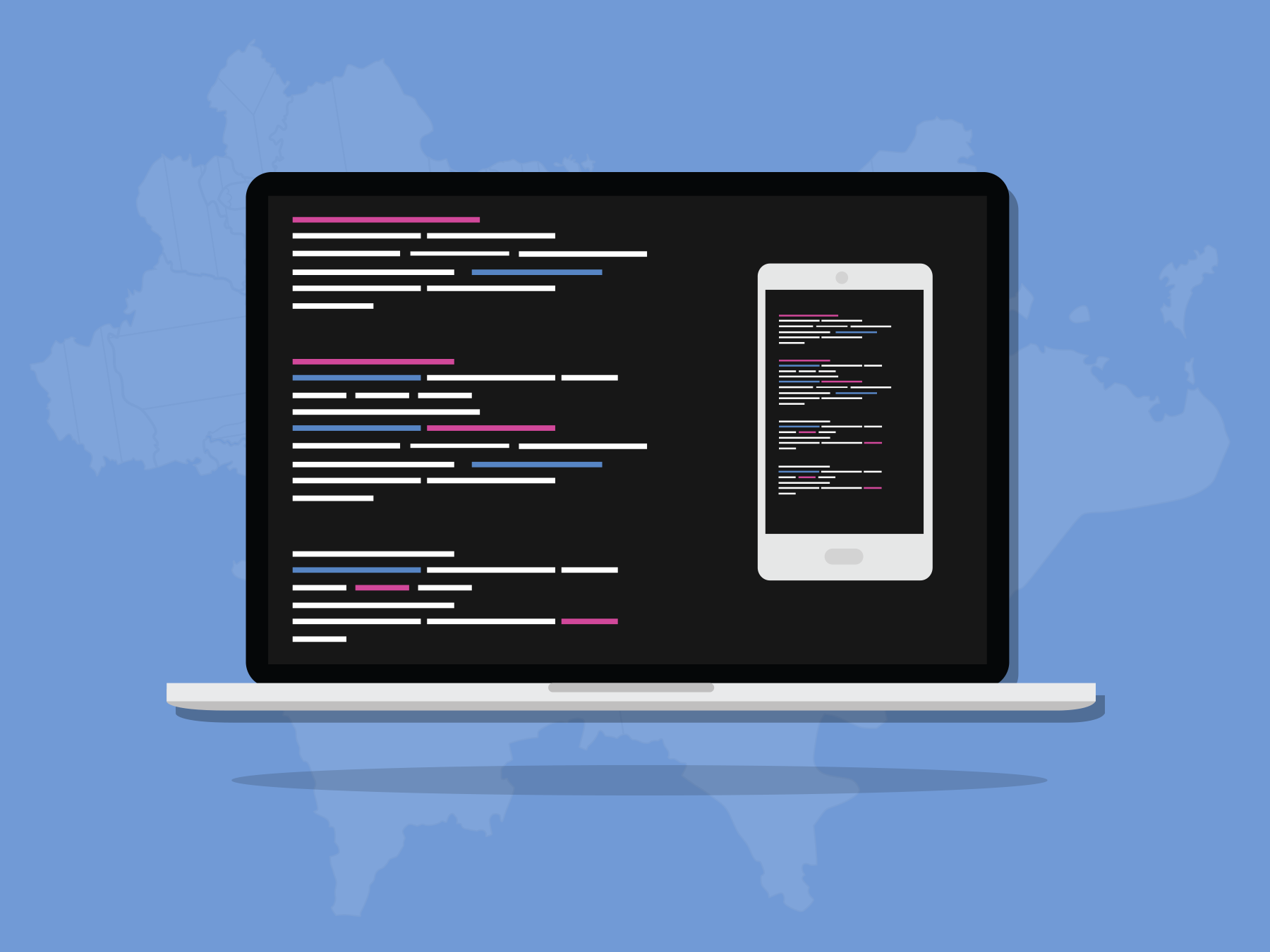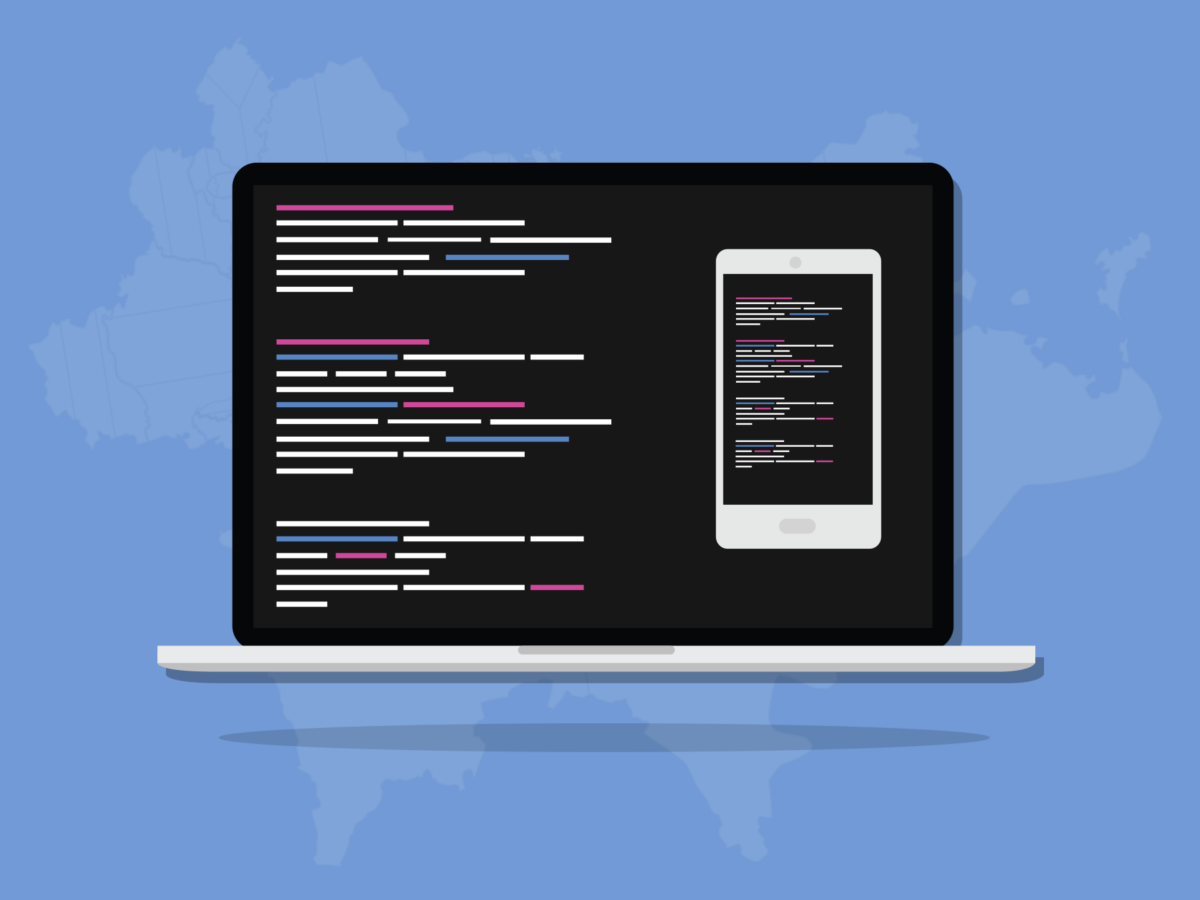 Ankit Patel

March 15, 2023

6 min read
There is an increased flux in layoffs of tech professionals. This has led to IT outsourcing coming out as a savior for businesses due to the increased level of productivity it provides in terms of automating operations. This follows next by the aid it renders them in terms of saving costs for hiring and infrastructure.
So when it comes to countries that enterprise owners usually recommend for IT outsourcing are Eastern Europe and Asia. Eastern Europe is slowly and steadily becoming a favorite among most business owners.
IT outsourcing market is a huge market whose value currently at $572.88 billion is predicted to bring in revenues of $1.06 trillion by 2030. These valuations are courtesy of the super-giant continent, Asia. Why you may ask? Because it is home to India and the Philippines; the two countries that contribute their GDP to outsourcing.
So, what are the reasons Eastern Europe became so popular for software development outsourcing? We cover this in the article here. After you have completed reading it, you will be able to comprehend why the region should be your hotspot when you want to outsource software development.
What is IT Outsourcing?
IT outsourcing is a process by which businesses partner with external service providers. This is in their quest to receive effective and streamlined IT-enabled business processes, application services, and infrastructure solutions. This is to ascertain they receive profitable business outcomes in the end.
Benefits of IT Outsourcing Services for Businesses
To accelerate certain aspects of business operations ensuring it takes place flawlessly most of them rely on IT outsourcing services.
Check out the key points to get acquainted with some of its other advantages.
Gives businesses access to flexibility and expertise that in the end enhances their project outcomes.
Due to resources costing less, it helps the business to save on costs to a great extent.
Mitigates the woes of managing a huge pool of developers as the company you outsource software development to takes care of it.
Popular Outsourcing Destinations
As we have discussed above when you perform IT outsourcing you can save on costs to a great extent alongside getting access to an experienced staff that carries out development smoothly. This is why the majority of businesses are relying on it to get maximum advantages. There are some countries that they particularly recommend for this, such as:
Eastern Europe
Asia
South America
The list has Eastern Europe in the first rank which might lead you to think about the reasons for this. Let's discuss this in detail.
Why is Eastern Europe Preferred for IT Outsourcing?
Quality always has an upper hand for businesses when it comes to getting a solution that can help them achieve maximum results. This is the reason they choose destinations that can make this achievable. Here, while discussing destinations, apart from Asia another popular region is Eastern Europe. Here's why.
An extremely skilled and competent workforce.
The time zone gap is less.
Solutions are available at cost-effective rates.
Facts & Figures Citing Popularity of Eastern Europe
Above we have discussed the reasons citing the reasons for Eastern Europe becoming such a popular IT outsourcing destination. We now bring forth the facts and figures through the medium of graphs to help you understand this better.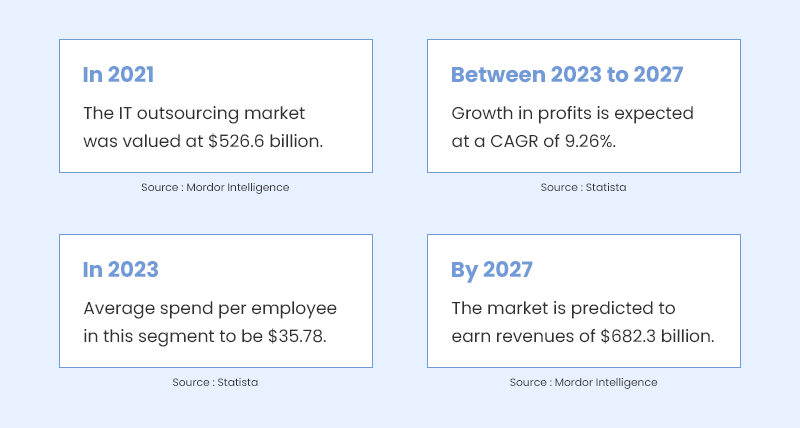 Now, look at the graphs below to get a glance at the prominent IT outsourcing market in Eastern Europe and understand its popularity.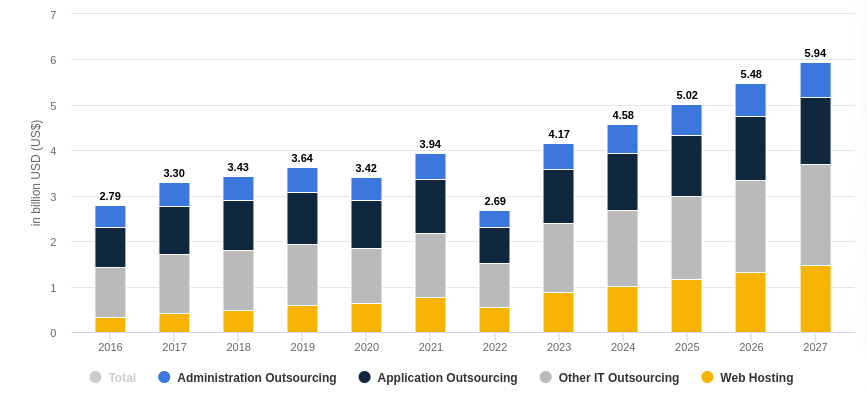 Image source: statista.com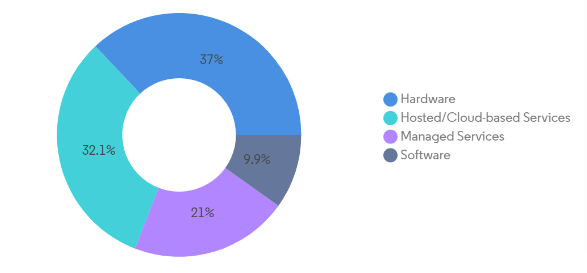 Image source: mordorintelligence.com
Popular Eastern Europe Regions for Software Development
Ukraine, Poland, Romania, Belarus, and Bulgaria are leaders in IT outsourcing. Take a peek at the graph to look at the number of software development companies that these cities in Eastern Europe have.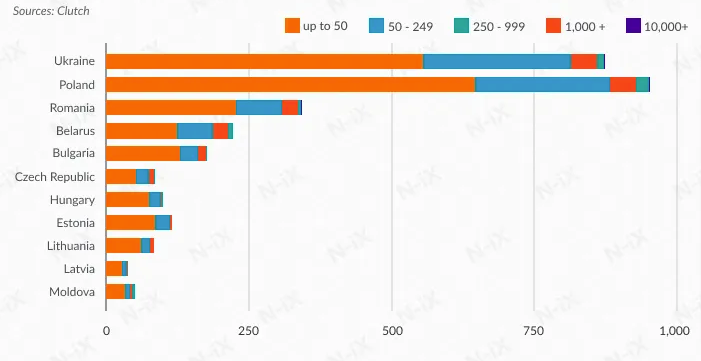 Image source: n-ix.com
The graph above presents the countries in Eastern Europe recommended by businesses globally for software development particularly when they perform IT outsourcing. From the list, we have shortlisted Ukraine, Poland, Romania, Belarus, and Bulgaria. We discuss the factors that have enticed the attention of entrepreneurs toward these regions.
• Ukraine
Coming first in our list of regions in Eastern Europe that businesses prefer for IT outsourcing is Ukraine. The revenue in the Software as a Service segment is projected to reach $198.50 million in 2023. These figures suggest that the region has profitable prospects. Here are other reasons why the region is popular.
Easy adaptability to the western way of working.
Known for its strategic location, it is 7 to 8 hours ahead of places in the US making it easy for businesses to connect with the developers living there.
Possesses a dynamic IT community that ensures cost and expectations are within limits and strict checks.
• Poland
According to Statista, in Poland, the revenues generated by the IT services market will be around $7.12 billion in 2023 with the market volume becoming $9.99 billion by 2027. The valuation is testimony to the aspect that businesses can consider performing IT outsourcing there. We have listed the factors to cite the reasons for the region becoming a hotbed for IT projects.
The number of jobs in the IT sector has grown by 43% in Poland.
Regions like Krakow and Warsaw in Poland are the major cities where the cost of labor is less followed by a flexible tax regime.
Software developers in the region are experts at their art alongside having strong skills in languages like English, French, German, etc. Additionally, due to 247,800 students graduating every year from technical universities, you can expect the skills to be of top-notch quality.
• Romania
According to Statista, the IT services market in Romania is projected to earn revenues of $956.10 million in 2023. The number is enough to give way to why the region is also in demand when businesses want to perform software development projects. Also, since the region has top-quality IT talent, you can be sure of the best line of services in the end.
The economy is growing at a fast pace due to possessing an extremely high GDP of 5.9%.
Holds 20th rank by HackerRank for possessing the best line of programmers.
The population has proficiency in languages like English, German, French, and Italian.
• Belarus
Another region in Eastern Europe that is a favorite IT outsourcing destination is Belarus. The region holds a reputation for being one of the world's scientifically and technologically advanced nations. It has more than 45,000 developers employed in its organizations. Simultaneously, over 7000 students graduate from their universities annually. This is followed by other reasons that are:
The literacy rate crosses 99% thereby citing the presence of a huge talent pool of resources.
Adopting the western product development approach, work ethics are of top quality.
Has an exceptionally healthy environment for collaboration due to a strong English-speaking workforce that learns the language at intermediate and upper-intermediate levels.
• Bulgaria
The city next on our list that is recommended for IT outsourcing is Bulgaria. Known for keeping itself updated with the latest tech trends and innovations, the region is slowly and steadily earning a name. Additionally, due to its cultural proximity to Western Europe, Bulgaria has become a popular destination among entrepreneurs. Here are other reasons for the region attaining such prominence.
Bulgarian economy holds 49th rank according to World Economic Forum's 2019 Global Competitiveness Report.
Its Global Innovation Index is 35 out of 132.
Has a population of 92,500 tech specialists.

Challenges Faced While IT Outsourcing to Eastern Europe
Regardless of the pros that Eastern Europe has in terms of expertise, best universities, etc. there are some cons associated with doing this activity there.
The absence of payroll tax for foreign companies makes it mandatory for the business to open a Polish bank account and get a local signatory to represent them.
The IT market is exceptionally competitive thereby making it possible that many local agencies might end up losing some of their bright talents in a situation wherein they (talent) face discrepancies in their work conditions.
No proper definition of the NDA (non-disclosure agreement) which might lead to more probability of data breaches.
Read Also: Software Development Company vs Freelancers
Cost of IT Outsourcing in Eastern Europe vs India
When we compare the quality of software or mobile app development services in India and the countries in Eastern Europe, albeit the problems like linguistic barriers, or the presence of one electronic payment system alone, you can however be certain to get enabled with services at a lower cost. This follows next by gaining accessibility to a huge talent pool of resources.
Therefore, if we differentiate between these two countries, then despite these differences, you can be sure to have a strong level of balance between quality and budget there.
So, here's providing you with the cost structure for IT outsourcing in Eastern European countries compared to India.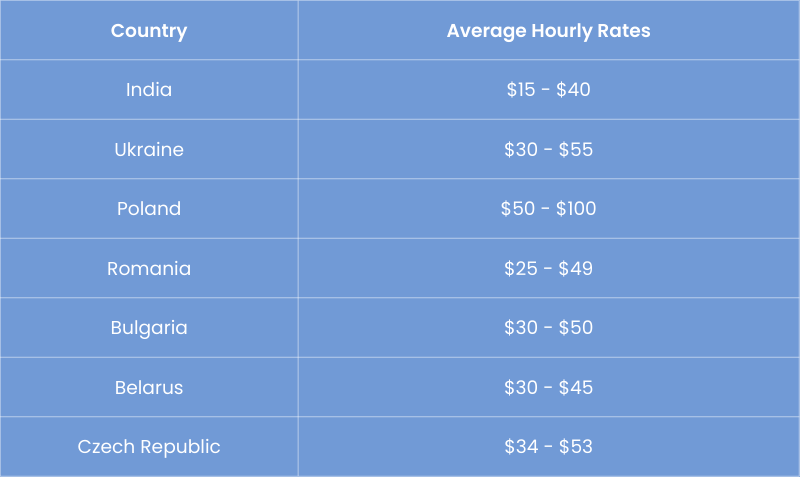 Points to Remember before IT Outsourcing to Eastern Europe
To ensure that your operations are streamlined and most important to ascertain that you do not end up making any pitfalls when you decide to outsource software development to Eastern Europe, keep these points handy.
Conduct proper research on the organizations. Use online portals like Clutch, LinkedIn, Upwork, etc.
Assess the tech stack your project will require. After successful assessment locate the countries that can give maximum accessibility of these resources.
Combine your research with the tech stacks that you have shortlisted and understand the company's experience in using them. On receiving a green signal, get in touch with them.
Evaluate your budget and try to merge your requirements with this aspect. Thereafter, share your requirements and try to gauge the possibility of hidden costs. Once you ascertain there is no probability of you having to pay more, collaborate with them. Next, see your software development journey successfully earning fruition and you accomplishing returns like never before.
Wrapping up
In this article, we have presented you with the factors contributing to Eastern Europe becoming a new addition to the list of destinations for IT outsourcing. We compared the costs of software development in the region alongside places in Asia like India for instance. Therefore, in case you are planning to get the ball rolling for your next project in Eastern Europe or for that matter in Asia, do your research well in advance. Observe next your business accomplishing the success it deserves.
You may also like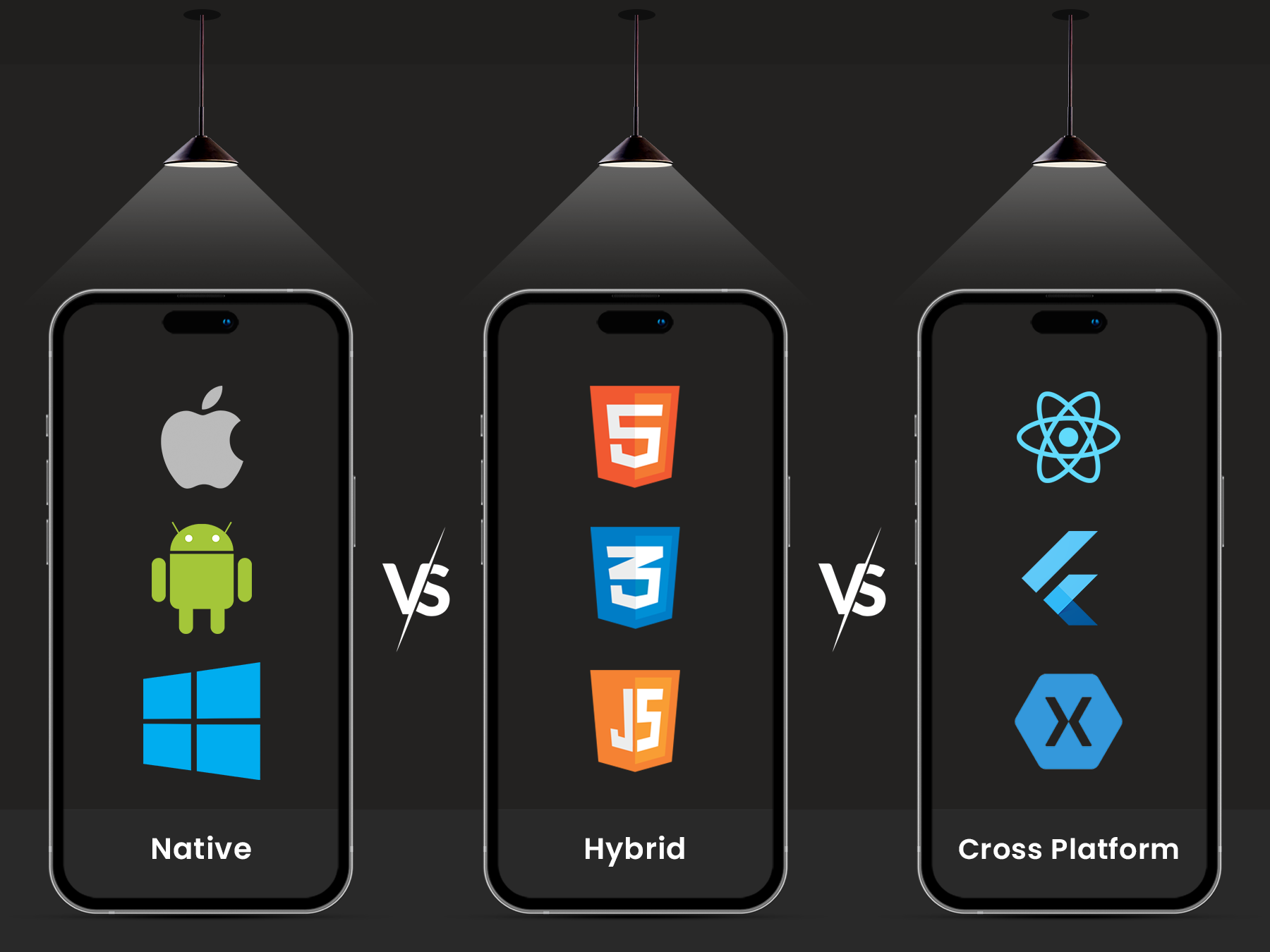 Native vs Hybrid vs Cross Platform: Choose Best for App Development
Ankit Patel
Technology has brought about a major shift in the way businesses operate. It becomes quite imperative for them to make their presence felt. This in turn makes it critical for… Read More