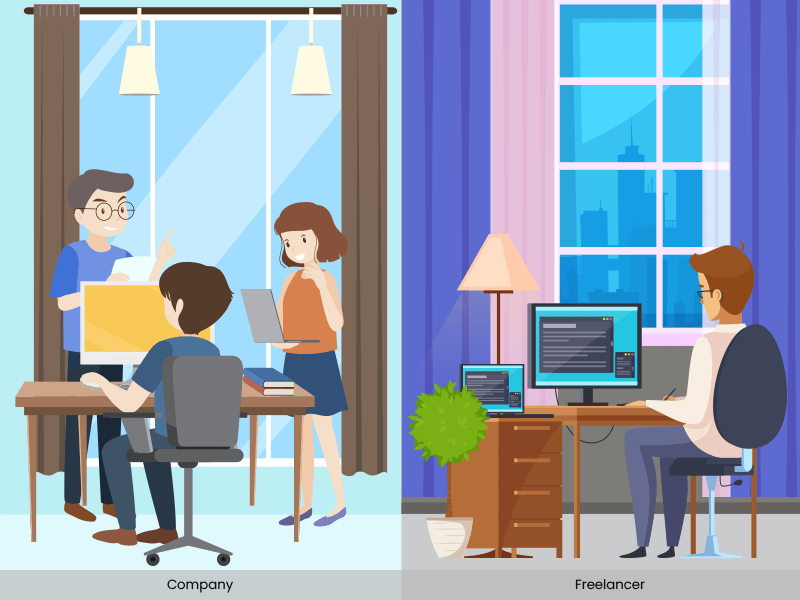 Ankit Patel

April 22, 2022

6 min read
Regardless of the importance, a business idea possesses, it goes without saying if you do not also possess a solution to bring those ideas to fruition, you cannot really expect the idea to help you in deriving the necessary success.
Talking about solutions, one that is of immense business value is mobile apps. They provide value to the business in terms of driving value, increasing customer base, and so on. However, there are some areas that can ensure the fulfillment of these objectives. This includes a good user experience, the use of an appropriate tech stack, and most importantly the features that you add to the app.
The same cannot be achieved without the selection of an appropriate partner. Now, while discussing the area related to the team appropriate for this task, we have two that mainly come to mind. This includes freelancers, and, software development companies. Both have different characteristics and constituting elements that set them apart.
In the article, we will be discussing mainly these areas, stating the features that make them unique. Reading this, you will be able to identify the team who would help you create a solution that drives maximum business value, and supports you to gain a massive user base too.
So, here it goes.
While setting up a new business, regardless of the solution that they have to make their services known to a wider audience, it is also necessary they select the right partners. Doing so will ensure that you get access to a diverse array of knowledge as well as skill sets at the same time.
Simultaneously, the obstacles that may come in the way while you set up your venture, like finances, and the overall solution architecture, will also get eased.
Hence, it becomes extremely crucial to make the right choice especially if you are building a new solution to drive your new business.
There are two main partners that new businesses usually rely upon for their projects, especially for the creation of a mobile app that drives maximum value for them. This includes freelancers and developers respectively from a known software development company.
Both regardless of their different pros and cons, you nonetheless need to be careful about the choice you make.
To make this task easy, here are the different elements that set both these partners apart.
Software Development Company and Freelancers – What Sets Both Apart from One Another?
◉ Expertise
Have a look at the image below.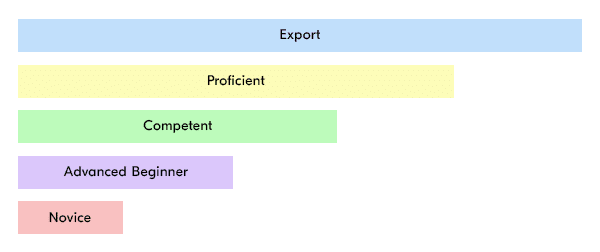 In the image above, you can get hindsight on the different levels of expertise that a company possesses. This ranges from novice to advanced beginners, to competent, to proficient, to experts. This is an area that is taken care of with utmost precision by a software development company. You cannot however expect the fulfillment of this area while getting in touch with freelancers. In short, your task would therefore have the highest quality while performed through the former.
◉ Project Quality
Regardless of the fact that freelancers charge less in comparison to a company, the overall project quality might not be as per your expectations. This means that in case you get in touch with a company that specializes in the task of building intuitive apps, they will ensure that any discrepancies within the solution get removed completely. This is something freelancers cannot help you with. Their sole focus would be to get your project completed and get paid for the task they perform.
◉ Seamless Workflow
Getting in touch with a software development company will help you to gain clarity on the overall project progress, track the number of modifications made, and so on. This is something that freelancers cannot assure. This means, that in a situation wherein you get connected to freelancers for your project, the workflow might not be so organized after all. Transparency might be doubtful with these partners actually.
◉ Reliability
Reliability is an area of concern among freelancers. With a mobile app development company whereas, you get access to testimonials, client reviews, portfolios, etc. This ensures that you as a new venture have adequate knowledge of their past work and gain clarity on whether they are right for your project or not. This is not something that freelancers can assure. This is due to the difficulty that sites like Upwork have in terms of giving enough knowledge to startups about the people they are hiring.
◉ Support
In the case of freelancers where chances are likely that you might be paying more than required, particularly in a situation wherein you require bug support, and other such kinds of assistance, when it comes to a software development partner, you can be assured of getting these kinds of support, the overall ROI would be greater for you due to the presence of a dedicated technical support desk who would assist you in addressing issues such as bugs, and so on.
◉ Steady Growth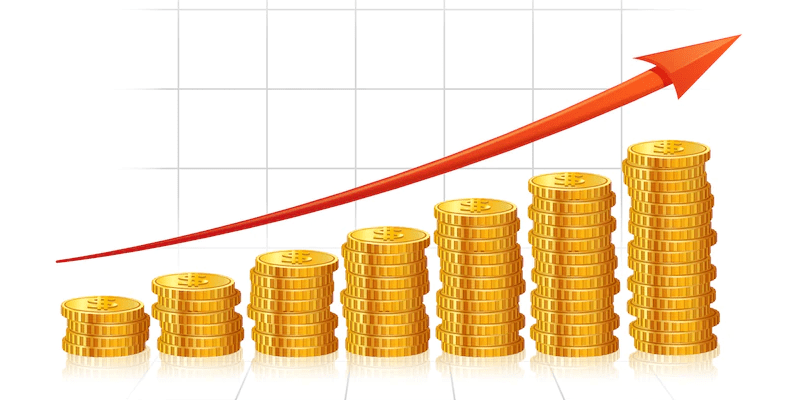 Despite there being chances that the freelancers may support you in achieving growth through the end solution they create, you also may encounter the growth not being as constant as you expect. This is something that a mobile app development company will support you to achieve. In other words, with the understanding possessed by the company in the different revenue strategies to drive success, they will ensure to get them incorporated within the solution they create. This will go on to drive growth and ascertain it remains steady always.
◉ Organizational Skills They Possess
Coming as an obstacle among freelancers, this is a pro however you can get access with a company that specializes in software and mobile app development. As a result of the organization having adequate knowledge in tasks related to task planning and management, chances are quite high that you would get constant updates from them in terms of your project progress and so on. This will ensure clarity and transparency achievement thereby ascertaining that the association remains long-term between the two of you.
Furthermore, chances are likely that the mobile app development partners you get in touch with will sign an NDA with you to protect your overall project privacy. This is an area of concern for freelancers though. There are chances of your privacy being hampered. This is because they might go on to copy your idea and call it theirs.
Therefore, it becomes imperative to make the right choice for the partners for your next project. It will support you to determine the project's fate with utmost precision, clarity as well as transparency.
Simultaneously, it is recommended to look at the areas listed below to identify the appropriate partners for your next solution.
◉ Ask for Portfolio
This is an area that needs to be taken into consideration while selecting the partner. Having a look at the past work of either of them, that is, freelancers or a team of developers from a software development company will ensure that you have clarity on their experience and get an idea if the partners will be able to complete your task or not maintaining the highest level of quality.
◉ Cost
While discussing the cost that a startup needs to bear while hiring developers or a software development company, the former wins the race.
Here are some reasons why:
Freelancers are independent contractors. Therefore, they themselves handle project intricacies.
The benefits that employees are promised are missing in freelancers. Therefore, rates for providing a service are considerably less when a startup takes assistance from them.
Looking at these reasons, we are sure you want to understand how can you actually identify who the right partners for your project are.
Bonus Point
Gain Understanding of Clarity They Have of Your Project
Before you make a choice between freelancers and a company, it is equally relevant to have an understanding of the knowledge they have gained about your project. This includes the understanding of your vision, what your vision will help to achieve, and so on. This will ascertain that the different challenges you face in your project get seamlessly addressed, apart from also making it convenient to get recommendations as and when necessary on the modifications that may be necessary to implement, and so on.
Some of the other areas that you need to take into due consideration before you select either of these partners include:
Industry knowledge they possess.
Flexibility level that the end-solution will maintain along with the integrated services that the solution would contain.
Support that would be provided post app launch.
All these areas will support you a great deal in making the final choice. Also, place focus on these elements.
For a Software Development Company
Expertise
Easy to Locate
Transparency in processes
For Freelancers
Flexibility with inputs and revisions
Ease of work
Affordability
These factors will ease the task for you especially when you set out on choosing a partner for your next project.
Summing Up – Software Development Company and Freelancers – Whom to Choose?
Survival in the digital age has become an extremely important necessity today. This makes it important that one has the right solution that would propel the business forward towards success, enormous customer base, drive maximum business value, and so on.
To achieve all this, it becomes imperative that the right partners be selected for this task. Currently, with freelancers and a company being the ones that businesses, particularly new ones rely upon, it is necessary to look at the pros and cons of hiring either one of them. Doing so will drive profits and visibility for you to a greater extent.
You may also like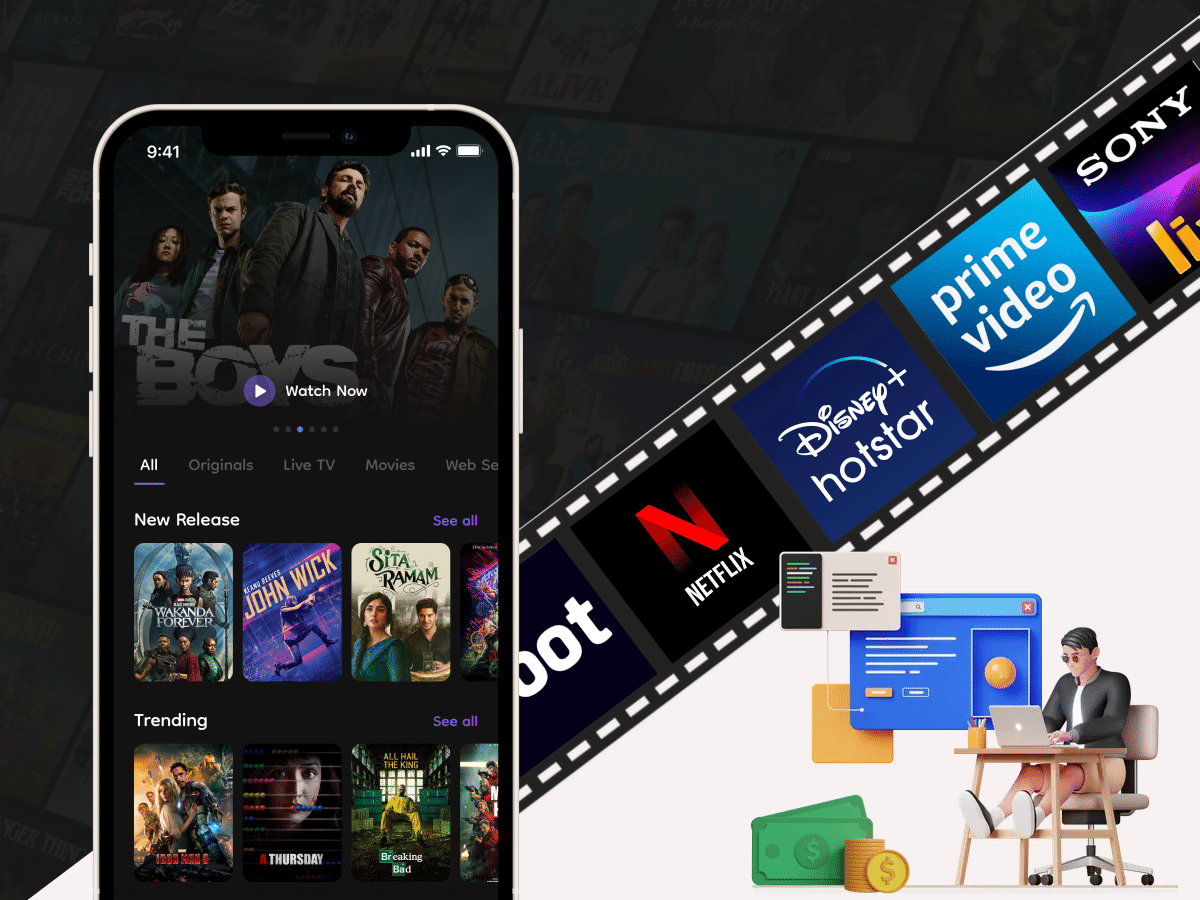 OTT App Development Cost – Features, Process & Trends
Jignesh Nakrani
In the era of digital media, the realm of entertainment has undergone a dramatic transformation. Over-the-top (OTT) platforms have emerged as frontrunners, revolutionizing the way we consume content. With a… Read More