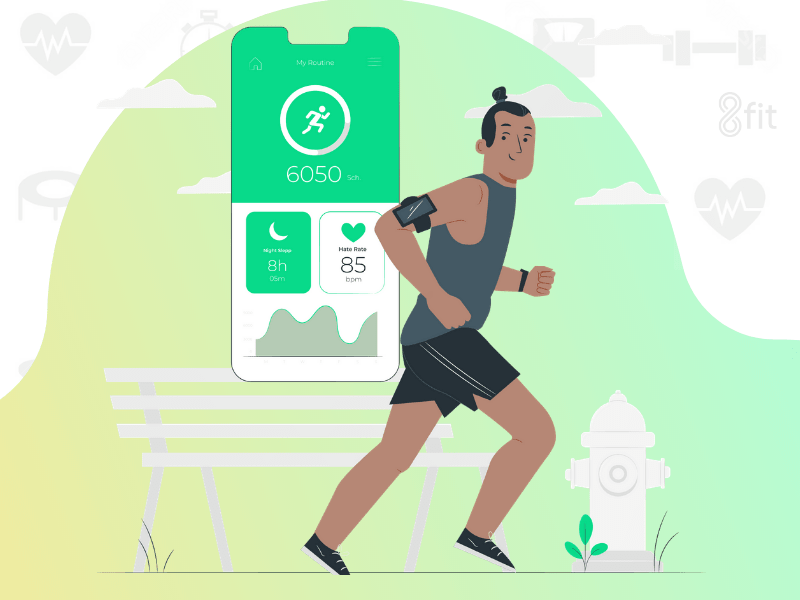 Ankit Patel

March 08, 2021

5 min read
How important it is to be fit is a fact that this pandemic period has made everyone realize. A person can stay fit only if follows regular exercise and most of the people are doing this. In the lockdown period, many people were seen doing morning walks, yoga, and exercises. Now, this has become a trend. Keeping this current trend in mind and to gain a huge profit from this being fit trend, many fitness apps have been developed. As a result, there is a huge demand for health app development services.
Flabbergasted by the increasing demand for fitness apps, you too must be planning to develop an 8fit clone app. Prior to approaching fitness app development services, you need to know deeply about the fitness app, its types, its features and how much it would cost to develop app like 8fit.
Fitness apps are basically of five types:

Apps for tracking activity – From the sensors that have been integrated into wearable trackers or Smartphones, the fitness apps for tracking daily activities receive data. Daily reports are being provided to the app including distance covered, number of taken steps, kilometers walked or run, run speed, calories burned, hours slept, heart rate, etc.
Diet & Nutrition Apps – These types of apps are of great help for those users who desire to gain or lose weight while improving their daily eating habits. A complete track of carbs, fats, and proteins eaten, calories burned, consumption of caffeine and water becomes easy via diet and nutrition apps. Also, one can know about the ingredients that should be eaten.
Workout apps – Many are there who are short of time and it is not possible for them to attend fitness training sessions or visit the gym regularly. For exercise and workout apps are very beneficial. With the help of such apps, workout plans and best exercises can be known and practiced at home to burn calories. The app also helps in tracking burnt calories and weight loss along with progress.
Meditation apps – Mediation is the best medium through which the mental health condition can be kept stable. Meditation can be in any form – breathing meditation, soothing music mediation or light meditation. For relief from anxiety and stress, relaxation, mindfulness, concentration, and better sleep these mediation apps are being downloaded more.
Yoga apps – It is essential to keep our mental and physical health healthy. Yoga is the best remedy. One can change his lifestyle while practicing yoga. With pre-recorded voice guidance and video instructions, yoga activities can be performed with ease.
Analyze Pre-existing Most Downloaded Fitness Apps & Identify Target Users
After finalizing what type of fitness app you want to develop, it's time to do a little bit of research. Analyze deeply the pre-existing app similar to the 8fit clone app and explore the app as much as you can. Read the reviews and experiences shared by the users. Carry out a SWOT analysis for identifying the strengths, opportunities, threats, and weaknesses of the pre-existing popular fitness app.
Determine The Cost To Develop App Like 8fit
Now, comes how to determine the cost of health app development services. The cost to develop app like 8fit depends on various factors and each factor has been described properly that would leave no room for any confusion for you.
Primary Features To Develop 8fit Clone App

The features to be integrated into the app play a primary role in ascertaining the cost to develop app like 8fit.
For developing a fitness app you should know about some of the primary features of 8Fit and ensure that you include those in your fitness app to make it a success and one among the most loved ones.
Workout Sessions: Different levels like beginner, intermediate and advanced level are there so that the user can choose the level as per his comfort.
Diet Plan: A diet plan will help you in staying healthy and full of energy. The users get a choice to choose recipes or ingredients according to the requirements of their body on the basis of which healthy diet plans are suggested.
Tracking Steps: To track the steps taken by the user so that he can know how many steps he has walked and how many are left to achieve his daily target, this feature is a must. Total calories burned can also be tracked.
Wearable Devices Compatible: Make sure your app can be easily connected with any wearable device so that a track can be kept on the health via the app. Integration with external wearable devices makes the app convenient for the users to monitor physical activities and exercises with ease.
User Interface: Ensure your app is having an engaging and intuitive UI with flawless designs. It must have separate sections for each exercise or activity.
Live Streaming: Via this feature, the user can actively participate in real-time workout sessions while being at home.
Other common features for the users and the admin that must be there in your app are:
For Users:
Registration
User Profile
Personalized Tasks
Geolocation
Reminders & Alerts
Record Achievements
Option To Share Achievements
Push Notifications
Payment
For Admin:
Dashboard
Manage Users
Payment Records
Account Section
Promotions & Rewards
Manage Subscriptions
Tech Stack Required For Developing 8fit Clone App
Technologies for developing a fitness app like 8fit have to be chosen carefully and smartly. From the below-mentioned technologies, you can choose as per requirement:
Swift for iOS App
Java or Kotlin for Android App
Node.JS for Backend & API
React.JS for Frontend
MongoDB for Database
AWS or Google Cloud for Server
Twilio for SMS Gateway
PayPal or Stripe for Payment Gateway (Depends on Availability as per your Country)
App Platform
The platforms that are used worldwide are iOS and Android. The fact that whether you want to build your app on a single platform or you want your app to be compatible with multiple platforms purely depends on your budget. The app development cost varies on the basis of the platform you choose.
Development Team
It is always advisable to hire fitness app development services for developing an exceptional app as the experts hold ample app development knowledge. An ideal team required for developing a well-crafted fitness app includes:
Project Manager
UI/UX Designers
App Developers (Android & iOS)
Business Analysts
Frontend/Backend Developers
QA Engineers
Considering your budget, you can choose your developer's team and hire their health app development services and scale up or down the team as per your project requirements.
Cost and Time Duration Involved While Offering Fitness App Development Services
Other than choosing the development company to hire its fitness app development services the location of the company matters a lot. From one country to the other, the cost to develop app like 8fit differs and it will take 70 days or more based on the requirements. The hourly basis rates charged for an app like 8fit clone app in different countries are as follows:
India – $25-80/hour
Eastern Europe – $50-150/hour
United Kingdom – $70-80/hour
Australia – $110-120/hour
North America – $160-170/hour
Cost Incurred To Develop An App Like 8Fit Clone App
From the above factor, it is clearly visible that the cost of fitness and health app development services ranges between $25/ hour to $ 170/ hour. There is a possibility of the charges getting changed based on the experience and skill of the developers offering health app development services. The minimum cost incurred will be around $25,000 to $30,000.
Wrapping Up
In the lockdown period, the value of exercising was realized that led to the constant expansion of the market of fitness apps. Hence, it is the right time to develop an app like 8fit and reach out to the maximum number of fitness freaks.
You may also like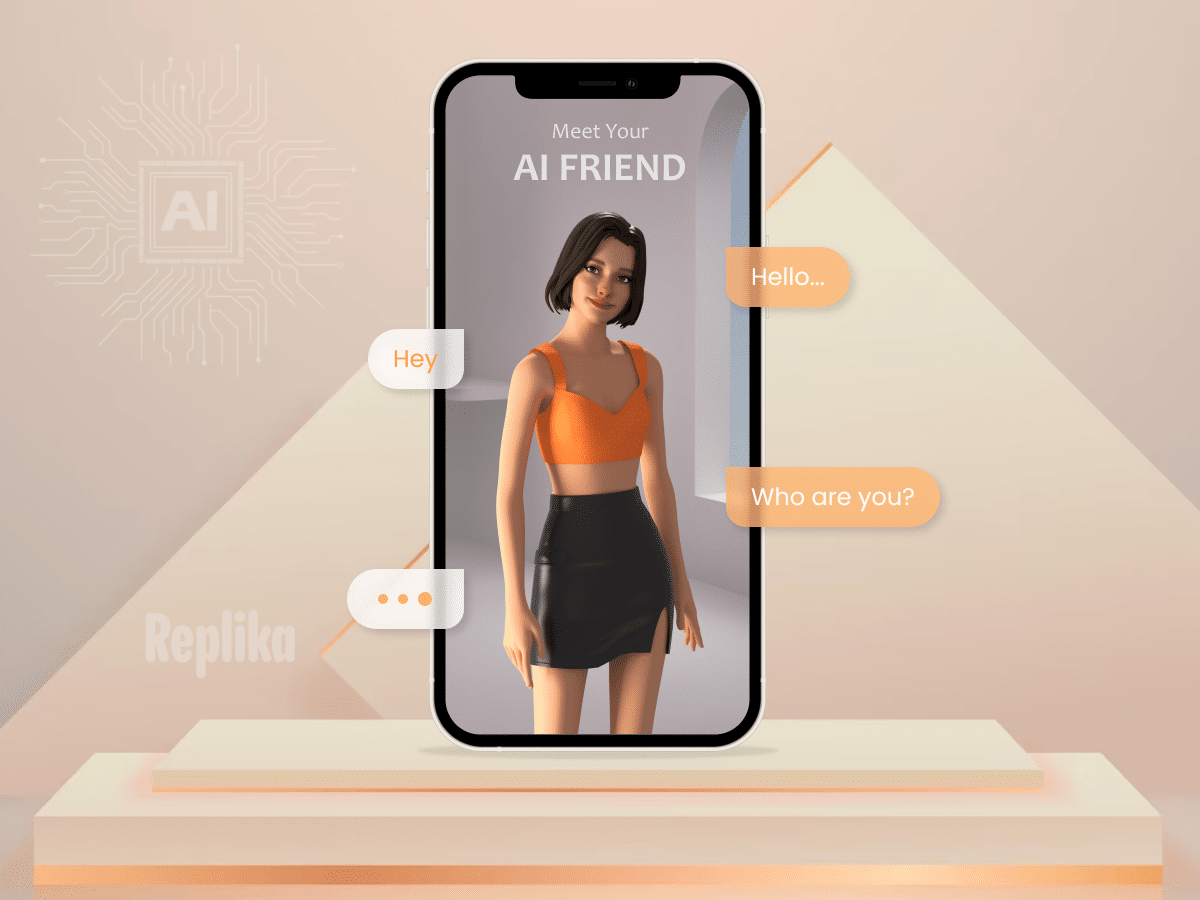 A Detailed Guide to Building an AI-based Chatbot App Like Replika
Jignesh Nakrani
Artificial intelligence links progress and those seeking personal growth. Chatbots have emerged as a popular tool for engaging users and providing personalized experiences among the myriad of AI applications. One… Read More