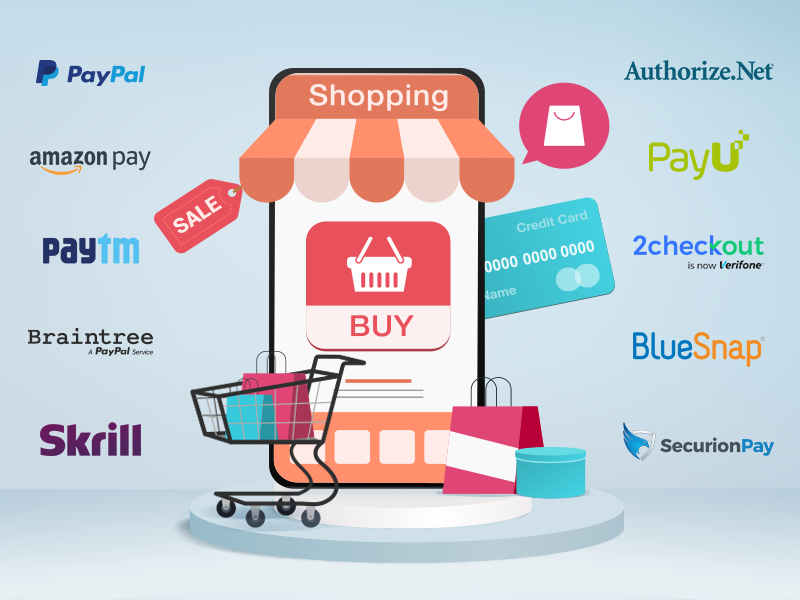 Ankit Patel

December 17, 2021

5 min read
In today's world, payment gateway is the future of eCommerce, and having the best payment gateway for your e-commerce business is the most valuable asset you can have in order to thrive in any business. A mobile app development service says, having a secure payment gateway will greatly assist you in reassuring visitors to your E-commerce store about the legitimacy of your business.
Why Is It Important?
In essence, the payment gateway acts as a conduit between your e-commerce store and the bank that will be processing the customer's payment. Additionally, it will make it feasible for you to receive money from your internet consumers to your bank account.
A Payment gateway app development service allows merchants to securely take credit cards and other online purchases. Remember that if your e-payment store's choices aren't set up properly, you may never stand out from the crowd. Unsatisfied customers mean a large decline in sales. Thus, choosing the correct payment gateways, however, can ensure your online business's long-term success.
When Choosing a Payment Gateway, What to Consider
Before making a final decision on which payment gateway is ideal for your eCommerce business, you should take the following considerations into consideration:
Examine the payment gateway's changeover cost. Make sure it fits your budget.
Choose a payment gateway that does not require you to sign up frequently.
To prosper and be a pioneer in eCommerce, you must spread your business globally. Find a payment gateway that accepts multiple currencies.
Check the payment gateway's terms and conditions to see what products you can sell.
Verify that your payment gateway accepts Mastercard, Visa, and PayPal.
Assure that users do not ask for optional information.
Payment Gateway solutions are more than just a technique to keep online purchasing safe; they are also a tool to improve customer service. An online payment gateway does more than simply transmit payments; it also authorizes them and sends them on to the vendor in a safe and secure manner. Payment gateways take into account PCI compliance standards when determining whether or not to accept a transaction.
Top 10 Payment Gateway For Your E-commerce To Get A accomplish
1. Paypal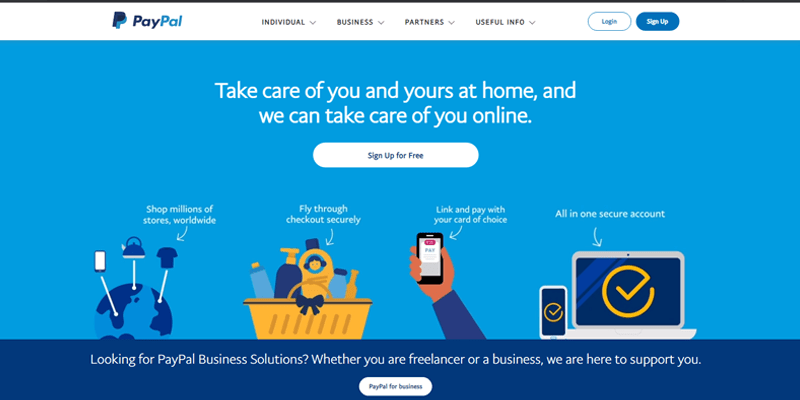 Though PayPal was invented in December 1998, it was developed and launched in 1999 by mobile app development services. It is another popular payment gateway that accepts credit and debit card payments. It is free for buyers. The cost is "3.4 percent + $0.30 USD" when accepting credit card payments through PayPal. The best aspect is that you only pay when you sell. This payment gateway has no setup, gateway, or monthly costs.
2. Amazon Payment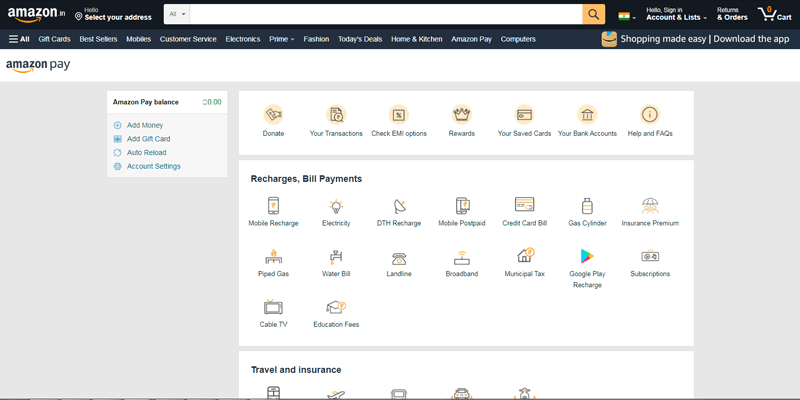 Amazon is yet another secure payment gateway for e-commerce, as it offers a safe and simple payment method that is also easy to use. As per the eCommerce app development services, it can make online buying more convenient and intelligent for both merchants and customers. All that was required was the customer's Amazon account credentials to finish registration and check out successfully.
The interesting thing about Amazon gateway is that it is less expensive while providing more protection. Most payment gateways charge a flat cost to clients, but Amazon payments are available in a variety of languages and currencies to reach a global audience.
3. Paytm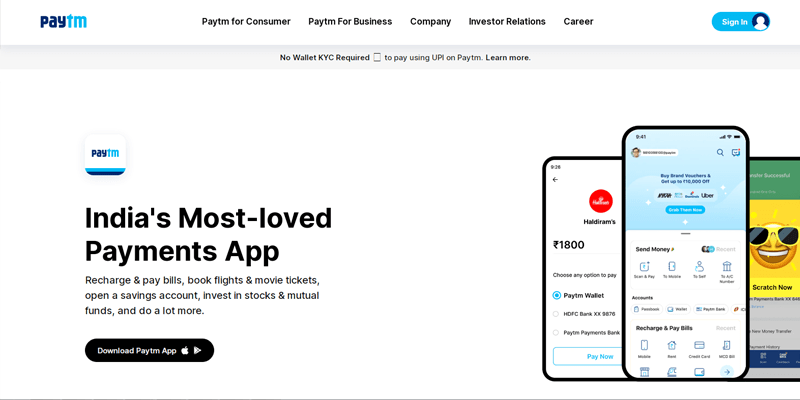 Paytm getaway for e-commerce has become one of the most popular and preferred digital wallets in India due to its mesmerizing services and offers. It is widely used by millions of business owners including notable brands like Domino's and Big Basket, says Payment gateway app development service. Paytm has a beginning package for freelancers and small companies. You can choose from many plans at Paytm Pricing.
4. Braintree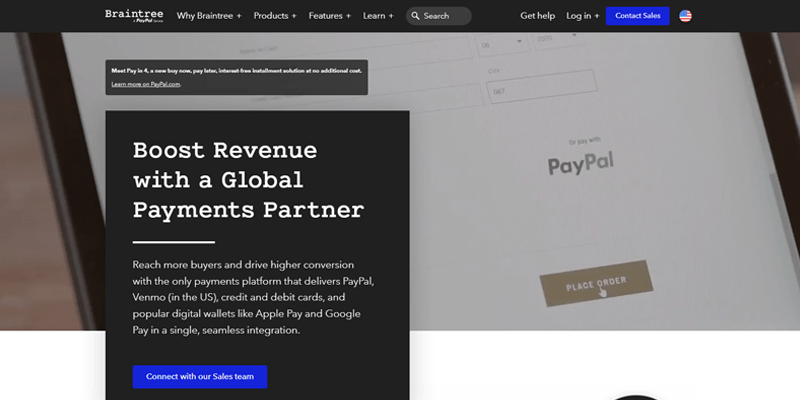 Braintree was founded in 2012 and now has become the most trusted payment gateway for e-commerce businesses in India as well as globally. Braintree is a renowned mobile pay app developed by Payment gateway app development services. It is an easy and secure checkout process, as well as its programming and code features, are so customized to a merchant's website that it makes the process of payment between a customer and merchant easy. While there are no monthly or hidden costs, you can learn more about their unique pricing at Braintree Pricing.
5. Skrill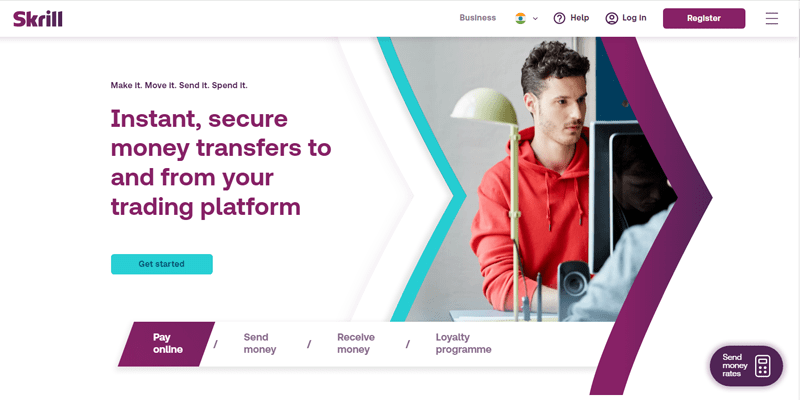 Skrill is a globally recognized payment gateway provided by eCommerce app development services. When it comes to services, Skrill understands the needs of today's consumers and businesses. Skrill began operations in the year 2001, but now it has become a popular brand utilizing major firms.
Skrill has been recognized and awarded by a number of leading organizations, including the Deloitte Technology Fast 50 Award, the B2B EGP Award, and others. In addition to supporting more than 30 different currencies, it is one of the most successful UK-based payment gateways, allowing clients to purchase items and services from anywhere in the world.
6. Authorize.Net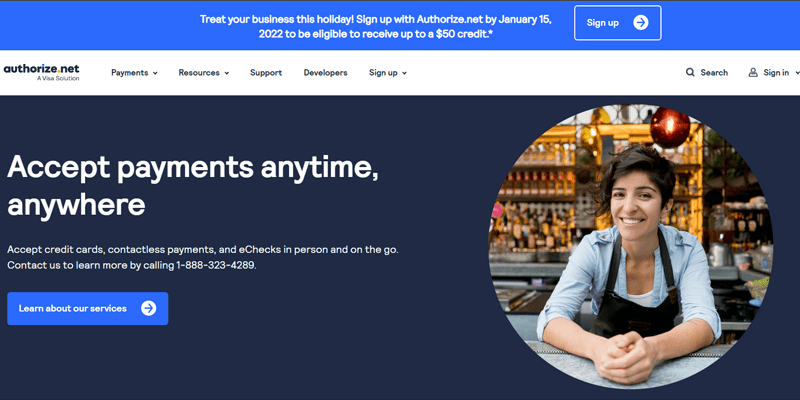 With over 350,000 merchants utilizing Authorize.Net today, you can see its popularity and benefits for an online b2b eCommerce software solution like yours. Clients like Easy-breathe, Avasflowers, and All-Star Flags have benefited greatly from the integration of Authorize.Net. It works as a card swipe machine and doesn't require any software to work. It has superior fraud detection and a range of value-added services to protect the business. It provides customized pricing, data transfer support, and interchange plus options for both buyers and sellers.
7. PayU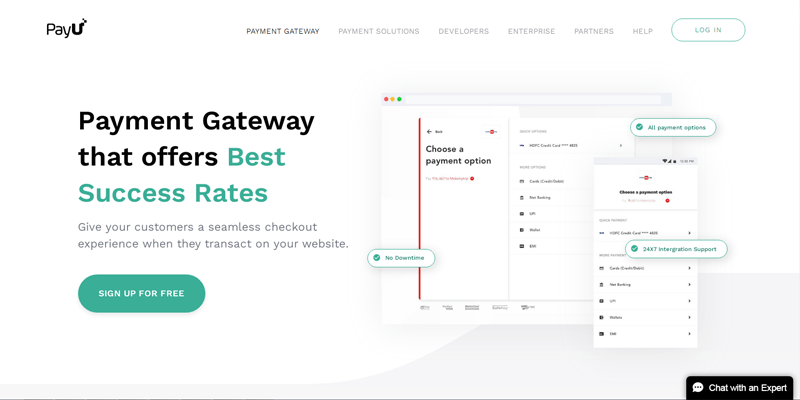 The PayU payment gateway connects merchant needs with customer shopping and payment habits. It supports mobile payments, recurring payments, express payments, tokenization, Web checkout, and alternative payments. Due to its flexibility and interoperability, it is employed by clients such as Koovs, Snapdeal, and Zomato. Net Banking (50+ banks) and UPI Payments are supported. You can register and submit papers online with no setup or annual costs. Find out more at PayU.
8. 2Checkout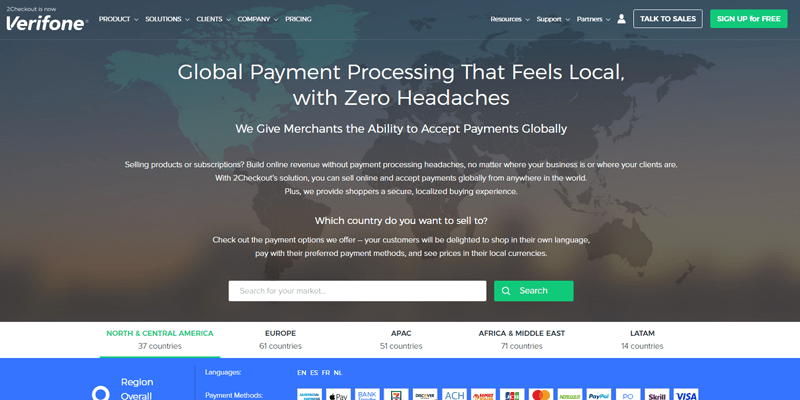 Due to its great features and over 200 unique fraud prevention rules, make 2Checkout, the most reliable source of making payment. It serves over 40k merchants like Fashion Box Africa and many more. According to eCommerce app development services, it allows businesses to personalize the platform to their needs and integrates with over 100 online shopping carts and invoicing systems. The pricing system of 2Checkout varies from sector to sector and business type, which you may research at 2Checkout Pricing.
9. BlueSnap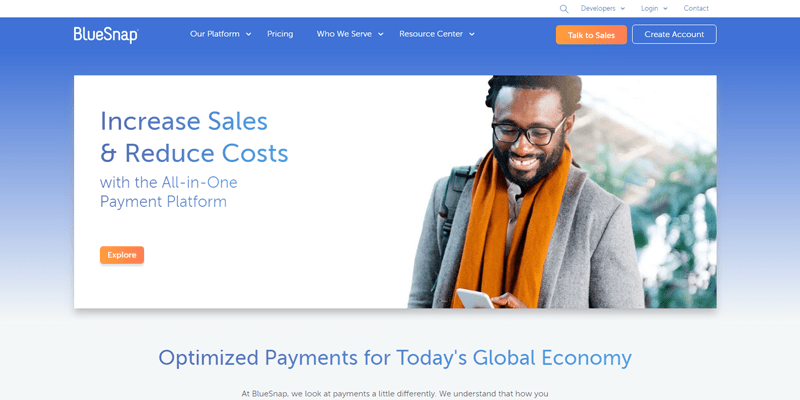 BlueSnap's payment API, hosted solutions, payment processor, merchant account, virtual terminals, and third-party plugins help merchants increase payment conversion rates. BlueSnap is secure and has a fraud protection mechanism that dramatically lowers unauthorized payments. It offers an innovative subscription billing engine that generates correct invoices and supports payment types in multiple languages and currencies. Check out BlueSnap's pricing possibilities and obtain your own unique quote.
10. SecurionPay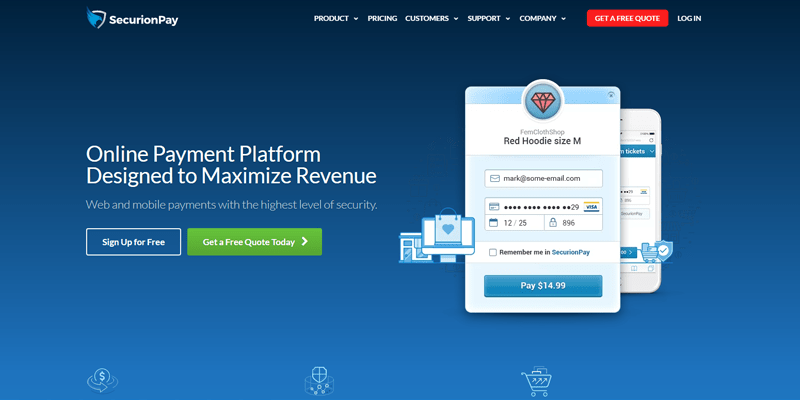 SecurionPay is the most preferred online payment gateway across the globe for b2b businesses. As per the Payment gateway app development services, it was developed to enhance conversion with its simple, fast, and secure transaction process. Its updated anti-fraud protocols make it a highly adaptable and secure payment gateway for users. It has no setup costs, monthly fixed fees, or any other surprises, as confirmed by SecurionPay Pricing. Moreover, AG and Hub are the two most reliable payment gateway software developed by Mobile app development services.
Wrapping Up
Payment gateways shouldn't be a hindrance to starting an online store, therefore choose the best choice for your store. However, the sheer number of online payment gateways might be overwhelming. This essay should have given you a solid understanding of 10 of the finest payment gateways for your e-commerce business.
You may also like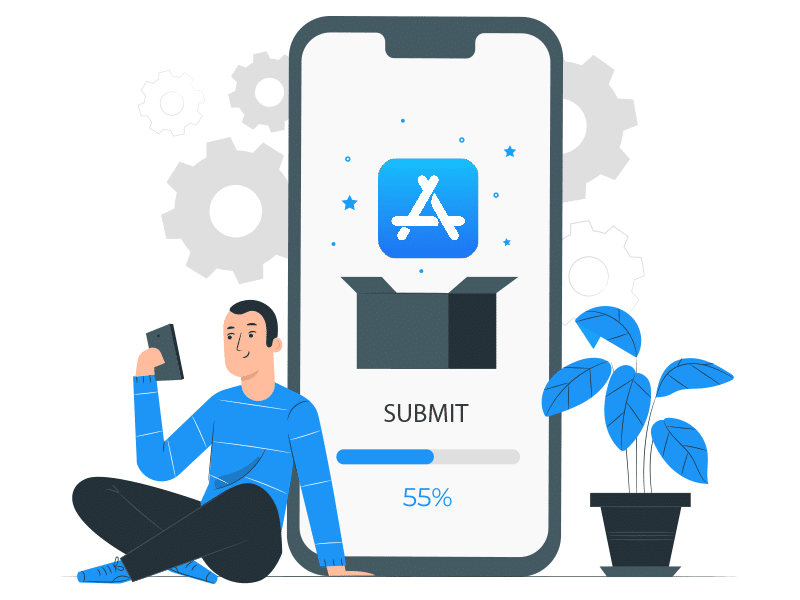 How to submit an app to the app store
Ankit Patel
You're releasing your first app, or it's been a while since you've done so. It's not as easy as pressing a launch button to submit an app to the App… Read More