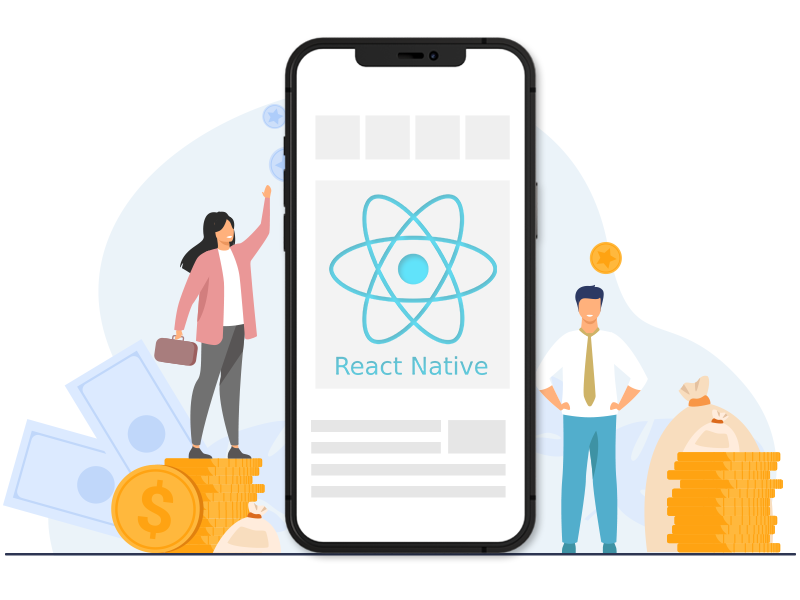 Ankit Patel

December 24, 2021

4 min read
When it comes to software development, there are numerous advantages to select React Native over other options. In comparison to other computer programming, the cost of developing React Native is minimal. It enables the creation of mobile apps based on the JavaScript framework using a combination of traditional and modern techniques. React Native development services might assist you in achieving your objectives early on. Before proceeding on estimating the overall development cost, first, let's understand the meaning of React Native.
Table Of Content
What Is React Native (An Overview)
Cost Of developing React Native App
Why Choose React Native
Factors that affect the cost of developing the app
Conclusion
What is React Native (An Overview)
It's an open-source UI software framework for creating apps for a variety of platforms. It was built in 2015 by Meta. By using its single Javascript codebase, developers can create interoperable and commendable cross-platform applications. Because of its easy integration, versatility, stability, and compatibility React Native has become quite popular among developers. Even though it is still relatively new on the market, it is catching developers' attention with its great characteristics such as single code reusability and access to many networks and tools.
Cost Of developing React Native App
The cost of developing an app is a variable because a lot of factors are there that affect the overall app development cost. The cost might start at $20,000 and go as high as $2,50,000. An hour of React Native app development might cost between $20 and $40. The costs vary depending on the developers' location, expertise, and skills.
Why Choose React Native
Well, I am sure this question would be arising in your mind as this is very genuine. There are several reasons why You should choose React Native app development. Let's discuss a few of them here:
Javascript language: Developers gets the flexibility to use Javascript language which is the most used and easy programming language in the world. Most people prefer Javarsript over other languages.
Cost-effective and time-saving: Developers only have to build a single app and it will work on both IOS and Android platforms which saves time for building two separate apps and the money which people spend on getting two apps for different platforms. It is all because more than 95% of the coding is based on a cross-platform which eliminates the issue of compatibility and saves the efforts of writing different codes for different platforms.
Hot Reload feature: This feature allows developers to see the changes they've made while coding right away. They can look at it in another live preview window at the same time. It provides real-time feedback to developers, allowing them to design apps more quickly.
Great performance for Mobile environment: React Native is lightning quick and perfectly suited for mobile apps. It uses the Graphic Processor Unit (GPU) instead of a central processing unit (CPU) (GPU). It speeds up the process when compared to cross-platform hybrid solutions, which were previously the sole choice.
Factors That Affect The Cost Of Developing React Native App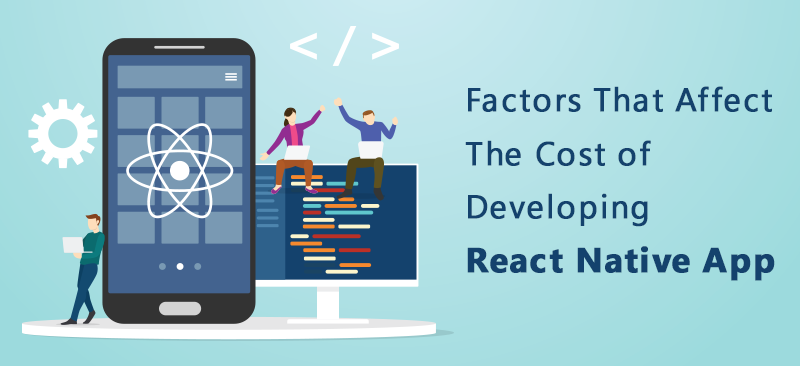 From the discussion of app ideas to the deployment of the app, numerous factors have a significant impact on the overall cost of app development. Let's have a look at the major ones –
App Complexity :This is one of the most important factors that play a vital role in the cost. You have to decide the type of application that you want to build like simple, moderate, or complex. According to the type of application, the is decided. App types depend on a few factors, such as:

Deployment architecture model
Admin Panel Development
Third-party integration in the app
In-App Purchase
In-Built features
Integration with the in-house legacy system

App Platform:Second, when it comes to budget, the platform on which you select to launch the app is important. After you've reviewed your app idea with your team, the following step is to select whether you want to construct a single-platform or cross-platform app. Because of their vast user bases, people frequently target Android and iOS platforms. If you wish to save money, you can choose any of these. It will be more expensive if you choose both.
Feature Rich App: It also depends on the number of features that you expect to have in your app. The more the feature, the more will be the cost. Each additional feature leads to an additional cost that may go out of your budget so in the initial phase keep it simple. Later on, you can add multiple features to attract a vast audience.
UI/UX Complexities: Keep in mind that the UI/UX of your app is your company's initial impression, so make it appealing. It should be one-of-a-kind and appealing in every aspect. Apps with creative designs attract attention and increase user engagement. The cost of an app rises as the UI/UX becomes even more complex. You can save money by keeping the app design simple for a while and choosing only one platform.
App Maintenance: Well expenses don't end up on the launch, you have to keep spending on its regular updates so that your users will not get bored by using the same version for years. This should also be considered in the overall app development budget.
Team Size: If you hire a team of freelance developers, it will cost you less but you may have t compromise with the app quality and the time in which you want your app to be developed. No surety is there that you will get your app ready within the timeline. If you hire a React Native app development company, it will cost you more but you will get the assurance of work done within the given period.
Location : It is very important when it comes to deciding the app development cost. If you avail of React Native app development services, in the European region it will cost you a lot while in Asian countries the cost of app development is less. Here the hourly rate of hiring React Native developers is less than in the other regions.
Conclusion
The amount of money you choose to spend on app development is entirely up to you. After examining all of the factors, you must choose an anticipated price that does not compromise the app's quality. You might approach a React Native app development company to gain a better understanding of the business objectives and expectations. They collaborate with seasoned developers who maintain in-depth market knowledge and trends across a wide range of industries. I hope you got a good idea of how much it costs to develop a React Native app.
You may also like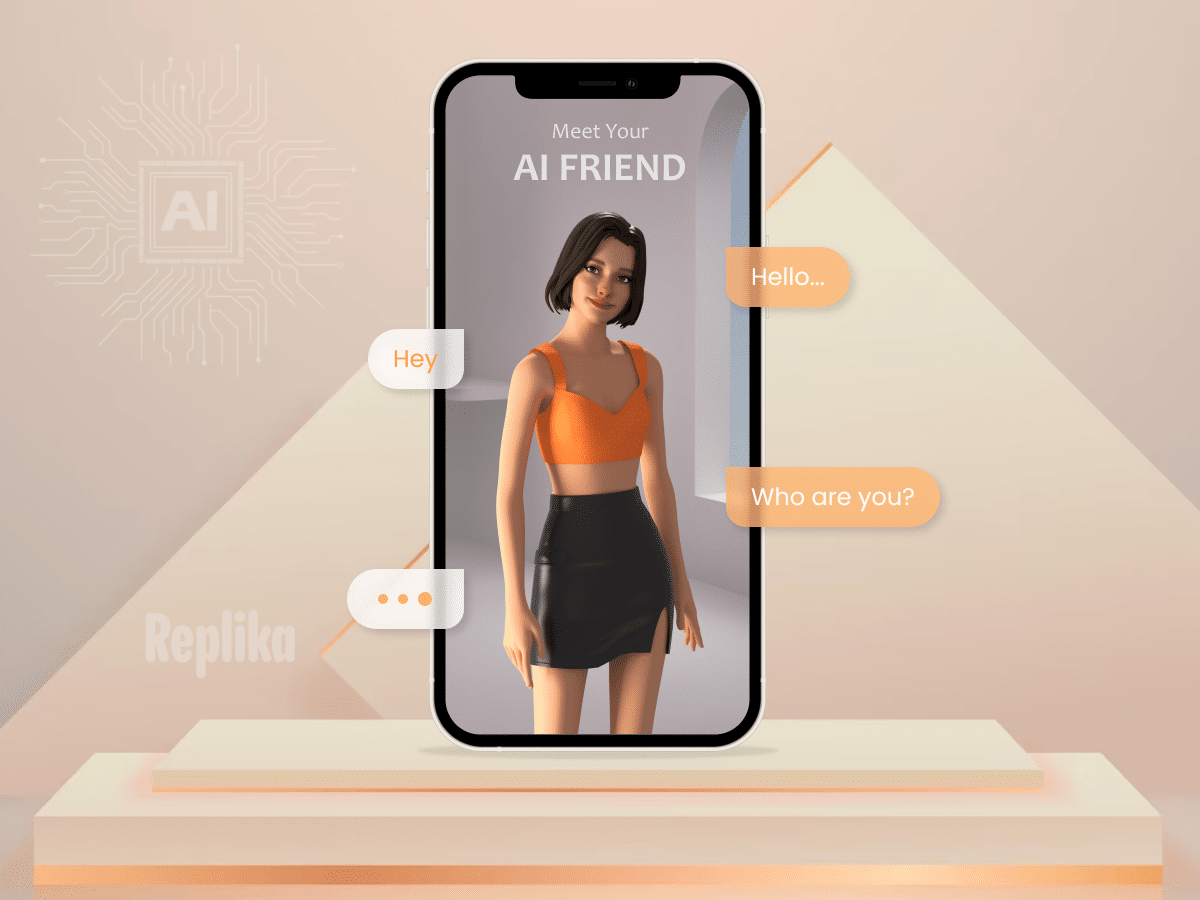 A Detailed Guide to Building an AI-based Chatbot App Like Replika
Jignesh Nakrani
Artificial intelligence links progress and those seeking personal growth. Chatbots have emerged as a popular tool for engaging users and providing personalized experiences among the myriad of AI applications. One… Read More