Ankit Patel

February 21, 2020

4 min read
Dream is always better than reality unless it's a nightmare. But, with technology soaring new heights reality looks and sounds much better than your hazy dreams. Transforming the viewing experience and taking the viewer into a whole new world is this new technology that is taking the world in its sweep. Augmented Reality and Virtual Reality, otherwise called AR and VR, are utilized to deliver a totally new viewing experience, advancing the way you look at the outside world. Frequently used in the technology world, these terms are often replaced for each other. However, each of these holds a unique position in this techno-crazy world. Knowing the difference between the two can help you recognize if you are using AR or VR in a particular situation.
Let's first look at what role each one of these technologies performs in the modern-day world.
What is Virtual Reality?
Virtual Reality is any technology that creates a totally new virtual world. It takes you into a totally new world that exists only at the virtual or digital level. It presents the things in such a manner that you end up mistaking the virtual for the real. Creating a simulated environment, it presents a completely different reality in front of your eyes. It lets you visit any place on earth without you actually being there.
Examples:
Gaming, aviation, military training, medical training, and education are some of the best examples of where VR is applied. Videogames and PlayStations are the best instances to look at while understanding the applications of VR technology. These VR based PlayStations create an artificial environment for the players.
What is Augmented Reality?
As the name suggests, Augmented Reality augments your overall experience by making it more meaningful. It gives you the ability to interact with technology. Augmented Reality is developed into apps to help you blend digital devices into the real world. Its aim is to improve your whole experience with digital components. It is like a layer of technology atop reality in order to provide you an opportunity to interact with it. It is utilized in the apps present on our apps and tablets.
Examples:
Utilized to project images over whatever you view, AR is utilized in apps and games such as Pokemon Go. Such gaming apps make use of your phone's camera to locate your surroundings and apply an extra layer of information on it. Right from education, entertainment to medical training and public safety, AR is utilized in varied fields.
Augmented Reality and Virtual Reality – The Difference
While AR and VR are the two terms used interchangeably, they are not one and the same. Yes, they are two sides of the same coin but they do completely different things. Virtual reality is about replacing your vision and taking you into a totally different world, augmented reality is about enhancing your existing world by adding to what you are seeing. With VR what you see is totally transformed by helping you traverse into a new world and with AR your existing environment is improved by enabling you to interact with it.
Image Source : Learning English
| Virtual Reality | Augmented Reality |
| --- | --- |
| With virtual reality you are visually immersed into technology. It recreates a real life environment or situation. It makes the viewer feel that they are in a particular situation through stimulated vision and hearing. | With augmented reality, viewer can experience a specific part of technology over reality. It is a layer of technology atop existing situation. |
| It creates a totally new experience | It enhances existing experience |
| It is utilized by wearing a headset which is equipped with the powers of VR | It is built into apps to blend digital components into the real world |
| It is used to create imaginary reality for gaming, entertainment and sports. | It is used to show score overlays on sports games, 3D emails, images, and text messages on mobile devices. |
| Takes you to a totally new simulated environment | Transforms what you see |
| Entirely virtual world | Mix of real plus virtual world |
| Makes imaginary seem real | Makes real world better by letting users interact with it through technology |
| Experienced by wearing VR powered goggles | Experienced by holding the AR app in front of your eyes |
| Sony Playstation VR | Microsoft HoloLens, Pokemon Go |
Virtual Reality Vs Augmented Reality
Virtual reality digitally recreates a real-life setting whereas augmented reality overlays virtual components into the real world. Though different in various ways, the goal of both these technologies is to enhance the overall experience of the end-user.
Both the technologies are penetrating into different fields. Their use of entertainment tools is remarkable. Previously what was thought to be just a part of an imaginary world, is now becoming akin to the real world. A new artificial world is created in which certain elements come under the user's control. At the same time, profound layers of interactions with the existing world are also made possible.
The use of AR and VR in the medical field has made it possible for surgeons to perform remote surgeries. Their capabilities are also utilized to treat medical conditions such as PTSD.
Viewing these possibilities and facts, saying Virtual Reality VERSUS Augmented Reality would be like winking at the facts and trying to place one above the other.
In fact, AR and VR function synergistically with each other to produce enhanced experiences to end-users. They are aptly blended with each other to create a totally different reality. In many cases, AR is blended into VR to make it appear more real. For instance, the augmentation called haptic feedback is vibration and sensation added to interaction with graphics. However, it cannot be used independently. In fact, it is added within a virtual reality situation to make the final experience seem more life-like.
This way both the technologies work in coherence with each other to deliver superior outcomes. One makes virtual reality and the other makes real virtual. Whether they are used independently or interdependently, the final result will always be amazing. Both the areas of technology have limitless possibilities which will be uncovered as and when their capabilities are utilized.
You may also like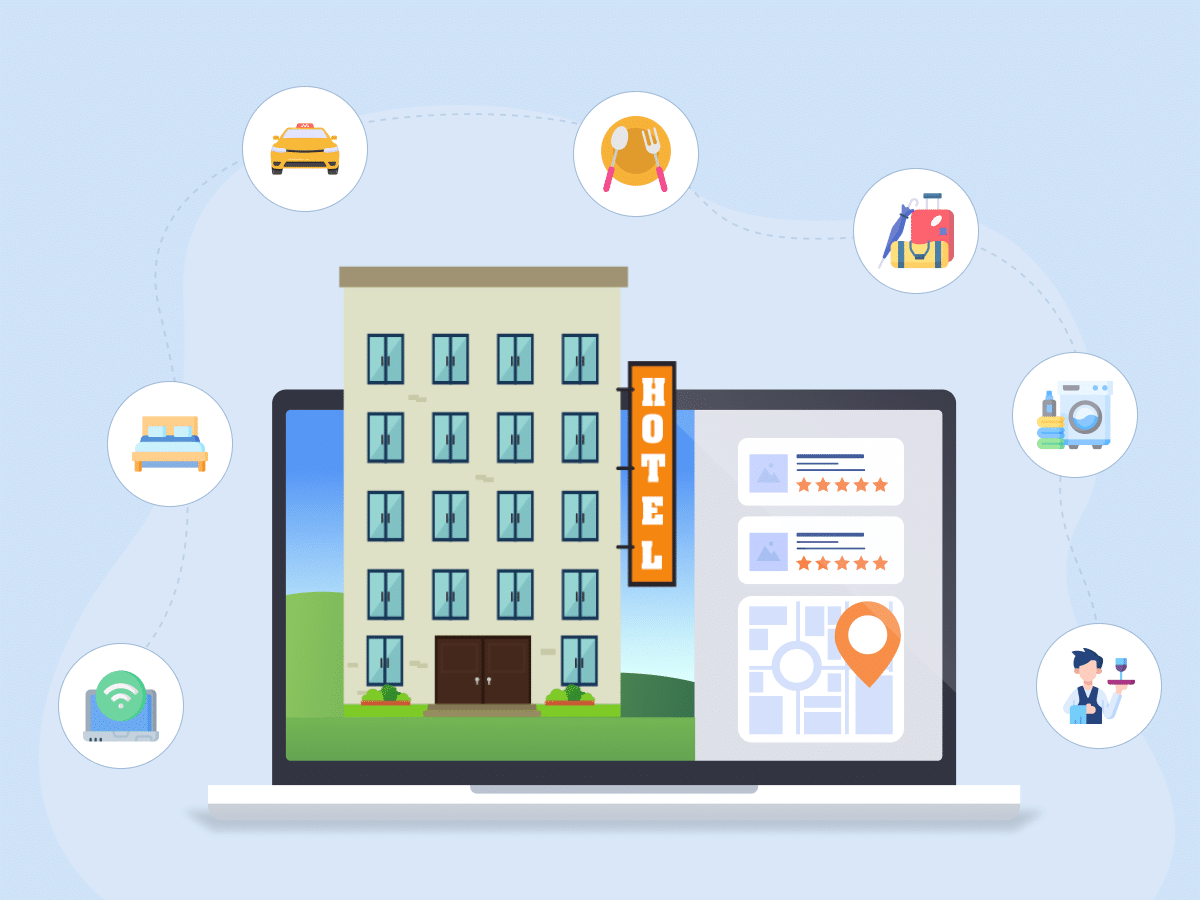 The Ultimate Guide to Hotel Management Software Development
Ankit Patel
Imagine a scenario where the reception area of your hotel is inundated with guests seeking assistance, staff members requesting entries, and other demands. The reception team may find it overwhelming… Read More