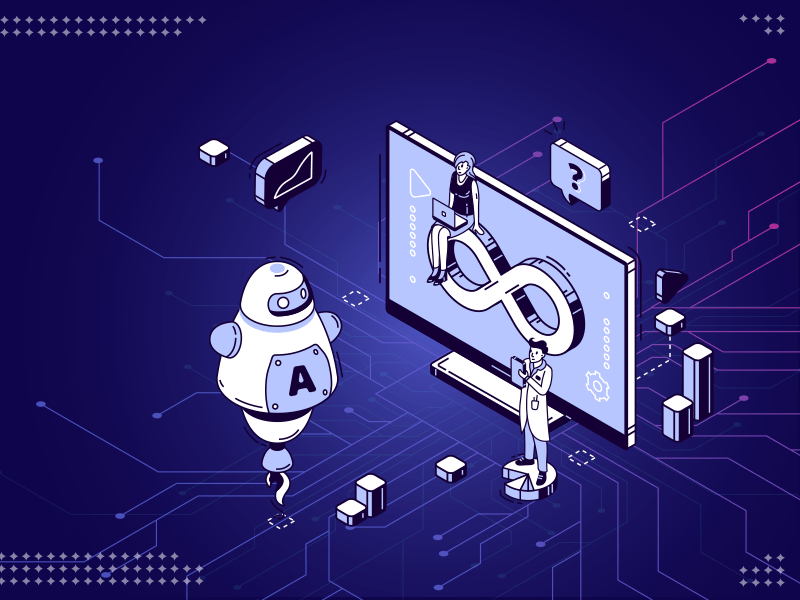 Ankit Patel

July 10, 2020

4 min read
Artificial Intelligence has been the most happening thing of the previous few years. Technology has totally transformed its face owing to the evolution of AI technologies. We are surrounded by AI-powered tools. Right from chatbots functioning through AI to devices that are operated using AI technologies, artificial intelligence has spread almost in every sphere. Artificial Intelligence services have transformed the economies by creating more job opportunities, making healthcare much more accessible, and creatively impacting the nature of art.
What is AIOps?
Artificial Intelligence-based IT operations simply imply the application of AI to information technology. It is imperative to use it to manage sophisticated IT environments which may be hybrid, dynamic, distributed and componentized.
With the use of AIOps, DevOps development service providing professionals work in a smart and fast way. This means they will be able to recognize digital-service issues at a nascent stage. Thus, preventing subsequent impact on business operations as well as customer satisfaction levels.
With the explosion of business data, it is becoming quite a task to create, store, analyze and manage it. Meaningful insights from huge databases can transform the way business is conducted. The overload of data also increases the challenges of IT teams who are always striving to offer speed, security and reliability.
What Artificial Intelligence Service Does?
With DevOps development service, it becomes possible to trim immensely complex and huge data created by modern IT environments. This helps in preventing outages while appreciating uptime. As a result, businesses can efficiently and consistently provide their service to their customers, leading to greater customer satisfaction.
Managing today's dynamic business problems is possible only with modern IT tools. With the use of advanced machine learning development services and analytics, it is possible for a business to improve their IT operations. AIOps is one powerful tool which relies on impactful data collection methods that make use of real-time analytic technologies.
Managing operations in sophisticated IT environments is complicated at three main stages.
Systems:

At the very heart of any organization is the presence of complex systems which are modular, distributed and dynamic. The components of these systems are temporary.

Data:

The next layer at which complexity lies is data generated by systems via the internal operations such as logs and traces. At this layer the complexity of data arises due to its volume and variety.

Tools:

The external layer from which intricacy arises is tools which are utilized to regulate the data as well as systems. With the evolution of tools accomplishing specific functions, their number drastically increases. As a result, operational and data silos arise.
With the constantly growing IT infrastructures, old systems are rendered useless or less useful as they depend on a static and self-focused IT environment. With machine learning development services and data science, IT teams are empowered with a real-time comprehension of any unanticipated business issues.
How AIOps Functions?

All AIOps products are unique and serve a specific purpose. To get the most from artificial intelligence services, businesses should deploy it as an individual platform that includes data rooting from all sources and serves as a central engagement system.
This independent platform should be empowered by five types of algorithms that completely automatize and sync the following main dimensions of IT operations monitoring.
Data selection:

The first step includes taking in huge amount of redundant IT data created amid modern IT environment and choosing data elements that are pointing out a problem. This implies that almost 99 percent of the data will be filtered out.

Detection of Pattern:

Once the redundant data has been chunked out, it is time to correlate the existing data. By establishing meaningful relationships between the chosen data and grouping them together, it is made ready for a profound analysis.

Data Interpretation:

Detecting root causes of issues which have been repeating so that action can be taken to prevent them in future.

Collaboration:

Informing teams to facilitate collaboration among them. This is important when team mates are not located in a single region and also to save data on incidents.

Automation:

This includes automating responses as far possible to make easy and specific solutions.
What Lies in Store For AIOps?
AIOps has just arrived and it has a lot to offer ahead. The perfect mix of AI and automation, AIOps, is a catalyst for IT agility and contributes to the easy application of a change in enterprise IT environments. AIOps enhances the productivity of IT operations teams by letting them concentrate on other activities of strategic importance. By blending machine learning functionalities with Big Data, machine learning development services can automate most of the ITOps processes.
Capacity Planning:

Enterprise workloads are shifting to cloud with various providers offering different configurations. The complexity further exacerbates when new configurations are included with parameters such as network, storage resources, etc.

With AIOps, it is possible to align the right use of network, storage, and memory resources with the correct configuration of servers and VMs.

Optimum Utilization of Resources:

Organizations are utilizing cloud elasticity to enhance their application scaling in or scaling out in an automated way. With AIOps, IT admins can depend on predictive scaling and upgrade the auto scale cloud to the next level. Depending on the historical data, the workload will identify the resources needed without any manual stimulus.

Data Store Management:

AIOps can help in monitoring the network and storage resources that will influence the applications. Whenever performance gets depleted, the admin will receive a notification. With the use of AI for network and storage management, monotonous tasks like reconfiguring and recalibration can be done automatically. Predictive analytics can help in automatically adjusting storage capacity by increasing volumes without manual input.

Detecting Anomalies:

The most important application of AIOps is identifying anomalies. With this feature, organizations can prevent possible outages and disruptions. As anomalies can occur anywhere, it is important to pinpoint them as and when they occur. This can be accomplished by using advanced analytics and machine learning. With AIOps, artificial intelligence service experts can correctly detect the original source and assist IT professionals in carrying out root cause analysis in real-time.

Threat Identification and And Analysis:

Artificial Intelligence services providing experts can help improve the security of IT infrastructure. Security systems can rely on machine learning algorithms and AI's self-learning capabilities to assist with data breach detection. Malicious activities can easily be identified.
All in all, it can be said that the applications of AIOps are vast. It can help bring down revenue risk for enterprises by bringing downtime of critical applications to zero. It can augment business availability and efficiency while bringing down IT costs.
You may also like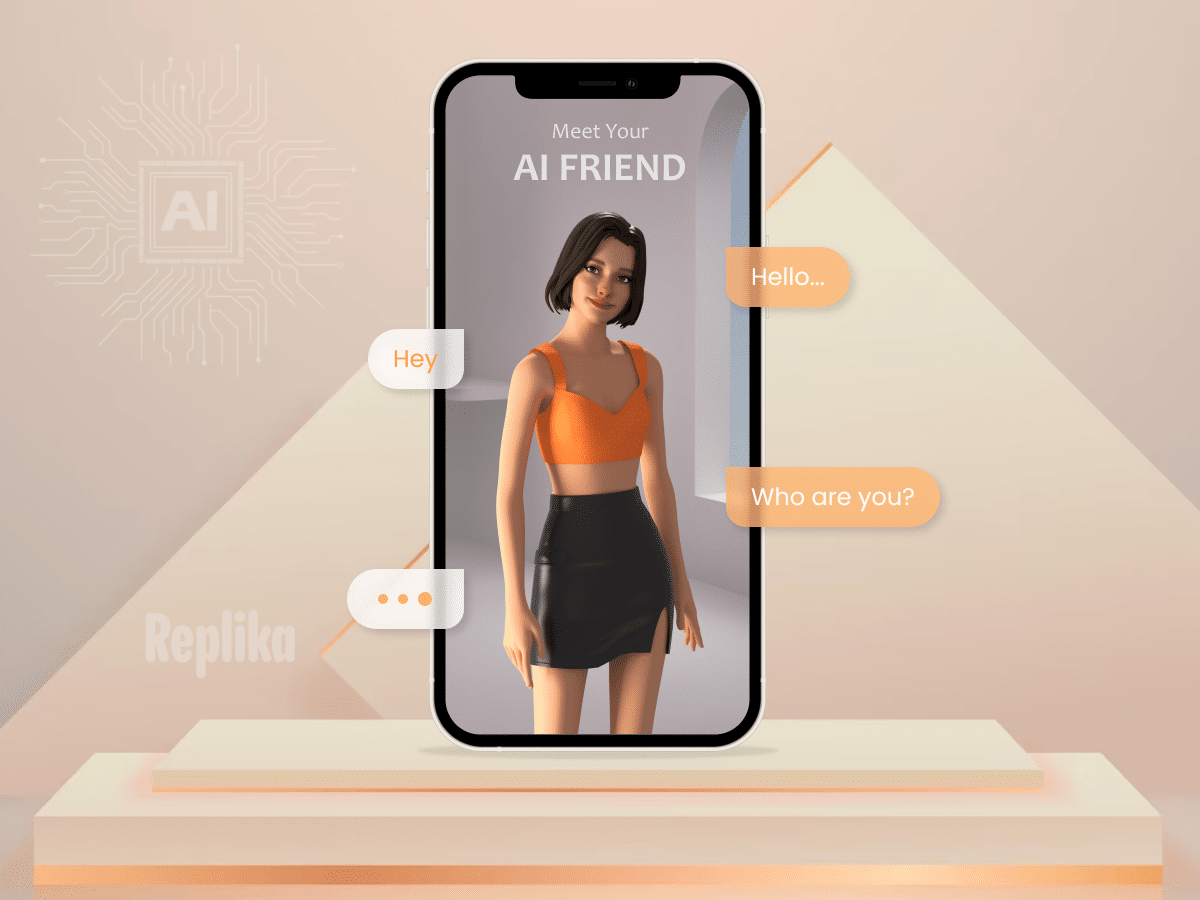 A Detailed Guide to Building an AI-based Chatbot App Like Replika
Jignesh Nakrani
Artificial intelligence links progress and those seeking personal growth. Chatbots have emerged as a popular tool for engaging users and providing personalized experiences among the myriad of AI applications. One… Read More