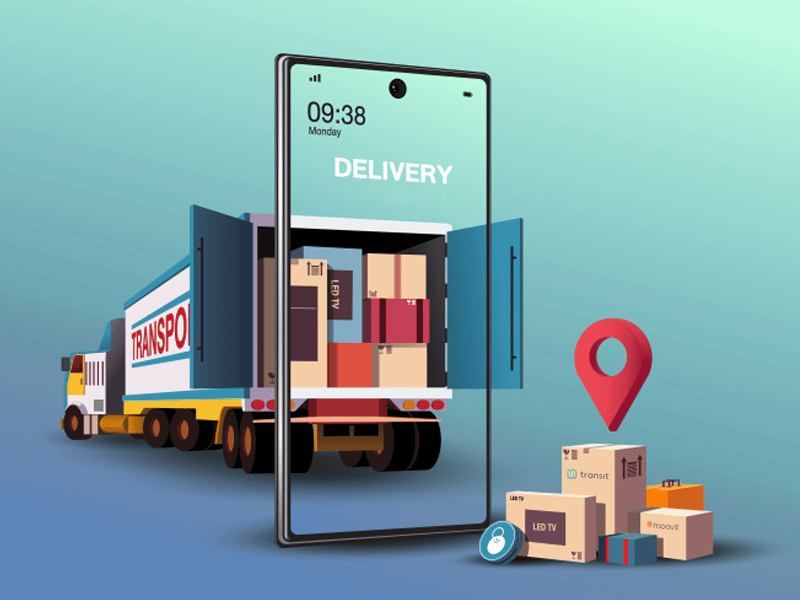 Ankit Patel

December 02, 2022

6 min read
Have you just conceived a logistics and transportation business? You must be aware then of the hassles related to vendor coordination, management of shippers, consumers, etc. But come the app generation that we live in, all these tasks are now easy to automate.
Today where we have apps for almost every purpose, it comes as no surprise there will be an application to automate transportation and logistics services respectively.
As per the aluates Reports, the global logistics operations market has achieved a standout image predicted to generate $12975.64 billion by 2027. Hence, in short, it has exceptionally lucrative prospects, so to speak.
Therefore, if you are operating an offline logistics venture and plan to streamline its operation, the article is for you.
In this in-depth guide, you will get a comprehensive view of the creditable growth of the industry, presenting examples of Moovit and Transit that have been particularly responsible for this.
After you complete reading it, you will know the strategies for powerful transportation app development to enable you to earn profitable returns right from Day 1.
So let us begin.
About Moovit App
Moovit known for its real-time location functionality makes it easy to locate public transit, and plan journeys too side-by-side.
Providing safe, and affordable travel means, it helps customers to easily travel to their desired destination with convenience after adding their pickup and drop locations conveniently.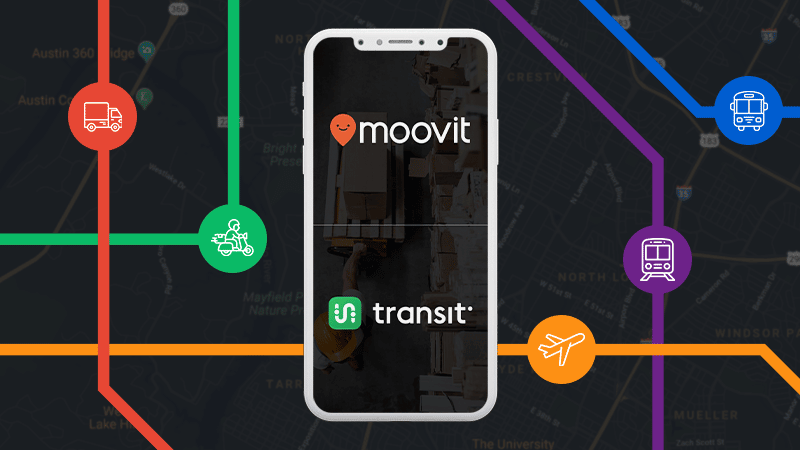 About Transit App
Launched in 2012, Transit is known for providing real-time public transit data. Functioning in over 175 cities globally, it makes it easy for customers to know the real-time location of buses and trains.
With extremely simple operations, when the customer enters the app and adds the departure and arrival location alongside time, they can easily travel to their desired destination on time.
Now let's get an overview of how logistics and transportation app works.
How Does Logistics & Transportation App Work?
The logistics app has extremely simple operations. Check this out in the points below.
The customer enters the app and posts freight and transportation request.
Add pickup and destination location details.
Driver nearby gets notified of the same, accepts the request, and reaches to customer's location.
The driver picks up the freight from the customer using the in-built GPS functionality.
After successful cargo delivery, the shipper is notified of delivery completion, with successful invoice generation done thereafter.
Customers can track to check the exact location of their fleet.
Once the freight is delivered, customers can rate and review based on the service they received.
Read Also: Step-by-Step Guide To Develop A Highly Responsive Location-Based App
Benefits of Having a Mobile App for Logistics & Transporation Business
Monitor drivers and vehicles
Improve delivery operation
Better customer service
Real-time information
Reduce paperwork
Cost-effective and saves time
Provide safety and security
Track driver activities
Fruitful inventory management
Global Market Share of Logistic Business
Check out the infographic to get an overview of the overall lucrative value that the transportation business has accomplished.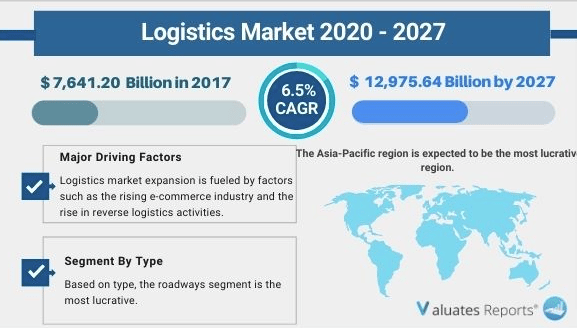 Image source: reports.valuates.com
Looking at these numbers you must be wondering about the factors responsible for these numbers. The answer is the presence of apps like Transit and Moovit transportation apps. This is courtesy of the features it contains.
Essential Features of a Logistics & Transportation App
Transportation apps like Moovit and Transit automate the logistics business and have unique features within.
| Customer App Features | Driver App Features | Admin Panel Features |
| --- | --- | --- |
| Easy registration or social media login | Login/registration | Seamless dashboard |
| Advanced search filter | Manage profile | Manage customers |
| Online booking schedule | Get shipper details | Manage drivers |
| Push notifications | Accept and reject customer request | Manage vehicles |
| Multiple payment options | Track location | View received request |
| Real-time tracking | View bill details | Accept/reject requests |
| Track shipment | In-app chat/call | Reports and analytics |
| Geolocation map view | Earning history | Expense management |
| Rating and review | Review and rating | Manage reviews |
Revenue Model It Adopts
There are five main ways through which the on-demand logistics and transportation business capitalizes on profits.
Commissions charged to drivers from the earnings they make.
Advertisement charges to the logistic ventures for the ads they display.
Freemium model where users get charged a particular amount.
Paid apps where users get charged particularly.
Paymium model where users have to pay.
Courtesy of all these reasons the solution has it has enticed the attention of entrepreneurs, particularly those having traditional offline logistics businesses to embark on the journey of transportation app development services. If you are among one of them, particularly if you are in the quest to set out on the journey for logistic app development services, here are some steps that will be useful for you.
Vital Steps in Developing a Transportation App
When you set out on the journey to digitize the logistics and transportation business to ensure you can build something similar to the Moovit transportation app, keep some points in mind.
• Have a USP
A USP or a unique idea is what you need first before you set out on the journey to perform logistic app development services. This involves deciding the kind of business and revenue models you will implement for your app.
This follows next by the features that your app will comprise. With this idea, you will be able to capture more users and ensure more app downloads.
• Research
Research carefully the idea that you have. This means you need to analyze if the idea is relevant to the current business arena or not. When you get a yes to this, conduct research on your competitors. It is equally relevant to have an idea about your target audience.
Alternatively, ask yourself these questions:
What is the level of satisfaction that customers have with the current app they operate?
Are customers satisfied with the services they receive from the app?
What is the USP of my competitors?
Is my competitor's app missing something?
If yes, can its addition add value to my app?
• Choose the Appropriate Monetization Stream
The ultimate goal when you embark on the journey to develop something similar to the Moovit transportation app is to select an appropriate monetization stream.
Here are the ones that can help you.
Charging service fees to the delivery drivers.
Advertisement fees to the logistic providers for the ads they list on the platform.
• Make App Unique
Probably one of the most vital ways to ensure more user retention through the logistics app that you develop is ensuring that it is unique.
To accomplish this, add some unique features.
Integrate GPS tracking
Map view for navigational
Multilanguage Support
Driver safety
• Idea of Different App Types
You need to know the different app types particularly when you are performing logistics app development so that you are aware of the kind of app that the market needs.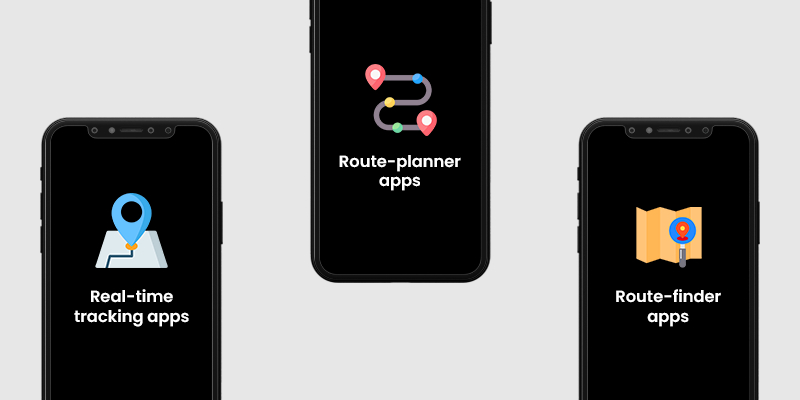 Real-time tracking apps to enable users to obtain real-time information about vehicles, deliveries, and drivers.
Route-planner apps to streamline route optimization and make it easy to find shorter paths.
Route-finder apps to make it simpler to observe distances and navigate.
• Use Robust Tech Stacks
Make use of robust tech stacks next to ensure the logistics and transportation app that you develop so that operations remain flawless.
For Android – Kotlin or Java, React Native / Flutter
For iOS – Swift, React Native / Flutter
For Frontend – React, Java, Angular, JavaScript, HTML, CSS
For Backend – Node.JS, Express.JS, Ruby, Python
For Payment Gateway – PayPal, Stripe, Braintree, EWallets
For Server – AWS
For Notifications – Twilio/Push.io
For Database – MongoDB, HBase, Postgres
• Connect with Transportation App Development Company Offshore
Last, it is recommended that you outsource the logistic and transportation app development services from a reputed mobile development company.
It is recommended that you connect with a freight app development company overseas upon assessing their portfolio and client reviews alongside their expertise in developing clone app solutions like the Moovit and Transit respectively.
Upon successful assessment you have done of their skills in Transit and Moovit clone app development, you can go ahead and get in touch. Share your requirements thereafter to see your app idea coming to life.
Let us now assess the overall transportation and logistics app development cost.

How Much Does Logistics & Transportation App Development Cost?
To get a formative value of the cost to develop apps like Moovit and Transit clone, there are a wide array of factors that you need to focus on.
App design
Project performance, if done in-house or offshore
Android and iOS native app development
Frontend and backend development
Features and functionality
3rd party plugin integrations
Web development
Testing
Once you have ensured that the design is user-friendly, the features are relevant, and most important outsourced the project, the total cost for a basic transportation app like Moovit and Transit will be around $25,000 to $40,000 and can go high above $80,000 based on your requirements.
Bottom Line
Technological advancements have transformed every industry and the way they operate. Therefore, taking its advantage for your logistics and transportation business is a strategic move. In other words, with a logistics and transportation app that you develop, the way you operate will transform. It will alternatively assist you to earn profitable returns right from the word GO. To make the app development journey a pleasant one, connect with a reputed logistics app development company if you plan to digitize operations for your transportation business with the Moovit clone app or a Transit clone app. So what are you waiting for? Become part of the billion-dollar profitable logistics and transportation industry.
You may also like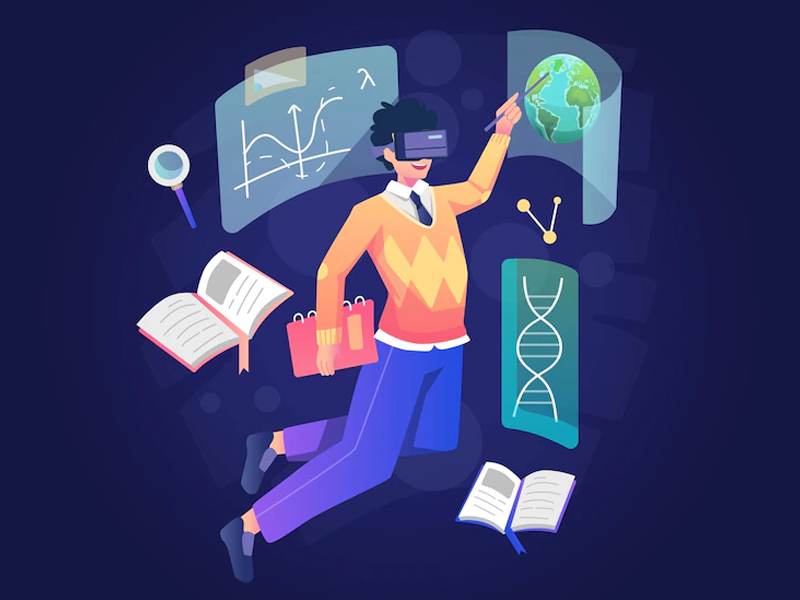 Augmented Reality in Education Industry: Benefits and Examples
Ankit Patel
We live in a world where technology and its different innovations have brought about a major shift in how people access information, and knowledge and develop new skills. However, albeit… Read More