Ankit Patel

July 07, 2023

6 min read
Mobile ERP is the rising star in the ERP arena. This revolutionary system lets you access your ERP software anywhere, anytime, using your trusty smartphone. Can you believe it? The current workforce embraces this concept as the new normal, and rightly so! The potential of mobile ERP is simply mind-blowing, and ERP vendors are quick to recognize this. They are now offering mobile-ready solutions to cater to the growing demand. Whether you need to close your eyes on shipments, seal important deals, or work on a specific project, cloud-based ERP delivers real-time information immediately.
According to Gartner, "By 2023, 65% of businesses will adopt ERP applications with fourth-era hallmarks."
Since working from home is the new normal and many companies opt for mobile ERP applications, we cannot ignore that these incredible systems empower the next-generation workforce.
Understanding Cloud-Based Mobile ERP
ERP (Enterprise Resource Planning) is an all-inclusive software solution that seamlessly links vital business functions like accounting, HR, supply chain, CRM, etc. Mobile ERP software refers to applications or platforms allowing users to access and manage ERP functionalities through smartphones and tablets.
Mobile ERP system extends traditional ERP systems' cloud computing capabilities by providing mobile access to critical data and functionalities. They enable employees, managers, and other stakeholders to access real-time information, perform tasks, and make informed decisions, regardless of their physical location. These solutions typically leverage mobile apps or responsive web interfaces optimized for mobile devices.
Key Statistics — How Cloud-Based Mobile ERP is Revolutionizing Modern Enterprises
83% of businesses believe that cloud-based ERP will be the dominant ERP platform by 2025. (Source: Panorama Consulting Group)
Cloud-based ERP adoption is growing at a rate of 15% year-over-year. (Source: IDC)
Cloud-based ERP users report a 30% increase in productivity and a 20% reduction in costs. (Source: Aberdeen Group)
Cloud-based ERP users are more likely to be customer-centric and innovative than businesses that use on-premises ERP systems. (Source: Capgemini)
Cloud-based ERP is particularly well-suited for businesses with remote or mobile workforces. (Source: Gartner)
Benefits of Creating Cloud-Based Mobile ERP For Modern Businesses
By developing a cloud-based ERP mobile app, businesses can unlock a multitude of advantages that enhance their operations and drive growth.
Accessibility: Mobile ERP solutions enable users to access ERP functionalities and data from anywhere at any time, facilitating remote work and improving productivity.
Real-time Data: Users can view up-to-date information and key performance indicators (KPIs) in real-time, allowing for timely decision-making.
Improved Collaboration: Mobile ERP solutions enable seamless collaboration between team members and departments, fostering better communication and coordination.
Enhanced Efficiency: Users can perform inventory management, approvals, and data entry directly from their mobile devices, reducing manual efforts and streamlining processes.
Increased Agility: Mobile ERP solutions empower organizations to respond quickly to business challenges and opportunities by providing access to critical information on the go.
Enhanced Customer Service: Sales and customer service teams can access customer data, order history, and other relevant information while interacting with clients, improving customer service and satisfaction.
Types of Cloud-based Mobile ERP Solutions
Businesses must opt for custom ERP software development that aligns with their business vision and industry standards. Here are the different sorts of mobile ERP solutions that you can get built up for your business: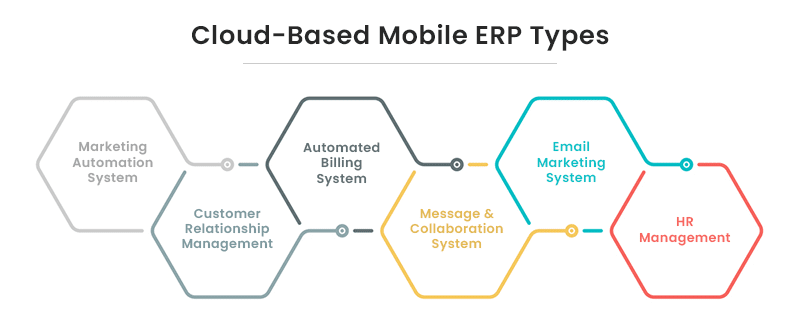 Marketing Automation System: These mobile apps help marketers schedule and automate their campaigns. They make tracking employee or partner activities easy and provide better customer service.
Customer Relationship Management: The best part of mobile ERP for large enterprises is that it allows them to manage customer interactions, keep service logs, and generate valuable reports. It helps make timely adjustments to plans or systems, leading to better customer experiences and increased sales.
Automated Billing System: This solution simplifies the billing process, allowing companies to charge customers quickly and manage multiple invoices effectively. It streamlines transaction tracking and improves billing management.
Message and Collaboration System: This system equips employees with tools for communication, task tracking, and file sharing. It helps teams work efficiently and stay aligned on upcoming tasks.
Email Marketing System: It enables companies to send targeted emails and messages to customers based on location and preferences. Mobile ERP for small businesses allows for personalized communication and effective marketing campaigns.
HR Management: This software tracks employee performance, provides feedback, and streamlines HR tasks and objectives. Automating repetitive work and optimizing processes improves efficiency and performance in the HR department.
Also check: Serverless Architecture for Cloud-based App Development
Key Features of a Robust Mobile ERP Solution
A robust ERP mobile app development helps businesses to access and update real-time data anytime, anywhere for informed decision-making and up-to-date business processes. But it also offers several other critical features:

Workflow Management: Users can optimize workflows with task management, approval processes, and notifications for efficient task tracking and collaboration.
Inventory and Supply Chain Management: It helps to efficiently manage inventory, track stock levels, place orders, and monitor the supply chain for optimized inventory management and improved efficiency.
Sales and Customer Management: There are comprehensive features for managing sales orders, customer information, and CRM to enhance customer engagement and boost sales effectiveness.
Security and Access Control: It ensures data security with authentication measures, role-based access controls, and data encryption to protect sensitive business information and restrict unauthorized access.
Offline Capabilities: Users can maintain workflow without an internet connection with seamless data synchronization once the device reconnects, ensuring uninterrupted productivity.
Also check: How Much It Will Cost To Develop POS System?
Development Process of Cloud-based ERP Solutions for Mobile?
Any business wanting to develop cloud-based mobile ERP solutions has to pass through several essential stages.
Requirement Gathering: To start, it's crucial to thoroughly understand the client's needs and business objectives for the mobile ERP app. It means identifying specific functionalities, features, and integration requirements vital to the app's success.
Planning and Design: The app development team creates a comprehensive plan and design for the mobile ERP app in this stage. It includes defining the app's architecture, designing user-friendly interfaces, and ensuring an optimal user experience.
Development: Now, it's time to implement the plan. Skilled developers code mobile ERP systems proficiently using programming languages, frameworks, and cutting-edge tools. They work on both the front-end and back-end components of the app.
Quality Assurance: Ensuring the app's quality is crucial. This stage involves rigorous testing using various methodologies like functional testing, performance testing, and compatibility testing. By doing so, any bugs or issues in the app's functionality are identified and resolved.
Deployment Once the app completes the testing phase, it's prepared for deployment. It involves preparing the app for distribution through app stores or enterprise deployment channels.
Maintenance and Updates: After deployment, ongoing maintenance, and updates are essential to keep the mobile ERP app relevant and effective. This phase includes timely bug fixes, feature enhancements, and compatibility updates to adapt to the evolving mobile platform landscape.

Use Cases of Cloud-Based ERP Integration
Cloud-based ERP integration can be used in a variety of industries and for a variety of purposes. Some common use cases include:
• Finance
This can help businesses to improve financial reporting and compliance by connecting their ERP system with their accounting software. For example, financial data from the ERP system could be automatically imported into the accounting software, which could help to reduce errors and improve the accuracy of financial reports.
• Supply Chain Management
Integration between cloud ERP and supply chain systems allows organizations to optimize their supply chain operations. It facilitates demand planning, inventory optimization, vendor management, and logistics coordination, resulting in improved supply chain visibility, reduced lead times, and enhanced operational efficiency.
• Human Resources (HR)
This can help businesses to improve employee productivity and satisfaction by connecting their ERP system with their HR software. For example, employee timesheets could be automatically imported into the ERP system from the HR software, which could help to improve payroll accuracy and reduce administrative overhead.
• E-commerce
Integrating cloud ERP with e-commerce platforms enables seamless synchronization of product catalogs, pricing, inventory levels, and customer data. It ensures accurate order processing, inventory management, and customer experience across online and offline channels.
• Manufacturing
Cloud ERP integration can be used to integrate ERP systems with manufacturing execution systems (MES), product lifecycle management (PLM) software, and other manufacturing applications. This can help businesses to improve their production planning, scheduling, and quality control capabilities.
What is the Cost of Building a Custom Mobile ERP?
The cost of building a custom mobile ERP can cost anywhere from $30,000 to $50,000. A highly complex solution with advanced features will be more expensive than a simple cloud-based app with minimal functionality. Other factors affecting the budget include the location of the development agency, UI/UX design, app platform, team size, maintenance needs, features, and tech stack. Outsourcing can offer cost advantages, but prices may vary geographically.
Wrapping Up
It's crystal clear that modern enterprises must embrace cloud-based mobile ERP solutions to stay competitive and agile in today's fast-paced business landscape. With the power to streamline operations, enhance productivity, and provide real-time insights, mobile ERP is a game-changer that empowers businesses to thrive and excel. So, take advantage of the opportunity to elevate your enterprise to new heights with a cloud-based mobile ERP solution tailored to your unique needs. Get started today with us and witness the transformative impact it can have on your business!
You may also like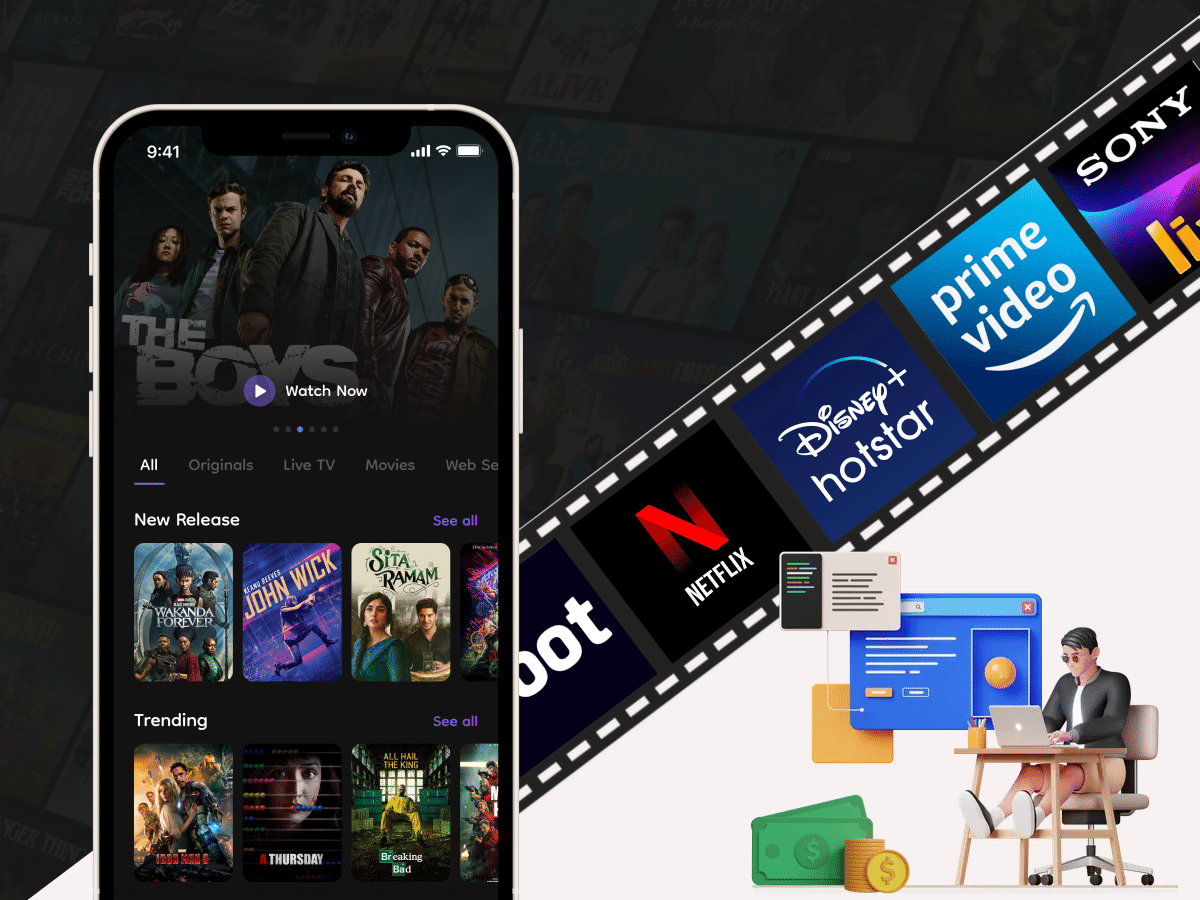 OTT App Development Cost – Features, Process & Trends
Jignesh Nakrani
In the era of digital media, the realm of entertainment has undergone a dramatic transformation. Over-the-top (OTT) platforms have emerged as frontrunners, revolutionizing the way we consume content. With a… Read More