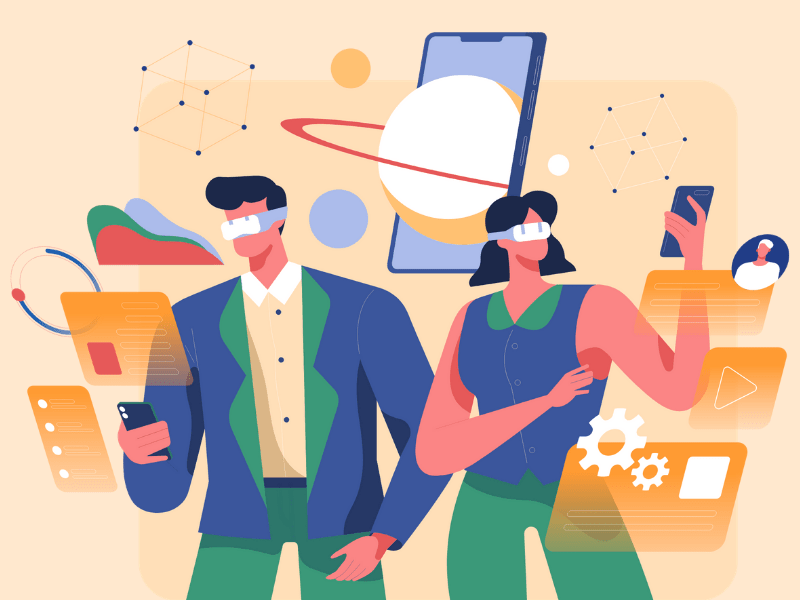 Ankit Patel

June 23, 2021

6 min read
Ever-evolving technology is transforming the manner in which traditional businesses are being carried out. Augmented Reality is considered one of the other mainstream technologies and is soon going to be an important part of our day-to-day life. Earlier in 2016, Pokemon Go was launched into the market and in no time it changed the perspective of people on technologies. This also resulted in a hike in the demand for augmented reality app development services. Hence, it's from 2016, that AR is trying to become the new normal. Today, it is being used by many mobile app development services offering companies to develop AR-powered apps for various industries, such as entertainment, health, eCommerce, and many other sectors.
As per the report generated by Grand View Research, in 2020, the market size of AR globally was estimated to be $17.67 billion and by the end of 2021, it could be more than $26 billion. This is an impressive increase in the figures. The one and the only reason behind this is that AR bestows innumerable benefits and new growth opportunities to various industries. Every mobile app development company leverages the power of AR to offer the best AR app development services.
Now, coming on the main topic of discussion – Will an Augmented Reality powered app be of great help to its users, or is it just a hyped technology? Is it worth hiring for augmented reality app development services?
First, let us start with-
What Augmented Reality (AR) is?
Augmented Reality is one of the trendiest technologies right now. It is an amazing technology that augments or enhances your experience by popping up real-world objects near your surroundings. This technology is going to gain huge momentum in the coming days, as Smartphones and Smart devices are being used more all over the world. Most of the mobile app development services offering companies have adopted this technology. With AR, you can experience the environment of real-life right in front of you, like swaying trees, wild animals in front of you and many more.
With an AR-powered app, you can activate your Smartphone camera and use the app to:
Superimpose digital information, 3D models, and/or images
Insert labels
Add real-time directions
Change colours
Alter facial features using filters on Snapchat, Instagram, etc.
It can be used in multiple ways like in apps through which you can find your parked car or empty parking area, Snapchat lenses, in clothing apps, in gaming apps, etc.
The three basic pillars on which the theory of AR is based are:
A blend of virtual and natural worlds.
Real-time interaction amidst them.
Legal registration of real and virtual objects.
Augmented Reality and virtual reality are very much different from each other. While virtual reality generates a virtual environment that is completely separate, AR overlay uses virtual objects to augment a natural picture. Likewise, mixed reality and augmented reality are also completely different. Semi-virtual environments are created in the case of mixed reality.
Types of Augmented Reality Apps
There are various types of AR that are being used by almost every mobile app development company. Let us discuss all of them:
Projection-based AR Apps

From the name itself, you can clearly figure out this AR type. In this case, digital images are projected on any physical object. After the app recognizes the physical object and the image, the image can be projected on the object. For example, you can project a digital image on your wall or a digital dialer on your palm. Using this AR-type you can also see whether your fridge will fit well into a particular space. The mobile app works flawlessly on any surface or area that it can detect.

Markerless Surface-based AR Apps

While designing a sitting room, first of all, it is necessary to create a real-life area's comprehensive 3D model. The AR algorithm analyzes and identifies the walls and the floors. After this, inside the created 3D model, you can position the AR content precisely. You can view the virtual objects or furniture on your mobile screen as if they are actually part of your natural surroundings. For demonstration purposes, such types of apps are very useful.

Recognition-based AR Apps

On scanning an image or a QR code, it gets activated. This is exactly where you are using the recognition-based AR technology. iGreet works using this technology. The augmented reality app first detects and then recognizes AR markers. After recognizing the marker, the corresponding object is replaced by it. Another example of recognition-based AR technology is when you translate words through your app camera.

Location-Based AR App

Certainly, you cannot skip mentioning this location-based AR app, when you are talking about vivid AR apps. These apps are generally used outdoors. You can get contextual and precise information about your surrounding environments. Being a traveler, you can explore new places without any difficulty.

The biggest help that you can get from these location-based AR apps is finding the parking slots without stepping out of the car. All you have to do is enter your location. After reading the GPS of your Smartphone, accelerometer and compass, this amazing app will take you exactly to the place where parking space is available. You get relevant information and back-to-back directions.

As in the above video, you can clearly see, as soon as a person arrives at his destination, he scans his surrounding area using the camera of the location-based AR app. The app indicates the available parking spot. The app makes his search very easy.

Location-based apps are very much in demand today. Hence, to develop one, you need to hire the AR app development services of a renowned mobile app development company.

Outlining-Based AR Apps

Human eyes can view anything. But there are certain limitations when the human eyes fail to view things after a certain distance. In cases of fog, or low light, you cannot view far things properly. This becomes more tough and risky while you are driving. In these cases, outlining-based AR apps are of great help. The camera of these apps lets you know the road boundaries on a foggy day, thereby saving you from any mishap. Extra sensors integrated into these apps, enable you to detect objects around you so that you don't hit them.

Superimposition-Based AR Apps

Superimposition-based AR apps make use of object recognition so as to replace a particular object entirely or some of its parts. For example, in FPS games, the soldiers are equipped with advanced equipment like radioactive view, night vision, or infrared view. This is where superimposition-based AR tech is used. Also, in real-life medical fields, doctors can make use of this technology for superimposing the X-ray view of the broken bone on an actual image to get a clear understanding of the actual bone damage.
Industries Benefiting From AR App Development Services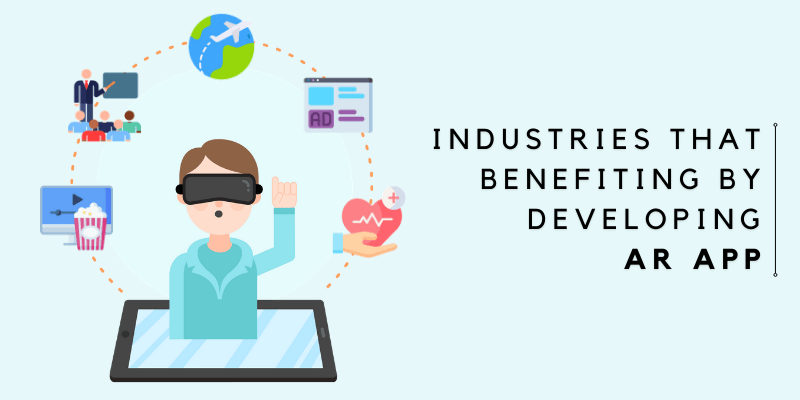 Not one or two, there are several industries that are receiving enormous benefits from the like education and healthcare can receive benefits from augmented reality app development services. Some of them are:
Tourism

Traveling experience can be enhanced with AR-backed apps. With the help of this amazing technology, a tourist can explore new places with exact route directions. They can discover popular sightseeing locations in no time. Location-based AR apps grammatically boost the navigation app's effectiveness. These navigation apps guide the tourists to the fastest and the shortest roots to a particular destination.

Education

Education can be made easy and interesting via animated and colorful 2D and/or 3D images. Rather than referring to the book, education apps powered by AR technology can be used to make learning more interesting.

Healthcare

In the healthcare sector, you can find many AR apps. Using these apps, you can locate the nearest healthcare center and get the best routes and back-to-back directions to reach there.

Advertising

Products can be promoted in an interesting and attention-grabbing manner using this powerful technology. Being much cheaper in comparison to those traditional printed pamphlets and posters, AR helps you save money. As this technology is new in the advertising sector, you get a good chance to stimulate your customers to shop for your products. For this, you need the help of a mobile app development services offering company for developing such type of app.

Entertainment

It is a lot of fun when you put virtual objects on any real-world object. The entertainment and gaming sectors are adopting this technology to make their games and videos more interesting and funny. These sectors are spinning money by implementing AR technology.
Steps to Create AR Apps
The steps that are required for creating a flawless performing AR app are:
Prepare a complete list of all the essential data.
Select the apt tools & technologies.
Integrate the GPS data.
Why Hire Augmented Reality App Development Services From XongoLab?
There are innumerable mobile app development services offering companies. Hence, you need to smartly choose the best mobile app development company. XongoLab is one of the best app development companies offering outstanding AR app development services. We can help you in materializing your dreams into reality.
Leveraging AR technology, we help you in presenting content in a very engaging manner. We are adept at developing AR mobile apps that can identify objects, facial features, and gestures, augment maps and images with related data. Our developed AR apps can also change superimposed detailed elements on the basis of sensors, gyroscopes, GPS data, and accelerometers.
Wrapping Up
Certainly, the use of Smartphones is going to increase in the coming period and so will the demand for AR apps and augmented reality app development services. Augmented Reality is the technology that is going to gain good momentum in the future. With this technology, you can get immediate and significant results in your business area. Clinch this opportunity, hire the best AR app development services providing company and develop an AR app for your business to earn increased revenue.
You may also like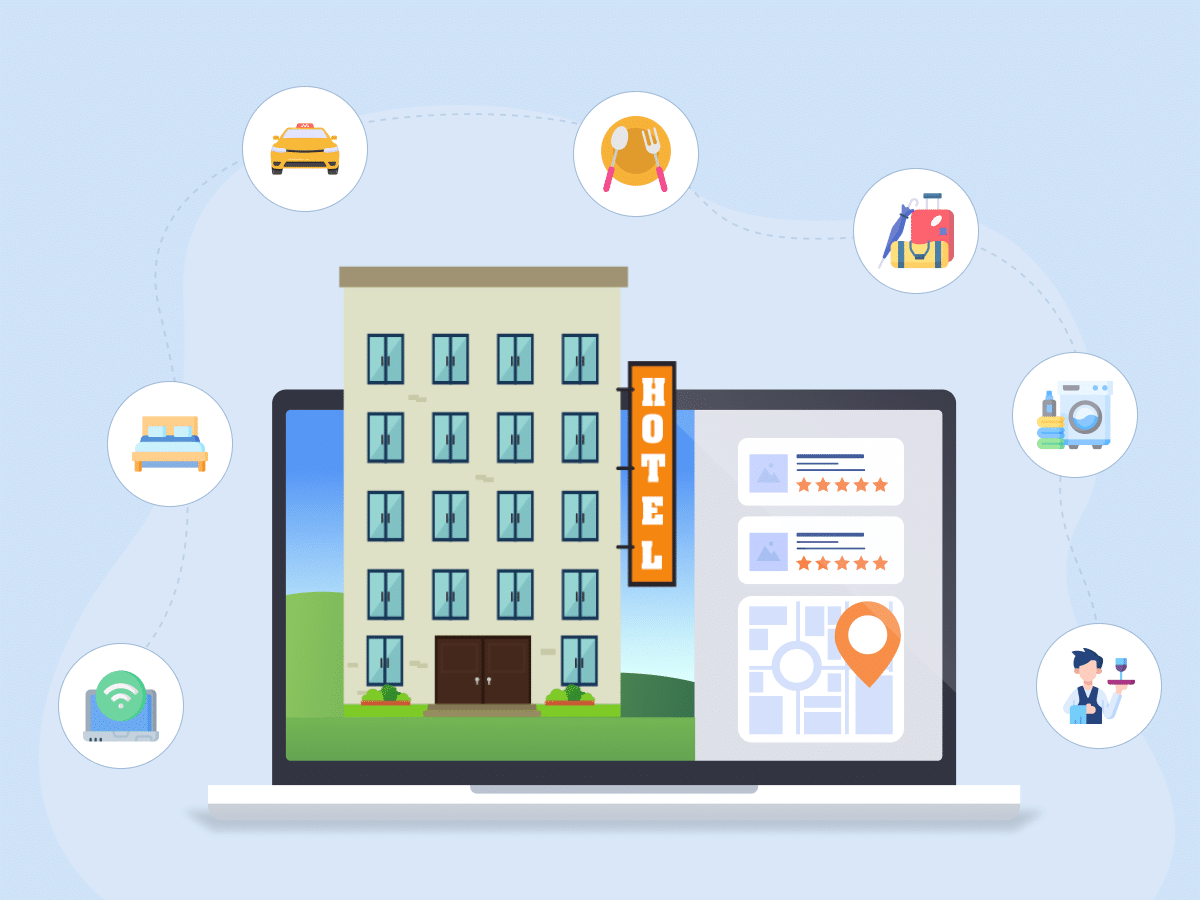 The Ultimate Guide to Hotel Management Software Development
Ankit Patel
Imagine a scenario where the reception area of your hotel is inundated with guests seeking assistance, staff members requesting entries, and other demands. The reception team may find it overwhelming… Read More