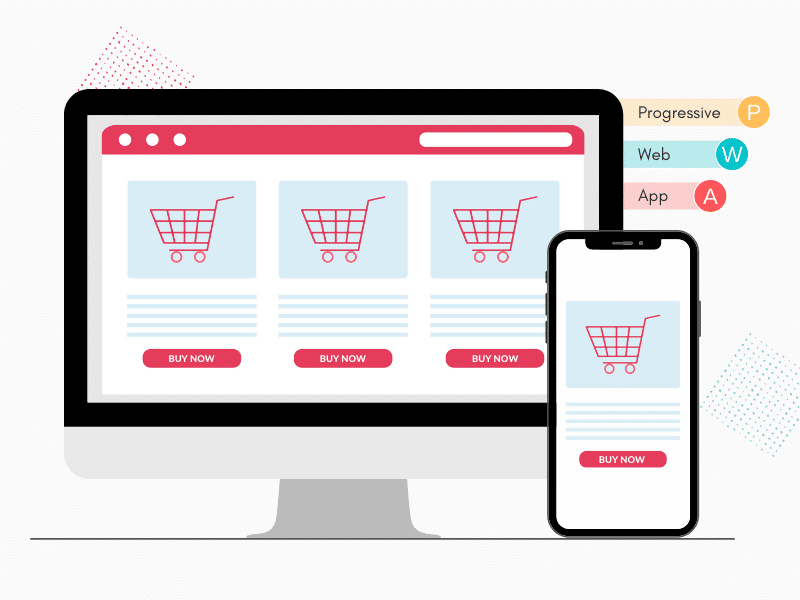 Ankit Patel

November 16, 2021

5 min read
Today, Progressive Web Apps are like a word of the mouth spreading immensely around the virtual world. No doubt, PWA has created history and has dramatically changed the new tech world. And with imperative PWA app development services, the ecosystem of eCommerce is anything. Having a great potential to suffice the needs of both mobile and web platforms, progressive apps have become a hot favourite for numerous online businesses.
So, it's worth finding what, why, and how these progressive web apps, crafted by eCommerce app development services, create a new profitable zone for eCommerce businesses.
● What is PWA?
To put it in simple words, Progressive Web Apps are web applications that can seamlessly load on the web browsers just like web pages or websites. Additionally, it offers you a rich mobile experience similar to native app functionalities. These apps are quick in functionality, convey push notifications, are able to function offline, and more importantly, you can even add them to your mobile home screen.
Undoubtedly, it acts like a native app and provides all the similar functionalities. Unlike other apps to be downloaded from the app store, it loads, runs, and functions on a web browser without the necessity to be downloaded from the app store. And the smart eCommerce app development services help design and develop these PWAs in a short time.
As the usage of mobile phones is increasing drastically for every purpose from sharing to shopping, for eCommerce stores, PWAs can be an excellent option for sellers desiring more sales. Undoubtedly Progressive web app development is the necessity of the time.
Major Facts to Know About Progressive Web Apps
PWAs will not drain your pocket.
These apps need not be created from scratch.
PWAs can run via both app and web stores.
PWAs are not only small businesses but for any business – big or small.
Progressive Web Apps can easily access hardware features.
PWAs are not just for mobiles.
Progressive apps are not just built for specific businesses, they can work for any business.
Learning about the major facts of PWAs, it should be easier for you to understand that PWAs have more to offer and there comes no baggage that can drain your pocket when it comes to PWA app development services. So, without taking a darn, moving further learn why PWAs are seen as the futuristic solutions for eCommerce stores.
Let's find here how Progressive Web App Development is beneficial for eCommerce Stores.
When it comes to the benefits of PWAs for online stores, they are limitless. With its impeccable functionalities, the Progressive web app makes buying online hassle-free and smooth. And definitely, with the below advantages, you can see how it can change the potential of mobile commerce. And, for the most revenue-generating PWA, hire the best PWA app development services.
Cost-Effective Development and Saves Time
As PWA's structure applies reused codes, app developers can easily reuse them 'n' number of times. Whereas when it comes to building an app, you may need different sets of codes for every app development for other platforms. Moreover, your app needs to fulfill the specific requirements of each platform to get approval.
No doubt, if you are looking to use devices with different operating systems to target groups of various mobile users, you then need to put in more effort, time, and funds along with resources. Whereas eCommerce app development services help to deliver cost-effective progressive web app development solutions in less time.
Secure Payments
Whenever buyer shops in eCommerce stores, they always seek security for transactions. And strong security is one of the benefits that PWAs offer to eCommerce businesses. Usually, lengthy and tedious check-out processes shoo away potential buyers from making any purchases. However, with PWAs, the integration of payment request API with the browser, shoppers have a hassle-free buying experience with secure and safe payments. There is no check-out form in this payment method, and hence it helps buyers to complete their shopping easily and quickly.
Magical Marketing Margins
As search engines are bringing in new technologies and methods to cater to users' needs, so has to be the eCommerce stores. With the search engines updating their voice-based searches, online stores need to tune up to meet the evolving changes. Therefore, PWA is a great SEO preferred option that an app in the play store cannot manage. On the other side, as PWA is an app in a site form, it helps searchability easily.
Connects Customers and Merchants
Users don't have to download apps from the store with the progressive app. Hence, it removes the hassle of downloading the app, which most users feel somewhat irritating. Moreover, users, with limited space available on their mobiles, tend to download fewer apps and instead like to use the apps that are already available on their smart systems. No doubt, having a league of apps on mobile makes it slower and even interrupts its smooth working. That's why more eCommerce are turning to mobile-driven PWAs for not missing a connection to their potential customers.
Easily Functions Offline
One of the matchless and unique features of PWA is cache and service worker APIs. With the service worker API operating in the backend, a progressive web app helps to obtain cache elements and sends notifications offline. They store new data in the browser's cache and render it from the local server when needed. Hence, it is easier for app users to use PWAs in spite of the weak internet.
Flexible and Responsive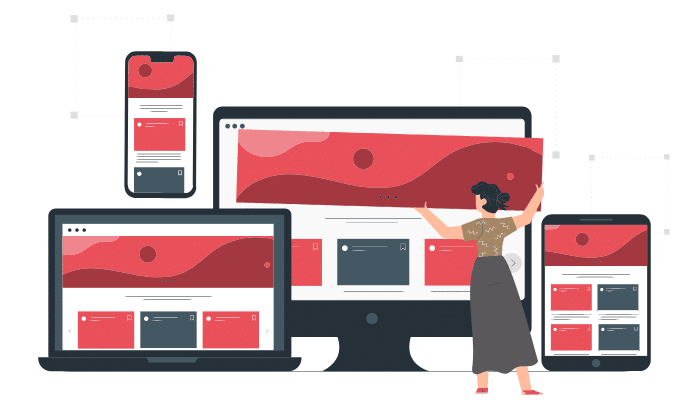 Designed and developed with a responsive layout, progressive web apps are highly responsive. You can use these PWAs in any gadget you want without any shattered or broken layout. On the other hand, when it comes to apps or websites, you may need to adjust the resolution and size according to the gadget you use.
Thus, a hassle-free user experience helps to improve online sales giving them seamless navigation and shopping experience. The mobile-friendly apps drive in more sales and retain more promising customers.
Saves Storage and Space
PWAs are saviours for eCommerce businesses, users can always save their internet and data costs. An application uses a lot of memory to run on the mobile device but when it comes to PWAs, it requires a few MBs only. So, even with the small storage space on the mobile device, users can easily use the progressive apps exclusively developed by eCommerce app development services.
Easy to Maintain and Update
When it comes to individual apps for iOS and Android play store, you may need to hire developers for maintenance and to update them at regular intervals, which is a prolonged process involving regular error fixes, continuous monitoring for real-time bug fixing, and up-gradation with new technology. Unlike these apps, PWAs save your time and pocket. You can easily update them by just identifying their needs for various browsers.
● What is Your Takeaway?
No doubt, with the evolving technologies, the tech world is headed towards a new era of web app development taking it to the next level. PWA is not just any native app, it is more than that. There are numerous things, such as requirements, benefits, negative points, costing, and results, to look into before adopting it for your e-commerce business. However, with a horde of benefits and its usages, it is the best option of the new world that the eCommerce business can use to increase mobile conversions. Hence, it is crucial for mobile-driven businesses not to miss this opportunity and leverage PWA app development services for your impeccable progressive app.
In simpler words, eCommerce businesses can gain a lot using these PWAs for growing their business and seeking high returns on investments. Progressive Web App is your next best business and marketing strategy for growing your sales online.
You may also like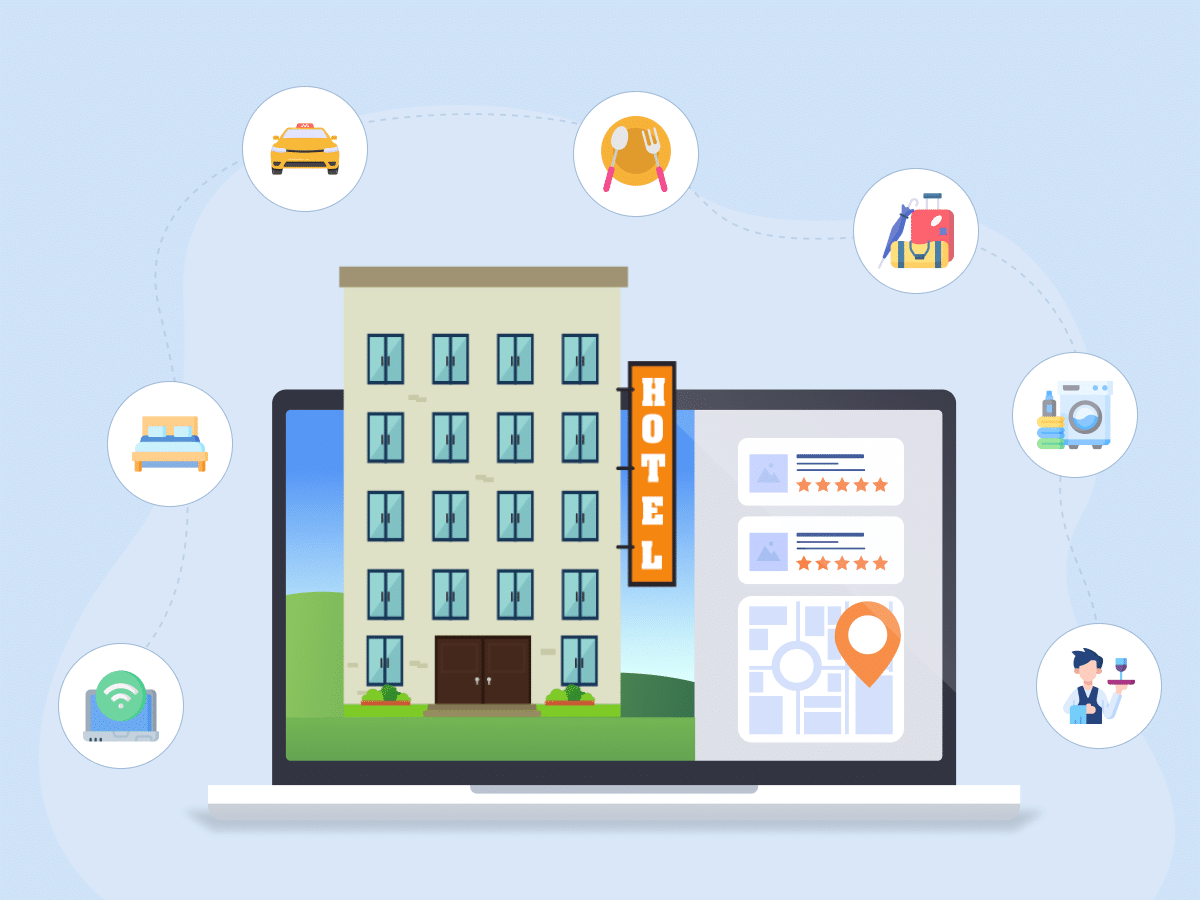 The Ultimate Guide to Hotel Management Software Development
Ankit Patel
Imagine a scenario where the reception area of your hotel is inundated with guests seeking assistance, staff members requesting entries, and other demands. The reception team may find it overwhelming… Read More