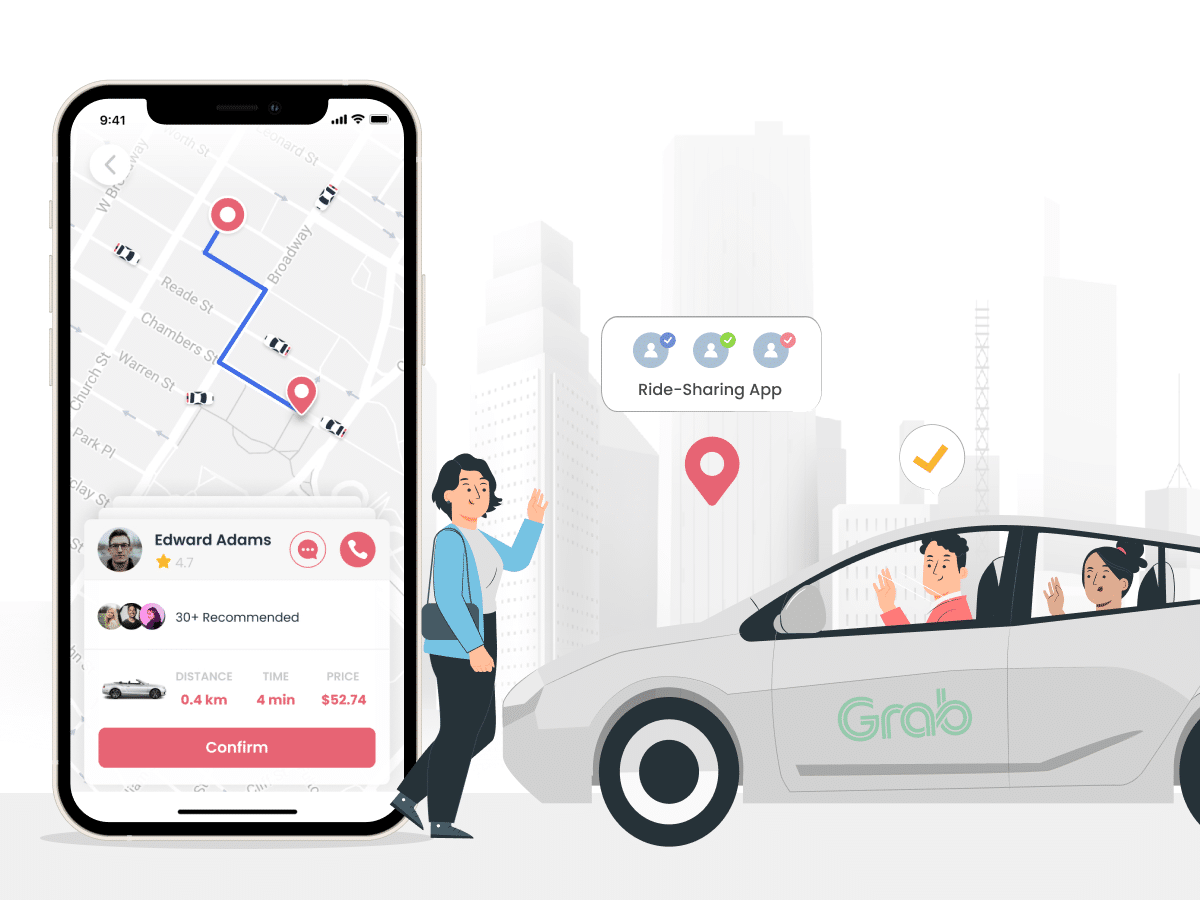 Ankit Patel

November 08, 2023

5 min read
Digitization continues to dominate every industry and the transport sector has not been left behind. The rise in demand for ride-hailing services like Grab has driven many entrepreneurs and businesses to invest in creating their taxi booking app. A readymade taxi clone app solution can expedite your entry into this thriving industry and provide you with the much-needed digital platform to connect drivers with riders.
According to Statista, "By the year 2027, it is predicted that the taxi booking market will reach a whopping $202.20 billion, with a forecasted annual growth rate of 7.04%."
If you are looking to establish your own ride-hailing service, then creating a ride sharing app like Grab can be the most lucrative venture. Such a taxi app solution empowers your business with a seamless booking process, real-time tracking, payment flexibility, and much more. This blog will guide you on how to build an app like Grab, to cater to the urban mobility needs of your customers while driving the growth of your taxi business. So, gear up and read on, because your taxi empire is only an app away!
About Grab App
Founded in 2012, Grab is headquartered in Singapore and operates in eight countries: Singapore, Indonesia, Malaysia, Thailand, Vietnam, Philippines, Cambodia, and Myanmar.
GrabTaxi offers a variety of ride-hailing options, including cars, motorbikes, and taxis. It also offers a food delivery service called GrabFood, a grocery delivery service called GrabMart, and a package delivery service called GrabExpress.
The Grab app has been downloaded over 100 million devices.
Grab has over 200 million registered users and over 8 million active drivers.
Grab completes over 6 million rides per day.
In June 2018, Toyota Motor Corporation (Toyota) announced a $1 billion investment in Grab.
Grab has raised a total of over $10 billion in funding from a variety of investors, including SoftBank, Alibaba, and Tiger Global Management.
Grab is the most valuable startup in Southeast Asia, with a market cap of $12.18 billion.
Grab Business Model
Grab has a complex business and revenue model that allows it to generate income from a variety of sources.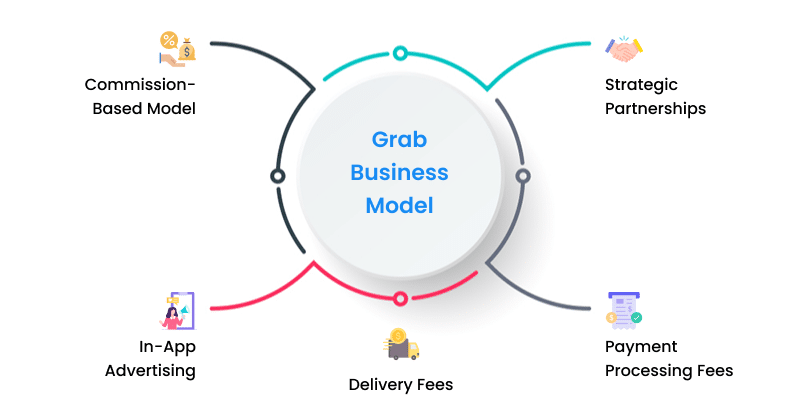 • Commission-Based Model
Grab's primary source of revenue is commissions charged on transactions. For each ride completed through its platform, Grab takes a commission of 10-25% of the fare.
• In-App Advertising
Grab also generates revenue from in-app advertising. Businesses can purchase advertising space on the Grab app to reach their large user base.
• Delivery Fees
Grab charges delivery fees for food and other items ordered through its platform.
• Payment Processing Fees
Grab charges payment processing fees for transactions made through its platform.
• Strategic Partnerships
Grab forms strategic partnerships with other businesses to expand its reach and offer a wider range of services. For instance, Grab partners with banks to provide financial services, with telecommunications companies to offer mobile data packages, and with retailers to offer e-commerce services.
Also check: Why Does Your Taxi Business Need Taxi Dispatch Software?
Reasons For Investing in Building a Taxi App like Grab Clone
The USA and Singapore are two of the most promising markets for taxi app development. The USA has a large population and a high demand for convenient transportation. Singapore is a well-developed country with a strong economy and a large number of potential users.
The accessibility of taxi choice and drop-off at the entrance provided by Grab ensures an unforgettable experience for users, making it a compelling investment opportunity. Here are some reasons why you should consider developing a Grab clone app.
Lucrative Market Potential: Despite the ongoing competition, the taxi app sector is poised to generate billions of dollars in revenue, promising significant returns on investment.
Customer Insights and Improvement: The app allows you to gather valuable customer feedback and reviews, serving as a report card for your taxi booking app development services. This data enables you to make necessary improvements and enhance user satisfaction.
Wider Business Reach: Mobile apps have become integral to daily life, making it easier to reach a broad user base. Building a taxi app increases your transparency and connects you with a vast audience, expanding your business reach.
Streamlines Business: An app streamlines the taxi booking process, ensuring that all scheduled slots are efficiently utilized. Drivers don't have to wait for the next ride, and you can implement dynamic pricing, resulting in higher earnings. Moreover, automation reduces the need for manual record-keeping, saving time and enabling you to focus on business expansion strategies.
Top Features of GrabTaxi App
If you are an entrepreneur operating an offline car rental or taxi business and are embarking on the development of a taxi booking app, it's crucial to closely examine the essential functionalities provided by the Grab app for inspiration and guidance. The Grab app consists of three panels as follows:
• Passenger App
Easy Registration
Create Profile
Taxi Reservation
Request a Ride
Fare Estimation
In-app Payment
Push Notifications
Real-Time Tracking
Booking History
In-App Chat/Call
Promo Codes and Discount
Feedback and Reviews
• Driver App
Login/Registration
Create Driver Profile
Ride Request Alerts
Accept or Reject Ride Requests
Track Customer Location
Push Notifications
Earnings Tracking
In-App Chat/Call
Rate Customers
• Admin Panel
Powerful Dashboard
Create Sub-Admins
Ride Management
Passenger Management
Driver Management
Vehicle Management
Manage Payment
Analytics & Reports
Customer support
Steps to Develop an App Similar to GrabTaxi
Now, let's explore how to develop a clone like GrabTaxi app, especially now that you have a good grasp of the key features needed to have in a taxi app.
Step 1: Find a Reliable App Development Company
To create an app like Grab, you need to start by finding a reputed taxi app development company. They are the experts who know how to build apps. Look for a company that has experience in making taxi apps like Grab.
Step 2: Assemble the Right People
Once you have found an experienced company, you need to pick the right people from their team. You might want to talk to a project manager or the company's CEO to help you make the right choices.
Step 3: Design Your App
After you have got your team, it's time to design your app. Think of it like drawing a map of your app. A designer will plan how the app looks and how it works. Then, they will hand this plan to the app developers.
Step 4: Build the App
The most significant phase in creating a Grab-like taxi app is the app development itself. Two teams of developers work in parallel to build the back-end and front-end, shaping the core functionality and user interface of the app.
Step 5: Test Your App
Once your app is built, conduct thorough testing to identify and resolve bugs. This means trying it out and making sure it works as it should. They will do lots of tests to make sure your taxi app works well and doesn't have any bugs.
Step 6: Launch Your App
When all the testing is done, it's time to launch your app to the world. The company you choose will put your app on Apple's App Store and Google Play Store, so people can download and use it.

Estimating the Cost of Building an App Like GrabTaxi
If you are considering developing an app similar to Grab for your taxi business, understanding the potential cost is crucial. The cost can vary depending on the features and functionalities you wish to incorporate, app design, app platforms, complexity of the app, and the location of the company you choose.
Here's a rough cost breakdown:
Basic Version: A basic version of the taxi app, encompassing essential features, may cost approximately between $8,000 and $15,000. This cost estimate typically covers basic functionalities.
Advanced Version: If you are aiming for a more advanced app with additional features to enhance the user experience, the cost can range from $15,000 to $30,000 or more. The inclusion of advanced features will augment the overall budget.
If you're on a tight budget, then you should definitely consider using a Grab clone app. It can be a great way to save money, time, and get your application to market quickly.
Wrapping Up
Building a ride sharing app like Grab is like putting together a puzzle of technology, where every piece (or line of code) and every action by passengers and drivers is a part of the picture. It's not just about making an app; it's about making it easy and helpful for people who want rides and for those who offer them.
As Xongolab, known as the reputed taxi app development company that specializes in building ride sharing apps, we are committed to being excellent in the world of modern transportation. When you partner with us, you will get a high-quality app that works well for both drivers and passengers, making your business a hit!
You may also like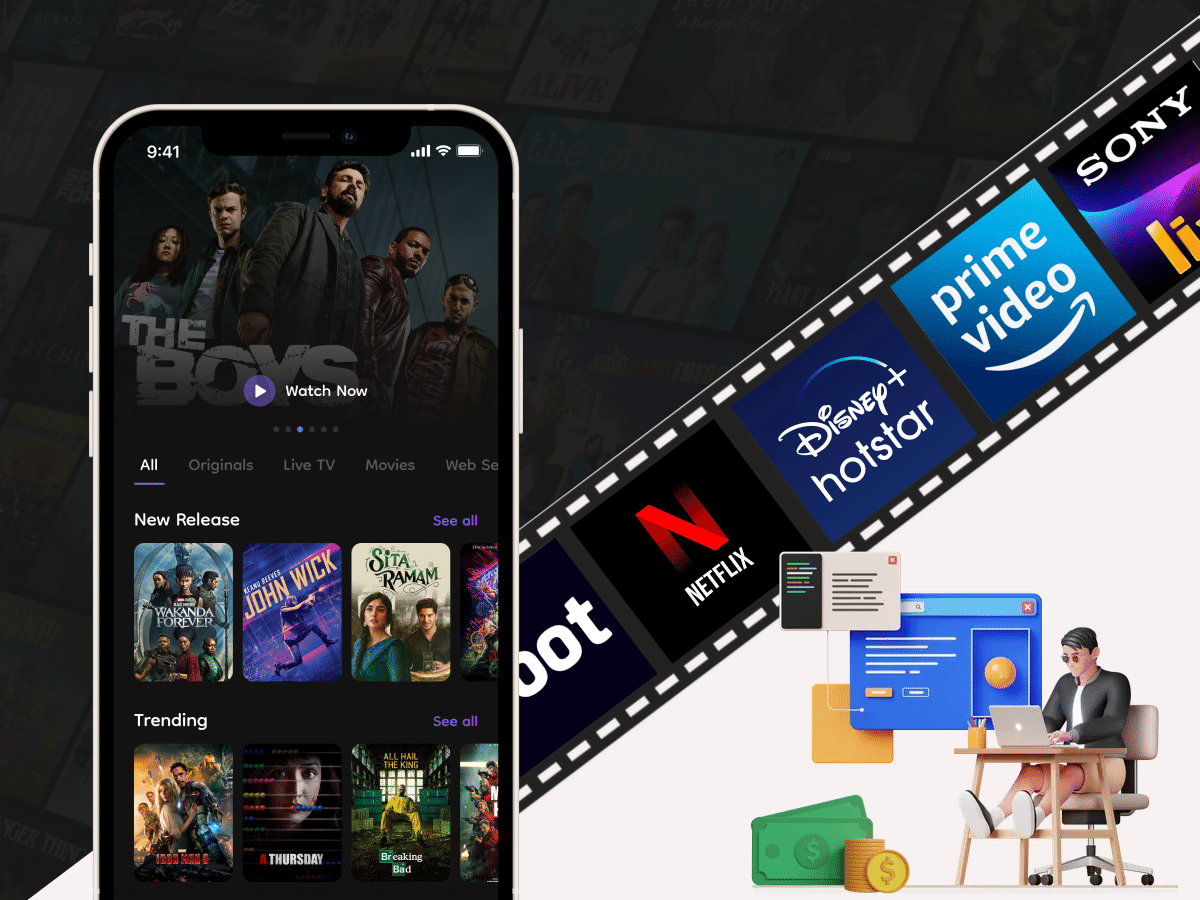 OTT App Development Cost – Features, Process & Trends
Jignesh Nakrani
In the era of digital media, the realm of entertainment has undergone a dramatic transformation. Over-the-top (OTT) platforms have emerged as frontrunners, revolutionizing the way we consume content. With a… Read More