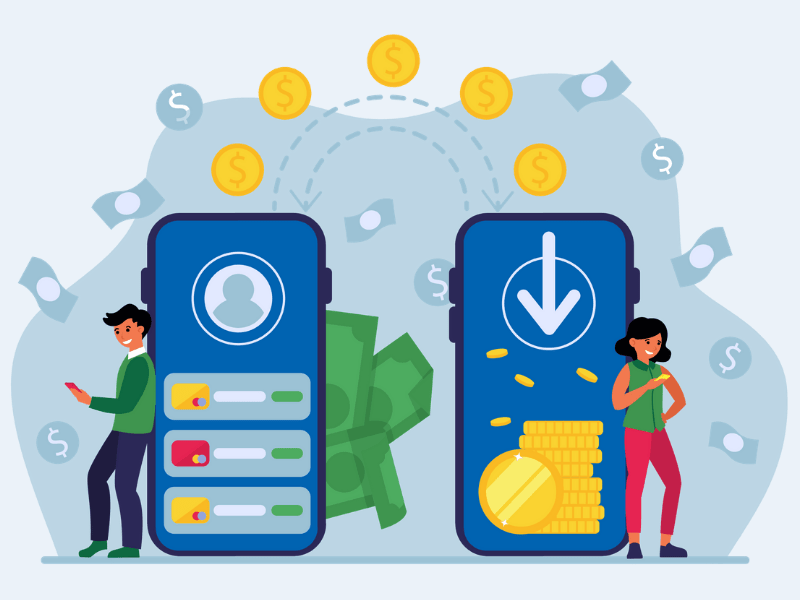 Ankit Patel

May 14, 2021

7 min read
Planning to launch your very own app and make money with a new app idea?
Being new to the app world, it is quite obvious that you will have very little idea of how to make money from an app idea. You may approach a mobile app development company and mobile app development services to get an app developed. But, it is you who will have to choose whether to develop a paid app or a free app.
Paid apps earn money by charging money to install. This is known to everyone. But, how do free apps make money? This is a common question that strikes the mind of every individual including you, who wants to make money with a new app idea.
It is quite obvious that people would prefer to download more free apps instead of the paid ones. But, is there any benefit of developing a free app and having such a huge audience? Definitely, there are several benefits and you can earn good revenue with your free app.
Prior to knowing the benefits, you should know how a paid app is different from a free app. Keep reading:
As free apps are free to download, they attract more audiences and are downloaded more. Paid apps do not get many downloads and there are many who do not want to pay for downloading an app.
People prefer free apps more while paid apps are preferred only when they are of any use to a person.
Free apps are of low quality and less expensive. While paid apps tend to be more perfect apps working flawlessly.
There are multiple monetization facilities in the case of free apps. On the other hand, paid apps have limited options for monetization – monthly fees and yearly fees.
As free apps have a huge user capacity, brand names can be built easily. Whereas, even if the paid apps have lots of positive reviews, people don't prefer paying for them unless they use them.
In all the app stores, you will find that free apps are more available and the paid ones are relatively less. As per a survey, the number of downloads of free apps is comparatively more than those of paid apps. People are more attracted to the free one.
Even if you are hiring mobile app development services, you should know how to monetize mobile apps.
How do free apps make money?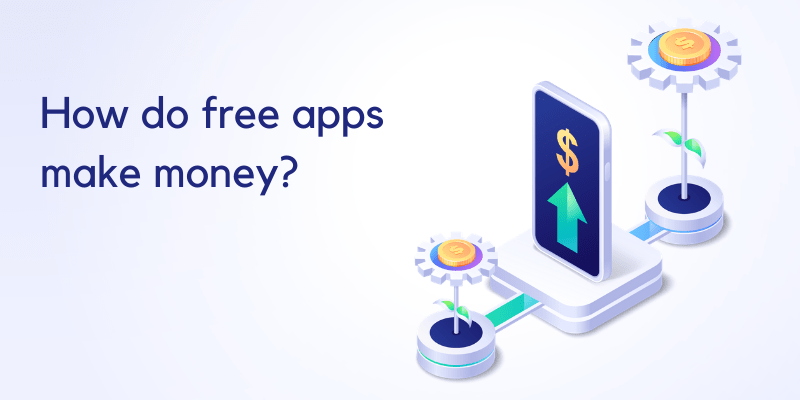 Free apps certainly make money. It is not that an app only earns money by offering its services. There are innumerable ways through which even a free app can help you in making money. The free app's market is enormous. Only in the Play Store, you can find approx 96% of apps that are available to download for free.
In the year 2020, free apps made revenue of about $580 billion, which is sure to increase in 2021. Now, you must be anxious about how do free apps make money.
Below have been discussed the points stating how to monetize mobile apps. Keep reading to analyze the essential monetization models.
Advertising

When talking about how to monetize mobile apps, the most simplest and common app monetization model is advertising. This is done through a 3rd party advertisement network. You need to display promotional ads of a 3rd party inside your mobile app and earn revenue from that 3rd party.

There are vivid types of advertising options for you among which interstitial, banner, and native are the most common formats used by the developers. When you are displaying commercials, you need to keep a close watch on whether your users are viewing those ads with interest or blocking them.
Interstitial ads

These ads pop-ups after the particular time frames and cover the entire screen. You can close these ads by clicking the close button placed at the right or left corner of the screen.

For example, Once you finish saving an edited photo to your gallery, a commercial can be displayed before you start editing another photo.

Banners ads

These ads contain a stable picture, animation, or some letters and are still. Like interstitial ads, these ads instead of popping up time and again, stay there on a small part of the screen without any motion throughout the period a user is using the app. Being less obstructive, you can use the app freely. Though banner ads have very a low rate of user engagement, they can be used for creating brand awareness.

Native ads

These ads don't annoy you as they are similar to the content or concept that is being watched by you. As native ads are less intrusive and irritating, they are the most popular revenue model. Native ads have evolved tremendously with time and their demand is growing gradually.

Video ads

Whenever you are playing a game, scrolling through the news feed, or watching any series, video ads pop up and interrupt you. These ads contain a link that connects you directly to the page of the brand. These ads are also called rewarded videos. The biggest benefit of this ad is the high rate of retention because you are rewarded for watching these video ads.

For example, To earn a power-up in a game, you will be given an option to view a video. On viewing the video, you get rewarded with an extra life or any power-up.
Subscriptions
This is another monetization model that will help you in understanding how to monetize mobile apps. Through this monetization strategy is beneficial for the users as well as the app developer. Being a developer, you can offer some of your app's content for free to your users. Once they start enjoying your app, you can offer them a weekly, monthly, or yearly subscription to access extra features of your app.
The subscription model is used mostly by video, audio, or gaming content providers. Your users can access the content as per the subscription plan chosen by them. Subscriptions are of two types which are:-
Non-renewal: Before the expiry of the subscription tenure, some apps ask for renewal of the plan. By this, the user can get to know that his subscription is about to expire.
Auto-renewal: This subscription will renew automatically the subscription and deduct the amount from the linked bank account or from the available balance. Prime Video, Netflix, Hotstar are some of the apps that auto-renew the account and offer flawless services.
In-App Purchases
In-App purchase is a very common monetization model that you will see in almost every free app. Through this model, it becomes easy to sell physical or virtual items, offer bonuses, premium functionalities, or block ads. The respective app store manages these above-mentioned transactions and pays a commission to the developer for every trade. There are three categories of in-app purchases:
Consumable: Items that are used only once. For example, health points, digital currencies.
Non-consumable: Features that are used permanently. For example, in-app functionality extension, ad blocking.
Subscription: Used for unlocking additional features. As mentioned in detail above.
Sponsorship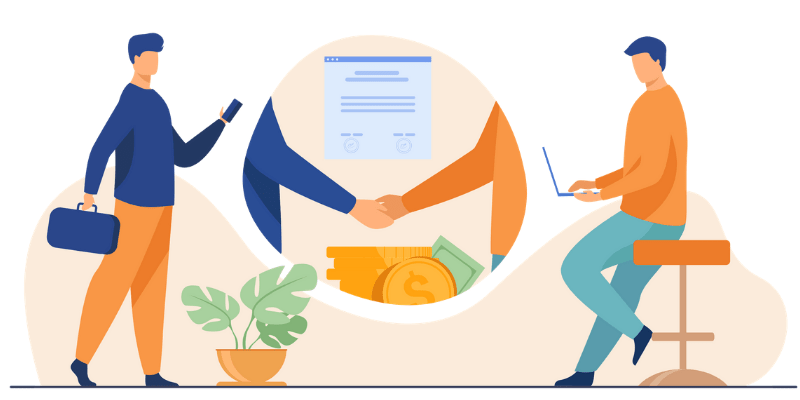 A Sponsor for your app is very hard to find and if you succeed in finding one, then you can easily make money with a new app idea. This lucrative monetization strategy is generally for those apps that are already in the app market and have plenty of users. You can get in touch with sponsors belonging to the same industry and update your app design to match the brand of your sponsors.
There are two basic sponsorship deals:-
Divide the revenue equally with the sponsor
Monthly sponsorship
Referral Marketing
In this model, revenue can be generated by promoting the products and services of the 3rd party. You can promote or sell the products or services of your affiliates and earn revenue from them on the basis of the count of clicks or installs.
There are four methods of referral marketing:-
CPA – Cost per acquisition
CPC – Cost per click
CPV – Cost per view
CPI – Cost per install
Email Marketing
Email marketing was and will always be the most powerful and profitable monetization strategy. By leveraging this model, you can request your app users to provide you with their emails. On receiving their emails, it becomes easy for you to share the marketing materials with them and capture their interest.
Email addresses can be collected by:-
Asking for their email via a pop-up message
Through Facebook SDK
Via 3rd party tools
Do get permission from your app users before sending them promotional emails.
Selling Merchandise
The e-commerce sector is blooming consistently. The graph of online consumers is elevating continuously. You can use your free app to sell physical merchandise. This model can be combined with email marketing so that you can reach the right audience.
Amazon introduces a Merch tool through which you can create your profile, upload your branded items onto Amazon and promote your products. Amazon handles all the selling, deliveries, and payments and pays you the profit share.
Paid Transactions
Another best way through which you can earn revenue from your free app is through paid transactions. This model is profitable for those apps through which digital transactions are carried regularly.
For example, you are permitting a 3rd party to sell its products through your app and the payments to the 3rd party were done via online payment gateways. Then, in such a case, you will receive transaction fees.
In simple words, your app is a mediator between the seller and the buyer. Amazon sells products of various sellers and charges a certain amount of commission for every online transaction. Though, such apps grow slowly but generate good revenue.
Free trial
There are many apps that offer 7 days, 15 days, or 30 days free trial so that the user can try the app. With free trials, the user enjoys the app services and if they find the app to be useful can turn to a paid user. There are many users, who pay to use the app after the completion of the free trial.
Crowdfunding
Though, this model is new but is gaining huge momentum. This model is helpful for raising money for any noble cause via crowdfunding platforms like Patreon, Chuffed, Kickstarter, CrowdFunder, Indiegogo, and many others. This model provides an opportunity for people from all over the world to join any noble cause.
Steps To Follow For Picking Up The Most Profitable Monetization Model
As you are going to enter a highly competitive online market and make money with a new app idea, hence; you need to follow certain steps before developing an app. Discuss with the developers whose mobile app development services you are going to hire and-
Identify your goals
Identify your potential audiences
Identify and keep an eye on your competitors
Create a seamless app idea
Create attractive screenshots
End up with the most suitable name for your app
Wrapping Up
From the above write-up, it must be clear now how to make money from an app idea. There are many monetization models and now you will have to act smartly while selecting the best ones. You can hire the mobile app development services of a liable mobile app development company and take their help in selecting the best mobile app monetization model.
If you are on a hunt for the best mobile app development company, then your search ends at XongoLab. The certified experts at XongoLab with their outstanding mobile app development services can help you in developing a flawless and robust free mobile app.
You may also like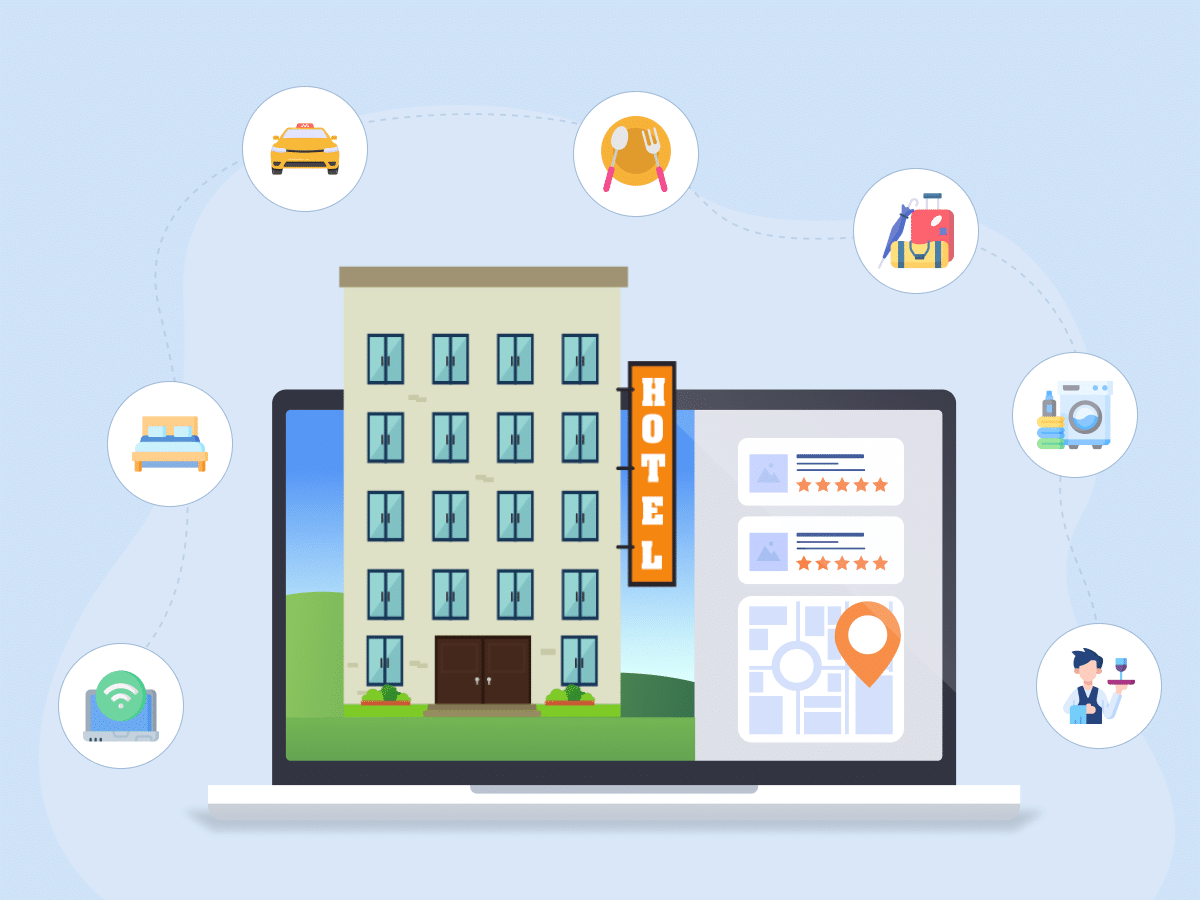 The Ultimate Guide to Hotel Management Software Development
Ankit Patel
Imagine a scenario where the reception area of your hotel is inundated with guests seeking assistance, staff members requesting entries, and other demands. The reception team may find it overwhelming… Read More