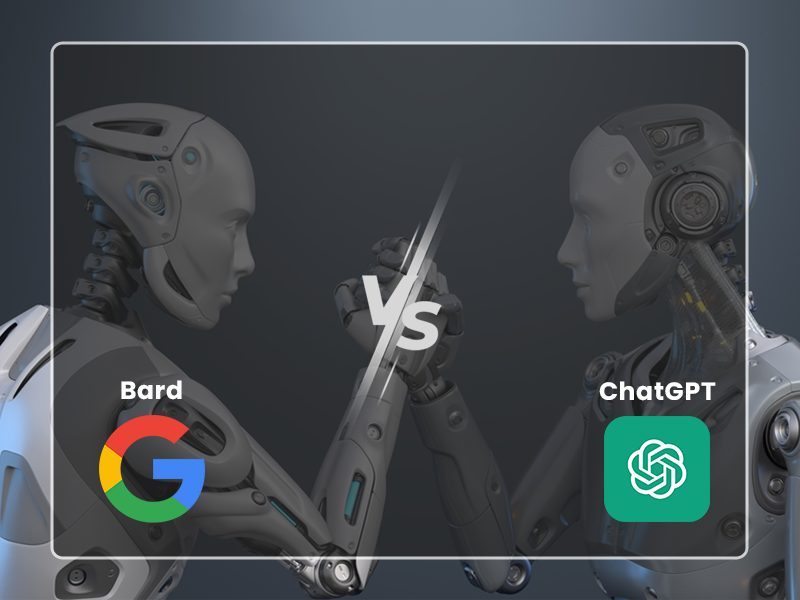 Ankit Patel

February 15, 2023

4 min read
OpenAI's ChatGPT was launched in November 2022. After the launch, it went on to become an internet sensation. Thereafter, Google went on to launch its very own chatbot, Bard. This was in the pursuit to create AI-generated content.
Here you need to note that when ChatGPT had its launch, users began searching for ways to utilize this content for different purposes like education, personal, etc. Additionally, people questioned the solution for the information they provide, in terms of relevancy. This is something that Bard promises to ensure and achieve upon its release by the end of 2023.
We will cover this comparison in this article. Upon reading it, you will gain insight into the elements that set the two apart from one another.
What is ChatGPT?
Released on November 30, 2022, ChatGPT has earned its name as an AI-powered chatbot that makes use of machine learning technology to answer queries placed by users in a conversational method. This is done by utilizing the GPT-3 language model to ensure smooth response formulation.
# Contents Where You Can Use ChatGPT
Using the GPT-3 language model that has its training from the human-created text on the internet, it becomes easy to formulate responses to the query of users. Here are some contents that become easy to generate through the ChatGPT solution:
Product descriptions
Blog posts
Summaries of transcripts
Law briefs
Social media posts
written code
simple explanations of complex topics
Read Also: How Does ChatGPT Work?
What is Bard?
Google made an announcement on 7th February 2023 about Bard. Channeled by LaMDA also known as the Language Model for Dialogue Applications whose launch was done in 2021 by Google, Bard is a lightweight version of the LaMDA.
Bard is currently in beta testing.
Bard aims towards smooth information retrieval in a simple answer vs search engine results page format just like Alexa and Siri. What makes it different though is its provision of links to users so information gathering takes place smoothly.
Have a look at the tweet to gain insight into this chatbot as shared by Google.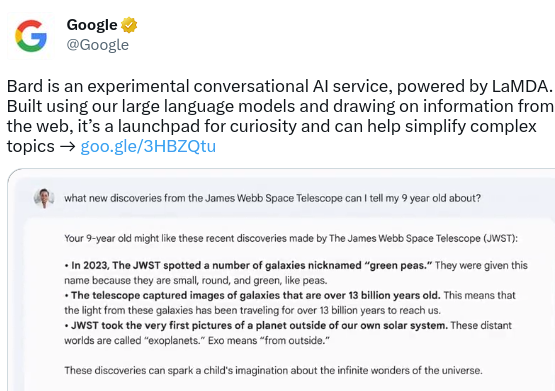 Image source: twitter.com
# Areas Bard Will Be Useful
Albeit Bard being in the beta-testing stage, its goal is driven towards ensuring information retrieval in a simple answer mode. Therefore, its aim will be to work as a personal assistant.
Here are some areas wherein you will find its use relevant:
Preparing meal plans
Find already existing reservations
Making new bookings
To find any information, and much more.
How is Bard Different from ChatGPT?
As stated earlier, Bard draws its power from LaMDA, a language model whose release was done by Google in 2021. During the launch of Bard, the CEO of Google, Sundar Pichai stated that its initial release shall take place as a lightweight version of LaMDA thereby making it available to more users, and requiring exceptionally less computing power.
What sets Bard apart from ChatGPT is the data source. With Bard continually drawing information from the internet; users get access to the latest information. With ChatGPT, on the other hand, the source ends with data from 2021. Therefore, it is a question mark that users will be able to receive the latest information.
Next, Bard is open only to a handful of testers. Thereafter, its release shall take place for more people in the weeks to come. On the other hand, ChatGPT is available for free. However, it (ChatGPT) also contains its paid version, known as ChatGPT Plus.
Third, in terms of reach, information access, etc., Bard gets a competitive advantage. Whereas, ChatGPT comes under the radar for plagiarizing their very own responses. To counter this though, Microsoft has planned to integrate its search engine Bing so that the responses are thoughtful and accurate; at the same time.
Last, ChatGPT has over 100 million users whereas Google Bard, once fully rolled out, will cross 1 billion users.
ChatGPT vs Bard: Which one is better?
You might be wondering which is better among these two. Right? Well, the simple answer to this is, it is too soon to predict. However, if we have to cite a report card to suggest the best among the two; we can say with time Google Bard may come as the winner.
What Makes Bard the Winner?
With Bard utilizing the lightweight model version of LaMDA, it will become streamlined for the solution to combine external feedback it receives with its internal testing so that the responses they generate are of high quality, and maintains the greatest safety standards. This is particularly when users require real-time information.
Next, it is cited to provide deeper insight and understanding of complex topics so that it becomes to explore a diverse range of opinions and perspectives; so to speak.
Third, it is assumed that Bard will help synthesize insights into questions that have no correct answer as such. Hence, it will become easy to understand the bigger picture and seek additional perspectives.
What Does the Future Look Like for Bard?
Since ChatGPT had its launch in November 2022 and it went on to gain over a million users in less than a week of its release, Google came under pressure. This was to counter this creation. Simultaneously, as a result of the former gaining over 100 million users within two months of its launch, Google had to make sure to create something better and something more effective. Thus, the launch took place on February 2023; with Google proposing to capitalize on its AI chatbot advantage so that search engine improvisation became easy to achieve.
Therefore, if we have to predict the future of this AI-powered chatbot, we can suggest that the future looks bright. This is due to the support it will provide to users in creating more information chunks which will become quite challenging in ChatGPT in the coming years.
Ending Words
Albeit the presence of other AI alternatives like ChatSonic, Jasper AI, etc., Bard and ChatGPT are the two competitors who are in the process to be forerunners in the field of AI-generated content creation. With Bard dedicated to drawing information from the internet, users will get access to the latest information. Hence, the data for gathering information in real-time will be reasonably more. This is something that you will not find in ChatGPT, as their source ends with data from 2021. This sets the two apart from one another. With Bard being in its beta testing stage, and the final release scheduled for the end of February, we assure to keep you updated with the latest information that we receive about it so you remain updated.
You may also like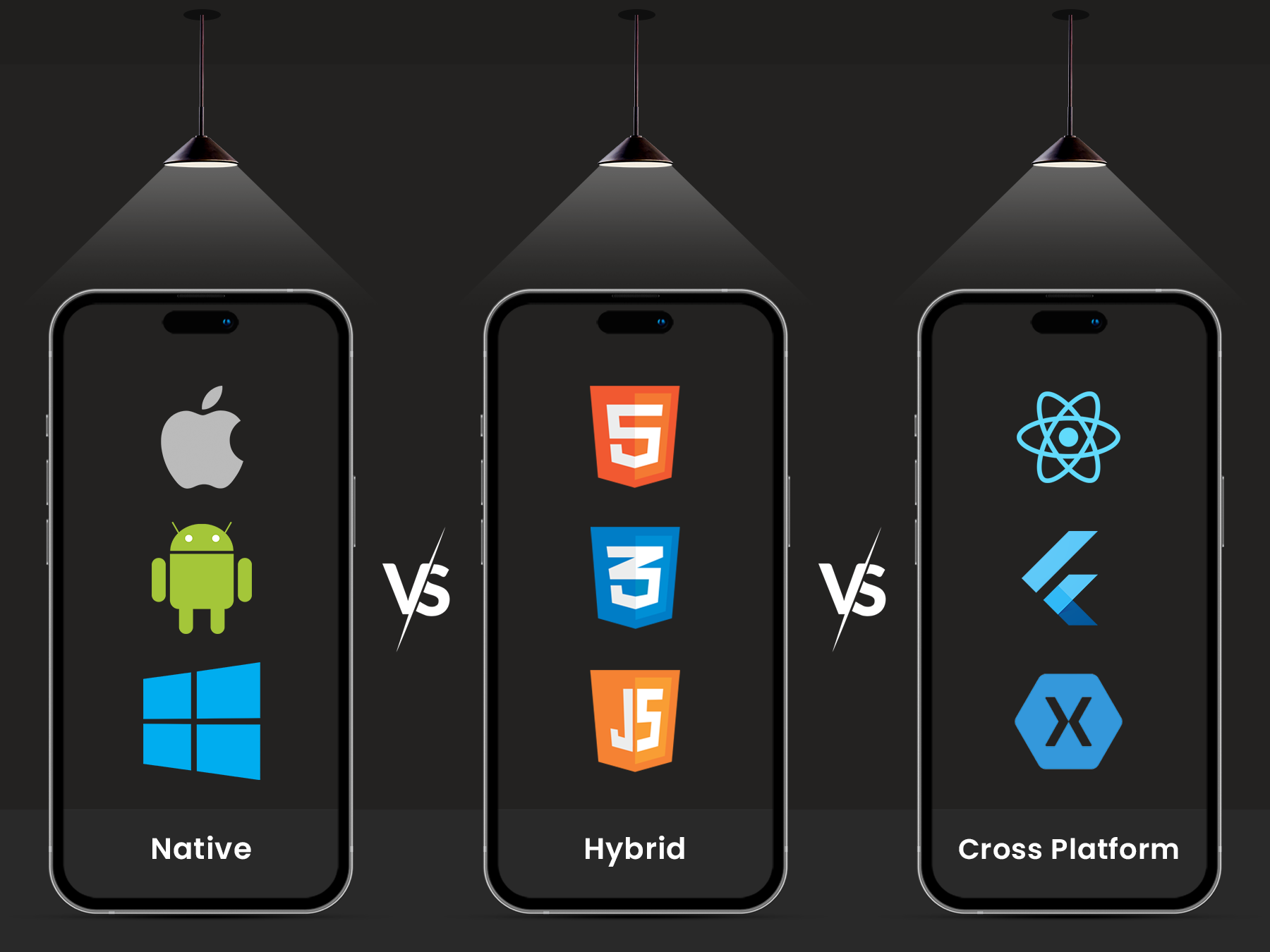 Native vs Hybrid vs Cross Platform: Choose Best for App Development
Ankit Patel
Technology has brought about a major shift in the way businesses operate. It becomes quite imperative for them to make their presence felt. This in turn makes it critical for… Read More